Cambodian and Thai officials have agreed to work together to combat illegal logging of rosewood and resulting violence between Cambodian loggers and Thai rangers, reports MCOT online news. Officials with both nations met on Tuesday and spent three hours discussing the issue.
Commercial logging was banned in Thailand following devastating floods in 1989. However, the ban has not stopped Cambodian nationals from illegally crossing the border to harvest rosewood. Over 400 Cambodians have been arrested logging across the Thai border. Confrontations between Cambodian illegal loggers and Thai wildlife rangers sometimes turn violent: 13 Cambodian illegal loggers have been killed since January 1st in Thailand. Rangers says they are firing in self-defense as loggers are often armed.
Cambodian Prime Minister Hun Sen said Tuesday that the country needed a campaign to halt Cambodians from sneaking illegally into Thailand for logging.
"Please, kick off a campaign – why is there sneaking to cut their logs and [Thai soldiers] shooting us dead? Please look, the provincial governor, military, police, military police, please prevent this. Can you do it?" he said as reported by the Phnom Penh Post.
The Environmental Investigation Agency (EIA) recently released a report that argued that Thailand should list its rosewood species under CITES (the Convention on International Trade in Endangered Species) this year in order to crackdown on illegal logging.
"The major driver of this crime is the rosewood trade—a multi-billion dollar international market underwritten by Chinese demand," the EIA report reads, noting that loggers are targeting both Thailand rosewood (Dalbergia cochinchinensis) and Burmese rosewood (Dalbergia bariensis).
The World Bank recently released a study that recommended law enforcement agencies should focus on netting top organized criminals who are overseeing the global illegal logging trade, instead of just those who are doing the actual cutting, who are often propelled by poverty.
Both Thailand and Burmese rosewood are listed as Vulnerable by the IUCN Red List. Rosewood is used to manufacture luxury furniture, musical instruments, and high-end flooring, however the trees have been overexploited for decades.
Related articles
U.S. gobbling illegal wood from Peru's Amazon rainforest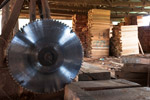 (04/10/2012) The next time you buy wood, you may want to make sure it's not from Peru. According to an in-depth new report by the Environmental Investigation Agency (EIA), the illegal logging trade is booming in the Peruvian Amazon and much of the wood is being exported to the U.S. Following the labyrinthian trail of illegal logging from the devastated forests of the Peruvian Amazon to the warehouses of the U.S., the EIA identified over 112 shipments of illegally logged cedar and big-leaf mahogany between January 2008 and May 2010. In fact, the group found that over a third (35 percent) of all the shipments of cedar and mahogany from Peru to the U.S. were from illegal sources, a percentage that is likely conservative.
Fight illegal logging by going after criminal masterminds
(03/22/2012) Illegal logging has never been a high priority for criminal investigators, but a new report by the World Bank says it should be. Worldwide, the illegal logging epidemic is decimating natural resources, imperiling biodiversity, emitting carbon, and undercutting the livelihoods of local and indigenous people. But the lucrative funds from these ill-gotten gains is just as problematic: top organized criminals rake in $10-15 billion annually from illegal logging and largely use the funds to drive corruption.
Belize enacts moratorium on rosewood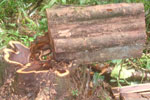 (03/20/2012) The Belizean Government has banned the harvesting and export of rosewood with immediate effect, in response to the widespread clearing of the hardwood species for the Asian market. A government statement released on Friday, March 16th claimed the moratorium was necessary "to carry out an orderly assessment of the situation on the ground and as a first response to regulate the timber trade occurring in southern Belize." The government would subsequently institute "a rigorous regulatory framework throughout the country."
Madagascar lifts rosewood ban. Or does it?
(03/01/2012) Madagascar's transitional government lifted its ban on exports of rosewood, ebony and other precious wood last month, but the decision is now under review due to concerns about foreign dominance of the trade, say local sources. Environmentalists are nonetheless concerned that a loosening of restrictions on old-growth timber could ignite another logging frenzy in the country's rainforest parks, which are renowned for their biodiversity.
Thai king: punish corrupt officials who allowed logging
(02/27/2012) Thailand's King Bhumibol Adulyadej urged the Thai government to punish officials who allowed illegal logging which he blamed for worsening floods last year that left more than 1,000 people dead.