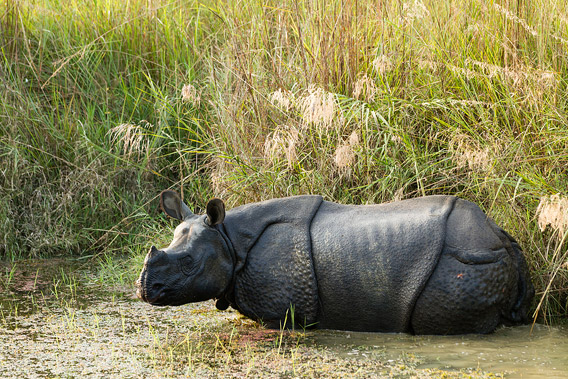 Wild Rhinoceros unicornis in Chitwan National Park, Nepal. Photo by: Bigstock.
A single forest corridor links two of Nepal's great wildlife areas: Chitwan National Park and the Mahabharat mountain range, also known as the "little Himalayas." The Barandabhar Forest Corridor (BFC) has become essential for the long term survival Nepal's Indian rhinos (Rhinoceros unicornis) and Bengal tigers (Panthera tigris tigris). Yet, according to a new paper published in mongabay.com's open access journal Tropical Conservation Society (TCS), the corridor is imperiled by deforestation, a highway, and inconsistent management policies.
Surveying the northern half of the BFC, researchers found a complex mix of forest, grasslands, and wetlands. They documented 25 mammal species, not including rodents and bats; 96 birds; and 233 tree species. Fourteen species of the birds and mammals documented are considered threatened by the IUCN Red List, including rhinos, tigers, leopards, and three vulture species. Three tigers were discovered to be using the area regularly, and the team sighted five rhinos during the survey. Given these findings, the researchers write that the corridor "is likely an essential part of the ecological network in Nepal, contributing to the habitat required to sustain populations of large mammals. For this reason, we advocate the retention and restoration of this corridor."
The BFC is currently imperiled by population growth in the area and the expansion of agriculture. In addition the East-West Mahendra Highway, which cuts the corridor, may pose another threat to disseminating wildlife. Finally, two different managing bodies, the Buffer Zone Development Council and the Department of Forests, oversee the forest. But to conserve the corridor, the researchers recommend the establishment of a single management group that is eschews top-down governance, allowing community involvement.
"In Nepal, forests are considered a 'social space.' Therefore, a community-based conservation approach to forest management has been promoted since the early 1980's," the researchers write. "In other areas, this approach has had a positive impact on forest cover, slowed rates of deforestation, restored denuded mountain landscapes, and has been shown to be favored by local communities, compared with traditional parks and reserve management."
According to the scientists, the council should promote sustainable agriculture, medicinal plant and other non-timber forest product (NTFP) harvesting, and wildlife tourism.
CITATION: Aryal, A., Brunton, D., Pandit, R., Shrestha, T.K., Lord, J., Koirala, R.K., Thapa, Y.B., Adhikari, B., Ji, W., and Raubenheimer, D. 2012. Biological Diversity and Management Regimes of the Northern Barandabhar Forest Corridor: An Essential Habitat for Ecological Connectivity in Nepal. Tropical Conservation Science Vol. 5(1):38-49.
Related articles
Happy rhino news: no rhinos poached in Nepal last year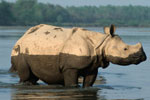 (01/10/2012) As rhinos again fell to poachers in record numbers in 2011, there was one bright-spot: Nepal. Not a single rhino was killed by poachers in the Himalayan nation, home to an estimated 534 greater one-horned rhinos (Rhinoceros unicornis), categorized as Vulnerable by the IUCN Red List. Conservationists celebrated at Chitwan National Park, which holds the vast majority of the country's rhinos.
In spite of poaching, Nepal's rhino population on the rise
(04/27/2011) Good news for rhinos is rare recently, but a new census shows that Nepal's one-horned rhino (Rhinoceros unicornis) population has increased by 23% since 2008 even in the face of poaching. In total 534 rhinos survive in Nepal, a rise of 99 individuals from 3 years ago.
Massive forest loss spurs Nepal to ban logging for two months
(06/23/2010) Nepal has announced a two month ban on logging throughout the mountainous country, reports the AFP. The ban was issued after officials received reports of alarming deforestation in lowland areas; according to one official over 100,000 hectares (250,000 acres) of forest was lost in a few months, more forest than was lost from 2000-2005.