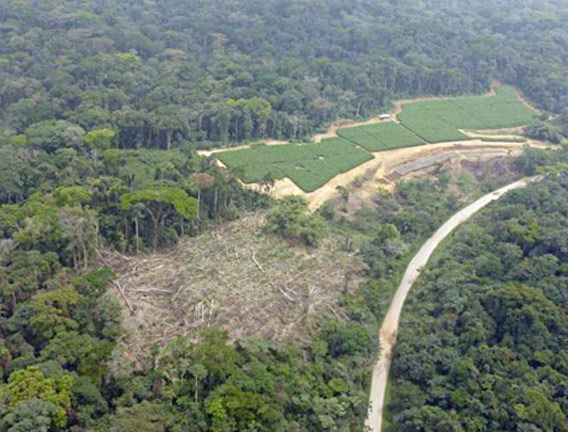 Aerial photographs of Talangaye oil palm nursery in Nguti subdivision of Herakles Farms planned oil palm plantation. Photographs taken in February 2012. Photographer wishes to remain anonymous.
Eleven top scientists have slammed a proposed palm oil plantation in a Cameroonian rainforest surrounded by five protected areas. In an open letter, the researchers allege that Herakles Farm, which proposes the 70,000 hectare plantation in southwest Cameroon, has misled the government about the state of the forest to be cleared and has violated rules set by the Roundtable on Sustainable Palm Oil (RSPO), of which it's a member. The scientists, many of whom are considered leaders in their field, argue that the plantation will destroy rich forests, imperil endangered species, and sow conflict with local people.
"You can't just cut the heart out of this area and then expect everything to be fine," says signatory Thomas Struhsaker, an expert on African primates and rainforest ecology at Duke University. "If this project proceeds the parks will become islands, surrounded by a hostile sea of oil palm."
The scientists say they are not against palm oil plantations in principle. While the oilseed is the world's most productive, it has come with a considerable ecological cost in Southeast Asia due to its link to deforestation in the region. Recently, the expansion has spread to Latin America and West Africa.
"We do not dispute that when oil palm plantations are established on previously deforested or abandoned lands and do not degrade nearby biologically rich areas, their environmental costs can be acceptable," the letter reads. "The project proponents, however, have located their concession in the midst of a biodiversity hotspot on land that buffers and provides vital support functions to Korup and Bakossi National Parks, Rumpi Hills Forest Reserve, and Banyang Mbo Wildlife Sanctuary."
| | |
| --- | --- |
| | Plantation sign. Photographer wishes to remain anonymous. |
Korup National Park alone is home to over 600 species of trees, nearly 200 reptiles and amphibians, around 1,000 butterflies, 400 species of birds, and 160 species of mammals, including one of the richest assemblages of primates in the world. Fourteen primates are found in the single park, including the Nigeria-Cameroon chimpanzee (Pan troglodytes ellioti), the most imperiled of the world's chimpanzee subspecies. Forest elephants, leopards, and forest buffalo also roam the park.
Tropical ecologist and letter signatory, William Laurance of James Cook University says the region represents "some of the world's most biologically important real estate," adding that, "There's no way a project like this would be allowed in most countries, because the price for biodiversity is just too high."
A spokesperson from Herakles Farm told mongabay.com, "we certainly value the environment and biodiversity in the Southwest Region of Cameroon and laud the establishment of the protected areas around our concession," pointing to a 28-page sustainability guide. In the guide the company describes its forest concession quite differently than Laurance, stating that it is "heavily exploited" secondary forest and therefore of "low biodiversity value."
But in the letter, the scientists contend that Herakles Farms has misled Cameroon's government about the state of the forest they propose to clear.
"[Herakles Farm] claims that the 'vast majority of the concession is secondary and degraded forest' and that the concession area was selected because it was located on 'land that had been previously logged,'" reads the letter. But the scientists say that parts of the region have never seen logging, and, in addition, almost three-fourths of the palm oil concession currently has at least 70 percent natural tree cover, about the same as the world-renowned Korup National Park.
A spokesperson of Herakles Farms told mongabay.com that the company has "secured the analysis and opinions of multiple experts to confirm the state of the forest and presence of endangered species. For instance, our [High Conservation Value forests] study was conducted by an RSPO-approved assessor, and we also secured the opinions of additional experts, as well as the government of Cameroon. Any areas identified as High Conservation Value are being mapped and set aside for protection."
| | |
| --- | --- |
| | Male and female drills. Drills are one of 14 primates found in the area. Photographer asked to remain anonymous. |
However in their letter, the researchers contend that the company's assessments "were poorly conducted and failed to evaluate adequately the flora and fauna of the proposed plantation area and the ecological and social impact of the plantation." They point to the fact that Herakles Farms surveyed just 0.003 percent of their total concession and did so for "only" 22 days in the rainy season when animals are hardest to spot.
In addition to deforestation, scientists are concerned that an influx of palm oil workers will lead to a dramatic spike in hunting for bushmeat, decimating imperiled species. Poaching and hunting in palm oil plantations in Southeast Asia remains a significant problem, in part due to low wages and easy accessibility to forests.
In its Sustainability Guide, Herakles Farm pledges to focus on the issue of bushmeat hunting, including implementing a policy against any hunting by employees. They also say they will provide educational programs on the issue and are in talks to work with Heifer International for possible livestock programs.
Finally, the scientists contend that Herakles Farms has violated local laws and RSPO regulations by clearing forest before submitting Environmental and Social Impact Assessments to the Cameroon government or a High Conservation Value forest findings to the RSPO. Herakles Farms responds by saying it has cleared less than 100 hectares for palm oil plantation nurseries and says such clearance is allowed under Cameroon law prior to the submission of the documents in question.
The issue doesn't end there, though, as the scientists note that a local NGO won a court order against Herakles Farms to immediately halt any clearing activities, but "[Herakles Farms has] ignored this injunction, which remains in effect today, and are continuing to clear native forest and develop their nurseries."
Complicating Herakles' proposed plantation is the fact that around 10 percent of the plantation will be owned by a charity, All for Africa, that touts its green credentials. All for Africa proposes to take its proceeds from the plantation, which it estimates to be $700 million, to fund development projects across the continent including water, sanitation, education, and community health issues. Notably the charity's CEO, Bruce Wrobel, is also the CEO of Herakles' Farms, but the company has pushed assurances that the company and charity are wholly separate entities.
| | |
| --- | --- |
| | Rainforest in Korup National Park. Photographer asked to remain anonymous. |
Initially, All for Africa claimed that its palm oil plantations would mitigate climate change, a claim that isn't supported by science. A 2009 study by the World Agroforestry Center found that palm oil plantations store less than 40 tons of carbon per hectare over their 25-year lifespan. By comparison, logged forests stored 70-200 tons of carbon per hectare, while some untouched forests exceeded 400 tons. When this was pointed out to them last summer, they noted that they "agreed" with the point and took the language off their website (however the website touts that its palm oil trees will "absorb more than 28 million pounds of carbon dioxide annually" without noting that this was will not erase the carbon debt of destroying natural forest). But the charity still presents its project as "sustainable and environmentally sound."
The scientists disagree. They write that the charity's actions "has seriously misled the public about the environmental benefits of the project."
"All for Africa failed to tell their donors that the project would remove large expanses of dense, high-canopy forest to plant oil palms, resulting in substantial carbon dioxide and particulate emissions. Oil palm plantations can only have a benefit in slowing climate change if they do not promote deforestation, especially in tropical regions where forests store large quantities of carbon."
In fact, mongabay.com could find no mention on All for Africa's website that rainforest would be cleared to make way for the palm oil plantation, instead the non-profit says it is "planting the seeds of sustainability."
Locally, Herakles Farm's plantation proposal has become a contentious issue. Mongabay.com has received several copies of letters sent by various local communities and groups that present concern and sometimes outright opposition to the plantations. Locals worry that the plantation, which is under a 99-year lease, will take their last traditional lands from them after much has been swallowed up in nearby conservation areas.
"Letters from villages and local cultural organizations, representing hundreds to thousands of individuals, have decried the activities of the proponents," the scientists write. "They cite an alarming lack of transparency; a lack of free, prior, and informed consent of local communities; the illegal demarcation and clearing of land; and the biological, economic, and cultural importance of the forests as reasons for opposing the proposed project."
| | |
| --- | --- |
| | Land clearing by Herakles in June 2011 in Fabe village near Korup National Parlk. Photographer asked to remain anonymous. |
For its part Herakles Farms says that communities are squarely behind them and that the palm oil plantation will be hugely beneficial for locals, many of whom live in poverty.
"The communities in these areas would like to generate a better life, economic development and sustained incomes on what land remains, and
Herakles Farms is working with them to help make this happen in a sustainable way," a representative of the company told mongabay.com.
The scientists say that given on-going concerns about the plantation, the RSPO should drop Herakles Farm's certification.
"In our view as leading environmental and social scientists and development experts, the RSPO should use the proponents' case to send a clear message to agribusiness companies seeking to develop RSPO-certified oil palm plantations in Africa—that gross violations of RSPO guidelines and national and international laws will not be tolerated," they write, adding that, "We have provided strong evidence that the project proponents have violated guidelines of the RSPO, skirted or allegedly violated Cameroonian law, and failed to take into account strong local opposition to their project. They also have distorted or misrepresented information about their proposed plantation and its impact on regional biodiversity and people."
Related articles
Palm oil, poverty, and conservation collide in Cameroon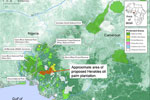 (09/13/2011) Industrial palm oil production is coming to Africa, its ancestral home. And like other places where expansion has occurred rapidly, the crop is spurring hope for economic development while generating controversy over its potential impacts. The world's most productive oil seed has been a boon to southeast Asian economies, but the looming arrival of industrial plantations in Africa is raising fears that some of the same detriments that have plagued leading producers Malaysia and Indonesia—deforestation, greenhouse gas emissions, biodiversity loss, conflicts with local people, social displacement, and poor working conditions—could befall one of the world's most destitute regions. While there is no question that oil palm is a highly lucrative crop that can contribute to economic development, there is also little doubt that conversion of native forests for plantations exacts a heavy toll on the environment. The apparent conflict seems to pit agroindustrial goliaths against greens, with communities falling somewhere in between. But Herakles, a New York-based investment firm planning to construct a 60,000-hectare plantation in the Central African country of Cameroon, says its approach will bridge this gap between economic development and the environment. Social and environmental campaigners are skeptical.
Conservationists seek $15M for rarest chimp
(06/27/2011) A new conservation plan calls for $14.6 million to save the world's rarest subspecies of chimp: the Nigeria-Cameroon chimpanzee, reports the Wildlife Conservation Scoeity (WCS).
How do we save Africa's forests?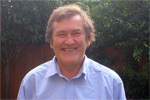 (06/19/2011) Africa's forests are fast diminishing to the detriment of climate, biodiversity, and millions of people of dependent on forest resources for their well-being. But is the full conservation of Africa's forests necessary to mitigate global climate change and ensure environmental stability in Africa? A new report by The Forest Philanthropy Action Network (FPAN), a non-profit that provides research-based advice on funding forest conservation, argues that only the full conservation of African forests will successfully protect carbon stocks in Africa.