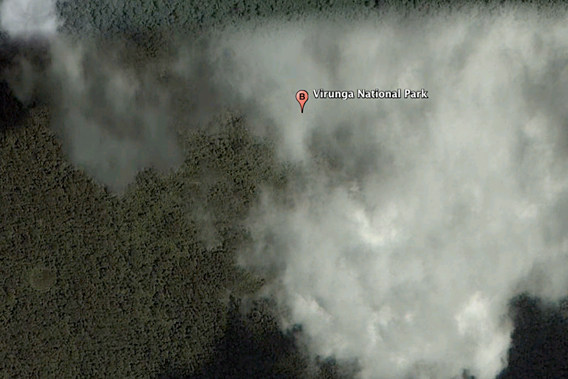 A portion of Virunga National Park swaddled in clouds as seen by Google Earth.
Permits for controversial oil exploration in Virunga National Park have been released after request by NGO Global Witness. Oil company, SOCO International, has confirmed it has received two permits to undertake preliminary exploration, including seismic tests, in the UNESCO World Heritage Site. Located in the Democratic Republic of Congo (DRC), Virunga is famous for its population of the Critically Endangered mountain gorillas (Gorilla beringei beringei).
"Undertaking oil exploration or exploitation on the ground in a UNESCO World Heritage site constitutes a breach of the Convention on World Heritage, as well as DRC's own laws and constitution," said Colin Robertson with Global Witness in a press release.
Last year the DRC stated it would not allow oil exploration in the park until a Strategic Environmental Assessment (SEA) was conducted. However, the permits have been given ahead of any SEA. SOCO holds rights in oil Bloc V, which includes a part of Virunga.
Global Witness says it has also received reliable information that SOCO intends to set up a basecamp in the heart of the Virunga.
For its part, SOCO states that while it is moving forward, it is also meeting with local communities to address concerns, including stakeholder meetings last year.
"Our activities within the Virunga National Park continue to be very preliminary and confined to an aerial study. We will not undertake any direct activity within the Park until we have the results of this aero-survey and we have consulted fully with all primary stakeholders. Our current plans have met with the approvals of all the local authorities. We are very aware of the need to protect the interests of all stakeholders within the Park and are
working hard to ensure that we do so," Roger Cagle, Deputy Chief Executive of SOCO, said in a statement.
SOCO states that after aerial surveys it plans to conduct seismic tests in Lake Edward, home to about 50,000 people who largely depend on fishing. The company says its seismic testing will not impact the lake's fauna.
Aside from its population of around 480 mountain gorillas (over half the global population), Virunga National Park is also home to chimpanzees, hippos, lions, forest elephants, okapi, and rare birds.
"SOCO's plans are a real threat to the protection of Virunga's wildlife and to people who depend on Lake Edward. The region is also marked by ethnic tensions and the presence of armed militia groups is still a threat to stability. These factors could be exacerbated if oil exploration is carried out without consulting local people," Robertson noted.
However, in the past SOCO has argued that its presence in the park could provide additional security.
Already, WWF, the International Union for the Conservation of Nature (IUCN), and the UN have expressed concern over oil exploration in Virunga.
Related articles
Oil exploration on hold in Virunga National Park—for now
(03/17/2011) The Democratic Republic of Congo (DRC) has suspended oil exploration in Africa's oldest national park, Virunga, until a Strategic Environmental Assessment (SEA) is conducted. The move ends oil companies, Soco and Dominion's plans to explore for oil in blocs within the park that were awarded to the companies last year.
Goodbye national parks: when 'eternal' protected areas come under attack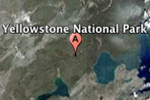 (03/17/2011) One of the major tenets behind the creation of a national park, or other protected area, is that it will not fade, but remain in essence beyond the pressures of human society, enjoyed by current generations while being preserved for future ones. The protected area is a gift, in a way, handed from one wise generation to the next. However, in the real world, dominated by short-term thinking, government protected areas are not 'inalienable', as Abraham Lincoln dubbed one of the first; but face being shrunk, losing legal protection, or in some cases abolished altogether. A first of its kind study, published in Conservation Letters, recorded 89 instances in 27 countries of protected areas being downsized (shrunk), downgraded (decrease in legal protections), and degazetted (abolished) since 1900. Referred to by the authors as PADDD (protected areas downgraded, downsized, or degazetted), the trend has been little studied despite its large impact on conservation efforts.
Oil company charged after allegedly forcing entry into Virunga National Park
(02/21/2011) The Democratic Republic of Congo's (DRC) national parks authority, ICCN, has filed a suit against oil company, SOCO International, for allegedly forcing entry into Virunga National Park. The legal row comes amid revelations that two oil companies, SOCO and Dominion Petroleum, are exploring the park for oil.
UN and conservation organizations condemn big oil's plan to drill in Virunga National Park
(01/20/2011) WWF, the International Union for the Conservation of Nature (IUCN), and the UN have all recently expressed concerns about two oil companies' plan to explore for oil in Africa's oldest and famed Virunga National Park. Home to a quarter of the world's mountain gorillas, as well as chimpanzees, hippos, lions, forest elephants, and rare birds Virunga National Park in the Democratic Republic of Congo (DRC) is one of Africa's most biodiverse parks and is classified by the UN as a World Heritage Site. But according to WWF plans by oil companies SOCO International and Dominion Petroleum could jeopardize not only the wildlife and ecosystems, but also local people.