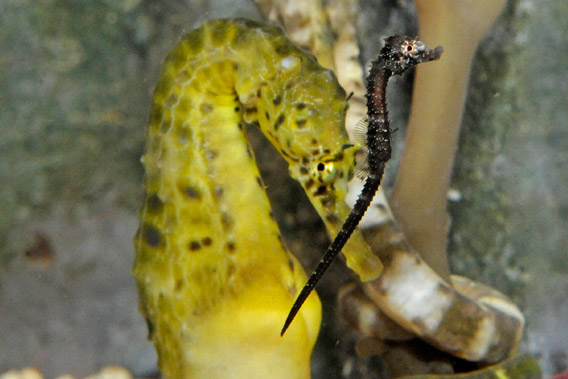 Pot-bellied seahorse: adult and baby. Babies, or fry, are brown black but turn yellow over time. Photo by: Julie Larsen Maher.


The Wildlife Conservation Society's (WCS) New York Aquarium has recently celebrated the arrival of "fry" (baby) pot-bellied seahorses (Hippocampus abdominalis). Found in the seas surrounding Australia, the pot-bellied seahorse is protected under CITES (Convention on International Trade in Endangered Species of Wild Fauna and Flora), since they are stolen from the wild for traditional medicine, decorations, and pets.



"It is very exciting to announce the successful propagation of these pot-bellied seahorses," Jon Forrest Dohlin, WCS Vice President and Director of the WCS New York Aquarium, said in a press release. "The birth of any threatened species helps us further our goal of educating and enlightening people about marine life and ecosystems."



Pot-bellied seahorses, so called for their bulging abdomen, are listed as Data Deficient by the IUCN Red List, given a lack of knowledge about their status. Recently researchers have suggested the population be split into two separate species. Individuals can grow over a foot (0.3 meters) long.



Seahorses are one of the few animals where the males bear the offspring.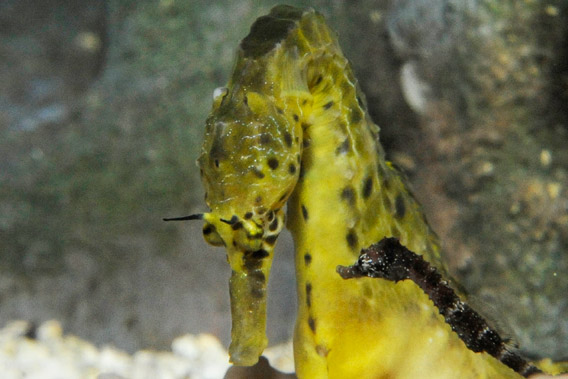 pot-bellied sea horse adult and its fry. Photo by: Julie Larsen Maher.