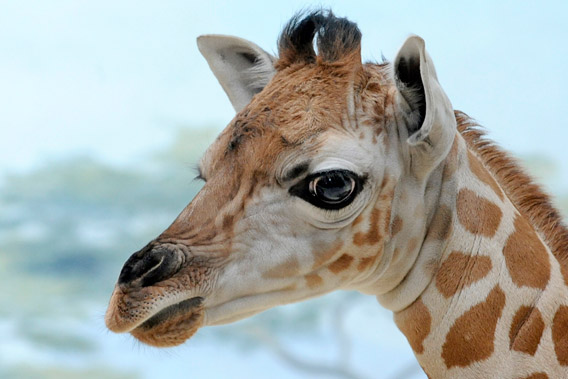 The baby giraffe was born at 6 feet tall and weighing in at around 100 pounds. Photo by: Julie Larsen Maher/WCS.
A baby Rothschild's giraffe (Giraffa camelopardalis rothschildi) was recently born at the Wildlife Conservation Society's (WCS) Bronx Zoo. The subspecies was classified as Endangered in 2010 with a wild population of less than 700 individuals in Kenya and Uganda.
"[We] hope this will highlight to the world the critical state its tallest creature is in," giraffe-expert and conservationist, Julian Fennessey said in a statement at the time. "As the second giraffe sub-species (of 9 known) to now be listed as endangered, we all have our work cut out to form sound conservation strategies to improve the situation in the short, medium and long term. The whole thrust of our work here is to put strategies in place BEFORE it is too late—extinction is simply not an option."
More alarming, recent research has shown that Rothschild's giraffe may in fact be a distinct species, making its conservation even more paramount.
For more information on giraffe conservation: All about giraffes: an interview with a giraffe expert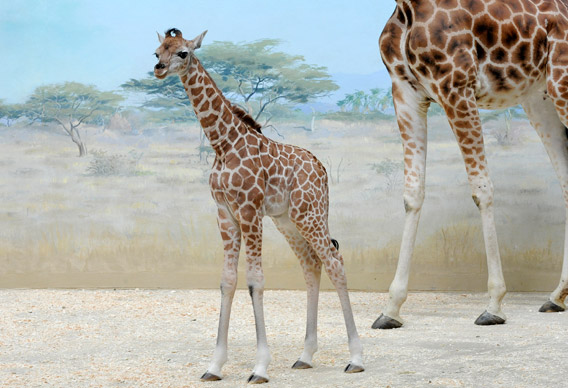 Giraffe calf with mom. Background is a painting. Photo by: Photo by: Julie Larsen Maher/WCS.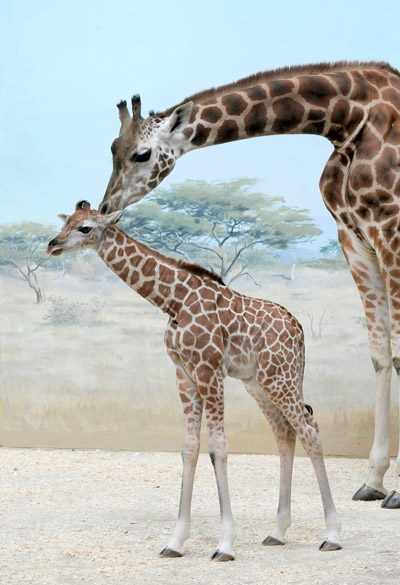 Giraffe calf with mom. Photo by: Photo by: Julie Larsen Maher/WCS.