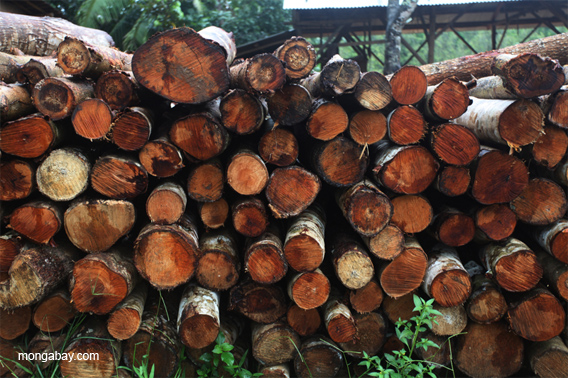 Two affiliates of Asia Pulp & Paper (APP) have announced they are severing at least some ties with the beleaguered paper giant, according to the Northern Virginia Daily and Greenpeace, an environmental group whose recent undercover investigation found ramin, a protected species, at APP's pulp mill in Sumatra.
Oasis Brands, a firm that handles sales, marketing, and contracting for Virginia-based Mercury Paper Inc., said it will "dissolve" ties to APP "in response to company goals and customer demand for sustainability assurance". Mercury Paper had been under fire for sourcing fiber from APP, which environmentalists have shown continues to produce pulp and paper from endangered natural forests in Indonesia. APP has been the only supplier for Mercury Paper and California-based Solaris Paper Inc.
Oasis says it will now seek paper certified under the Forest Stewardship Council (FSC) for some its products. APP saw its FSC-certification revoked in 2007 following complaints from green groups and auditors over its forest management practices.
"Our ultimate goal is to meet all our branded retail product needs with FSC-certified paper," said Philip Rundle, CEO of Oasis Brands, in a statement.
Rundle added that Oasis would now rely on U.S. sources for its fiber, which he implied would not increase costs for customers.
"We were able to create the Fastest Growing Retail Brand in the United States because we identified an unmet need for one brand across multiple categories with a simplified value equation and better margins for customers than our competition was willing to offer," he said. "We are confident that sourcing domestically will not change that proposition."
The decision marks a climb-down for Mercury Paper, which in recent months had been a focal point of a public relations campaign against Greenpeace and WWF, groups that had been critical of APP's link to deforestation, as well as the FSC. ProtectVAJobs.org, a site that had been part of the anti-environmentalist campaign, was no longer functional as of Saturday.
Nevertheless, WWF expressed skepticism about the announcement by Oasis.
"Intention is not action," WWF's Linda Kramme told the Northern Virginia Daily. "It is our understanding that there is a large volume of products that they produce at Solaris and Mercury Paper that will still be linked to APP."
News of the decision by Oasis was followed by an announcement by Collins Debden, an Australian affiliate of APP, that it will no longer source fiber from its parent. Greenpeace, which is also campaigning in Australia, called it a "bold move".
"This is a bold move by an APP subsidiary, and one that must set off serious alarm bells at APP HQ as it confirms just how 'toxic' the APP brand has become internationally," said Greenpeace in a blog post. Greenpeace noted that Xerox, Barnes & Noble, and Countdown (a New Zealand chain) continue to do business with APP.
Greenpeace says Indonesia's Ministry of Forestry plans to visit APP's Indah Kiat mill in Sumatra next week to investigate the activist group's findings. But it warned that surveillance indicates that APP is "engaged in a rapid clean-up operation, removing ramin from its logyard". In other words, destroying the evidence before government investigators arrive.
"Ramin was documented throughout the mill logyards," states the Greenpeace blog. "Now, the Ministry's failure to act immediately appears to have given APP time to ensure that the evidence disappears."
Related articles