Illegally logged tree in Indonesia. Photo by: Rhett A. Butler.
Australia should join the widening effort to stamp out illegal logging, according to testimony given this week by tropical ecologist William Laurance with James Cook University. Presenting before the Australian Senate's rural affairs committee, Laurance argued that the massive environmental and economic costs of illegal logging worldwide should press Australia to tighten regulations against importing illegally logged timber at home.
"Countries like Australia import a lot of timber and wood and paper products, especially from the Asia-Pacific region. Illegal logging is still rife in this region and Australia has a chance here to make some important inroads in the global battle to fight illegal logging and timber theft," Laurance told mongabay.com.
Over half of the timber coming out of ten tropical nations—including Papua New Guinea, Indonesia, Cambodia, and Myanmar—is illegally harvested or stolen according to recent research by Interpol and the World Bank. The same study estimated that illegal logging promoted the loss of some 8.4 million hectares of forest annually, or an area the size of Austria, by pushing new roads into once inaccessible forests.
Laurance noted in his presentation that much of this timber makes its way to China, which Laurance calls a "black hole" for illegally harvested timber. The timber is then manufactured into consumer goods and often shipped abroad to countries such as Australia. According to the Chatham House, an NGO devoted to independent analysis, China imports 16-24 million cubic meters a year. Although the product may be "Made in China," Laurance told the committee it was likely logged elsewhere and quite possibly illegally.
| | |
| --- | --- |
| | Logging roads snaking through the Peruvian Amazon. Illegal logging often opens up new forest areas to greater exploitation and colonization. Photo by: Rhett A. Butler. |
Illegal timber is contributing to the decline of forests across the tropics, depleting biodiversity, threatening indigenous groups, emitting vast amounts of carbon, and imperiling ecosystem services such as erosion control and watersheds. Many protected areas have even been infiltrated by illegal loggers. The practice is also often connected to other criminal activities such as wildlife poaching, another major problem in many tropical countries.
But its not just tropical forests that are at stake, says Laurance, since illegal logging comes with a big economic cost to developing nations.
"According to the World Bank, illegal loggers are defrauding developing nations of some $15 billion annually. This happens because a lot of timber is effectively stolen without paying government royalties and export duties. The figure leaps up to $60 billion a year, again according to the World Bank, if the broader social and environmental costs of illegal logging are included."
Given the impacts, a number of industrialized nations have begun to take action against the illegal logging trade. In 2008 the U.S. amended its Lacey Act to prohibit the importation or sale of illegally logged wood. Meanwhile the EU has the Forest Law Enforcement, Governance, and Trade (FLEGT) initiative and even stronger provisions coming into effect soon, and Laurance argues that Australia should follow suit.
"It would help level the playing field for legitimate timber and wood-products producers, both in Australia and internationally," Laurance says. "Right now the illegal loggers are cheating the system." By cheating the system, illegal loggers are often able to outcompete law-abiding manufacturers.
Laurance recommended that a new illegal logging law in Australia should be defined fairly broadly, to include situations where bribery is used to obtain forest concessions and where loggers and shippers fail to pay taxes or export duties, in order to have more impact.
| | |
| --- | --- |
| | Rainforest timber in a port in Gabon. Photo by: Rhett A. Butler. |
Even as Laurance spoke in Canberra, however, the illegal logging ban in the U.S. has recently come under attack by some politicians and the Tea Party fueled by government raids of the musical instrument Gibson Guitars. The company is suspected of knowingly importing illegally logged wood from Madagascar as well as unmilled wood from India, although critics say it is an example of overregulation.
Laurance warned the committee that timber lobbyists would try to play down the environmental and economic impact of illegal logging. He told mongabay.com that lobbyists such as Alan Oxley with World Growth International, "are being well-paid to defend some of the biggest forest-exploiting corporations operating anywhere."
As an example he said that the president of Papua New Guinea Forest Industries Association, Bob Tate, told the Australian Senate that 1-2 percent of Papua New Guinea's timber exports were illegally logged, an estimate that was in stark contrast to the Interpol and World Bank data.
"That's a laughable figure, and it could only arise if one uses a ridiculously narrow definition of 'illegal'," says Laurance. "If one includes the whole panoply of illicit activities in Papua New Guinea right now—from the widespread use of Special Agricultural and Business Leases to circumvent forestry laws, to the nearly $100 million court judgment recently levied against a foreign corporation for massive illegal logging in the Western Province, among many other examples—one begins to appreciate just how ridiculous Bob Tate's figures are."
The last decade has seen a decline in illegal logging worldwide by around 22 percent. Experts believe some of that decline is due to the Lacey Act amendment and anticipation of the EU's new law. However, the current situation still means that it is difficult, if not impossible, for the average consumer to know where a product was harvested and in what manner. Laurance believes new legislation could change that in Australia.
"I am sure that Australian consumers don't like to be duped into buying illegal timber products," he said.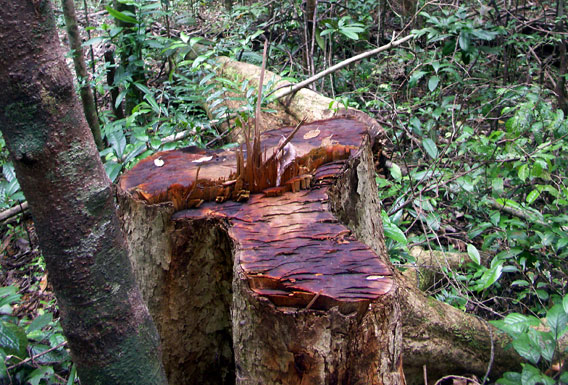 Rosewood logging in Masoala National Park, a UNESCO World Heritage Site. Following a government coup, many of the Madagascar's parks suffered illegal logging at the behest of foreign traders. Photo Rhett A. Butler.
Related articles
Caution urged in sale of Madagascar's illegal timber stockpiles
(02/03/2012) Confiscated timber stocks in Madagascar must be managed in a "transparent manner" to deter future illegal logging and boosting demand for endangered rainforest timber, says a letter published by a coalition of NGOs.
National Association of Music Merchants does 'disservice' to members by misleading them on illegal logging law, says letter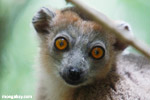 (01/19/2012) The National Association of Music Merchants is doing a 'disservice' to its members by misrepresenting the provisions and spirit of the Lacey Act, a law that aims to curb illegal logging abroad, states a letter published by a coalition of environmental groups. The letter, issued Thursday, urges the National Association of Music Merchants to reconsider its support for the RELIEF Act (HR 3210), introduced by Representatives Marsha Blackburn (R-TN), Mary Bono Mack (R-CA), and Jim Cooper (D-TN) last October. The RELIEF Act would weaken key provisions of the Lacey Act aimed to ensure that illegally sourced wood products aren't imported into the United States.
Peruvian smugglers traffic illegal rainforest timber from Brazil to America
(01/11/2012) An investigation by Brazil's Federal Police has detailed a significant trade of illegally logged rainforest wood by Peruvian nationals making its way from northern Brazil to the U.S. and Mexico, reports O Globo.
Environmental groups to Japan: stop importing illegally logged timber
(12/16/2011) A coalition of environmental NGOs have called upon Japan to adopt stronger measures to block illicit timber imports, alleging that Japanese companies are buying illegally logged wood from Samling Global, a Malaysian logging company.
Seismic trails cut by U.S. oil firm in Belizean national park used by illegal loggers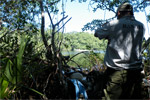 (12/06/2011) In the Belizean rainforest two rangers look up and down a straight path hacked through the jungle and take GPS coordinates, the escorting soldiers lying back in the heat as the coordinates are delivered. These are noted and the patrol resumes, pausing to photograph protected comfra palms that have been cut and laid on the muddy ground, or stretches where the rainforest has been cleared far beyond the permitted width. We are in the Sarstoon-Temash National Park, nearly 42,000 acres of rainforest and red mangrove swamps in southern Belize adjacent to the Guatemalan border, and the park rangers are dealing with a new threat to the biodiversity of the reserve. Rather than searching for illegal loggers from Guatemala, this patrol is monitoring the activities of an American oil company.
Indonesian president urges consumers not to support illegally logging
(11/29/2011) Indonesian President Susilo Bambang Yudhoyono urged the world not to encourage illegal logging in Indonesia by purchasing illicit wood products, reports the Jakarta Globe.
Madagascar interim president: sell rosewood stocks
(11/09/2011) Madagascar should sell its stocks of illegally logged rainforest timber, Madagascar's interim leader Andry Rajoelina told the BBC in an interview.
Cooper-Blackburn bill seeks exemptions for illegal wood imports
(11/05/2011) A proposed bill would gut the Lacey Act, undermining an amendment that bans import of illegally logging forest products, says a coalition of environmentalists and woodworkers in a letter addressed to members of Congress. The bill, introduced last month by Jim Cooper, Marsha Blackburn, and Mary Bono Mack, would grant an exemption to pulp and paper importers from Lacey Act requirements, while reducing fines for non-compliance to a pittance for "first time" offenders no matter the size of the infraction.