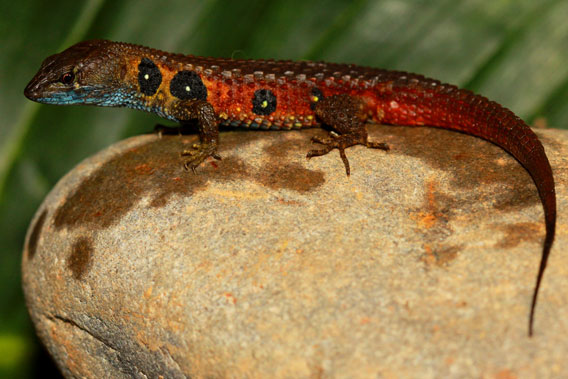 A male Potamites montanicola, a new species of lizard discovered in the Peruvian Andes. Photo courtesy of German Chávez.
Researchers have discovered a new species of lizard in the Peruvian Andes, whose males sport beautiful colors, according to a paper in ZooKeys. The highest-dwelling known species of the genus Potamites, the new lizard, dubbed Potamites montanicola, was found in forest streams at 1,500 to 2,000 meters (4,900 to 6,500 feet). The species was discovered as a part of a biodiversity monitoring program by COGA, a Peruvian fossil fuel company.
"The first specimen of Potamites montanicola was caught in the morning by Karla Garcìa (an herpetologist of our team) when she was walking back to the camp, at the ending of the surveys, the lizard was crossing a trail very close to a creek in mountain forests," German Chávez, who co-authored the paper, told mongabay.com.
To date the lizard, whose name means "mountain inhabitant", has been found in the Cordillera de Vilcabamba and Apurimac River Valleys, but its range is believe to be fragmented. Chávez says the new species may be endangered, but "more surveys are necessary in more places to confirm the distribution and population status, the population in the type locality looks healthy, the stream where this population is located looks good too."
The discovery, according to Chávez, provides more questions than answers, including how the lizard survives in streams significantly colder than its nearest relatives, which are found in the Amazon lowlands. In addition, the researchers believe that the lizard may be nocturnal. It has been found seeking shelter under rocks during the day, but at night it has been observed running and swimming.
"We cannot confirm this yet, but, if this is true, we have great questions about the biology of this lizard," Chávez says, adding that, "this reptile and others recently described from mountain or pre-mountain forests offer a new view point about the Andean reptile richness in Peru, many amphibian have been described in the last years but very few reptiles. This is a proof of the great diversity of reptiles in my country."
CITATION: Germán Chávez, Diego Vásquez. A new species of Andean semiaquatic lizard of the
genus Potamites (Sauria, Gymnophtalmidae)
from southern Peru. ZooKeys. 168: 31–43 (2012)
doi: 10.3897/zookeys.168.2048.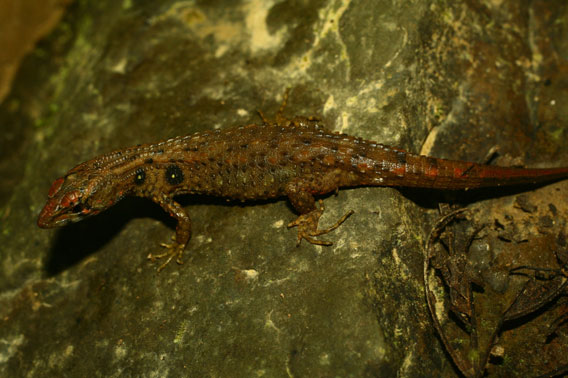 A female Potamites montanicola, a new species of lizard discovered in the Peruvian Andes. Photo courtesy of German Chávez.
Related articles
Scientists discover over 19,000 new species in 2009
(01/19/2012) In 2009 researchers described and named 19,232 species new to science, pushing the number of known species on Earth to just under two million (1,941,939 species), according to the State of Observed Species (SOS). Discoveries included seven new birds, 41 mammals, 120 reptiles, 148 amphibians, 314 fish, 626 crustaceans, and 9,738 insects.
Climate change may make lizards smarter, if they don't go extinct first
(01/12/2012) A new study in Biology Letters has found that warmer temperatures may make lizards smarter, even as past studies have linked a global decline in lizards to climate change.
Herpetology curator: behind-the-scenes of 'new species' discoveries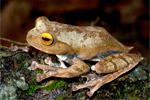 (12/18/2011) Bryan Stuart's mission as a curator of amphibians and reptiles at the North Carolina Museum of Natural Sciences is to understand the diversity of life on earth. For that, he documents what species occur where and why. He's particularly attracted to areas where there's a dearth of knowledge, like Laos, Cambodia, Vietnam and Gabon, and so far has discovered 27 species unknown previously to scientists: three species of snakes, two types of salamanders, and 22 kinds of frogs.