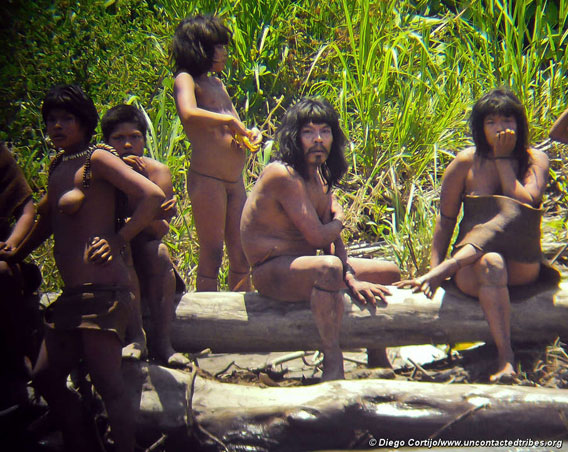 Survival International claims these are most detailed photos ever taken of the isolate Mashco-Piro tribe in Manu National Park, Peru. Photo courtesy of Survival International.
New photos provide visual evidence of just how close the long-isolated tribe of Mashco-Piro people in the Amazon rainforest are to being contacted by the outside world—a perilous moment for tribes highly susceptible to disease and likely to defend their people and territory with weapons. According to indigenous rights NGO Survival International, the Maschco-Piro tribe has been seen more frequently outside of their forest home in Manu National Park in recent years. Some experts blame illegal logging in the park and helicopters used in oil and gas projects for the sightings.
The photos, which were released by Survival International, were reportedly taken by an anthropologist and a tourist. Their release has led the Peruvian government to warn people not to approach the uncontacted tribe.
"They were known to be a peaceful tribe up until 2001 but there has been an increasing level of violence when they started shooting at people with bows and arrows because they started coming under increasing threat as their land became encroached upon," Rebecca Spooner with Survival International, told Al Jazeera.
To date there have been two reported attacks by the Mashco-Piro people. One wounded a forest ranger, while the other led to the death of an indigenous man, Nicolás "Shaco" Flores, who had been leaving food and gifts for a group of Mashco-Piro people for twenty years. He was found with a Mashco-Piro arrow wound. However, authorities have not confirmed this incident.
"In this tragic incident, the Mashco-Piro have once again expressed their adamant desire to be left alone," Glenn Shepard, an anthropologist wrote in Anthropology News. Leaving gifts, such as clothing for the tribe, is discouraged as it could spread disease and speed-up contact.
Last year, Survival International released video of the tribe taken by tourists. The tourists allegedly attempted to get close to the tribe in their motorboat as the tribe walked along a beach. At one point one of the tribal members prepares to fire at the boat with an arrow.
"First contact is always dangerous and frequently fatal—both for the tribe and those attempting to contact them. The Indians' wish to be left alone should be respected," director of Survival International Stephen Corry said.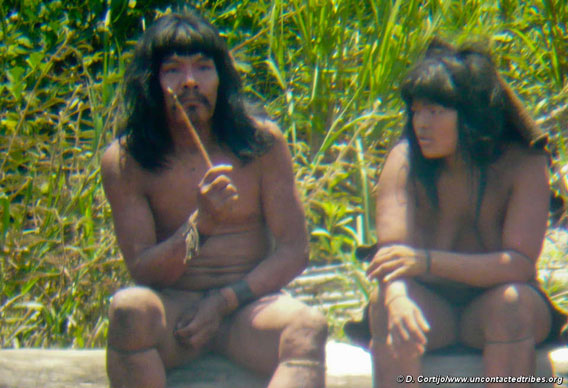 This Mashco-Piro man is holding a wooden-handled knife tipped with a capybara tooth. Photo courtesy of Survival International.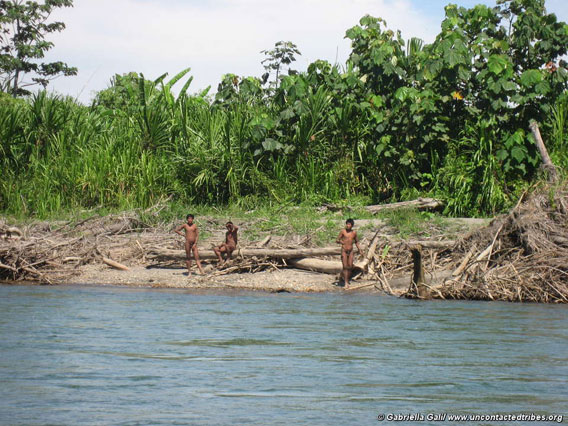 Tribe on riverbank. Photo courtesy of Survival International.
Related articles
Peru's real test is a 200km pipeline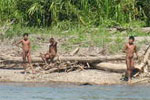 (10/27/2011) One of Ollanta Humala's most striking achievements since becoming Peru's president three months ago is new legislation guaranteeing indigenous people the right to be consulted about and in agreement with any project that affects them. Leading indigenous organization AIDESEP, usually so critical of the government, cautiously welcomed the move, while Survival International called it 'a significant step away from the policies of former Peruvian president Alan Garcia, who vetoed a similar bill.'
Isolated indigenous people and tourists collide in Peru park
(10/19/2011) New video released by the Peruvian government shows a potentially disastrous encounter between tourists and indigenous people long isolated from the outside world. In a motor boat tourists follow a group of Mashco-Piro people walking along the shores of the Manu River in Manu National Park. At one point one of the tribal members prepares to fire at the boat with an arrow. But danger doesn't only come from the possibility of a violent clash: uncontacted indigenous people, those who have chosen isolation from the world, are incredibly susceptible to disease.
Uncontacted tribe missing after armed drug dealers storm their forest
(08/09/2011) Concern is rising for the welfare of uncontacted natives in the Brazilian Amazon after armed marauders stormed the area where they were last documented. Last week men with rifles and machine guns, believed to be drug traffickers from Peru, overran a remote government guard post run by FUNAI (Brazil's Indigenous Affairs Department) on the Envira River, near the uncontacted indigenous people's location on the border of Brazil and Peru. The uncontacted indigenous people in question made headlines worldwide earlier this year after photos and film of them were released from flyovers.