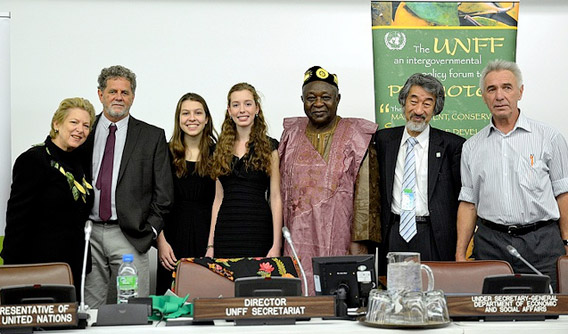 UNFF Director Jan McAlpine with winners Paulo Adario, Rhiannon Tomtishen, Madison Vorva, Paul Nzegha Mzeka, Shigeatsu Hatakeyama, and Anatoly Lebedev. Courtesy of the United Nations Forum on Forests (UNFF)
The United Nations on Thursday honored five "Forest Heroes" for their contributions toward protecting forests.
Winners of the Forest Heroes Awards included individuals from five regions: Africa, Asia, Europe, North America, and Central and South America.
The youngest winners were Rhiannon Tomtishen and Madison Vorva, two Girl Scouts who challenged their organization for its use of palm oil in Girl Scout cookies. By highlighting deforestation and threats to endangered species like orangutans from oil palm plantations, Tomtishen and Vorva catalyzed a movement that eventually forced Girl Scouts USA to commit to sourcing palm oil from less damaging sources.
Africa's winner was Paul Nzegha Mzeka, who launched several forest conservation initiatives in Cameroon over the past 30 years.
The awardee for Asia was Shigeatsu Hatakeyama, a former fisherman who highlighted the links between forests and healthy local fisheries in Japan.
Anatoly Lebedev of Russia was the winner for Europe. Originally a journalist, Lebedev has worked to protect Russian forests through conservation and reducing illegal logging.
Paolo Adario was recognized for his work with Greenpeace and Greenpeace-Brasil in protecting Earth's largest rainforest, the Amazon. Adario's efforts have helped trigger a moratorium on deforestation for soy, an agreement with the cattle industry to reduce its environmental impact, and crackdowns in illegal logging.
The U.N. also recognized José Claudio Ribeiro and Maria do Espírito Santo, activists who paid the ultimate price for the efforts to protect forests. The Brazilian couple was gunned down last year for their opposition to illegal logging and charcoal production in the Amazon. Brazilian officials failed to provide requested protection for the da Silvas despite numerous death threats.
The Forest Heroes Awards were granted in recognition of the U.N.'s International Year of Forests 2011. Ninety nominees* from 41 countries were considered.
* Mongabay was notified that its founder Rhett Butler was nominated for the award.
Related articles