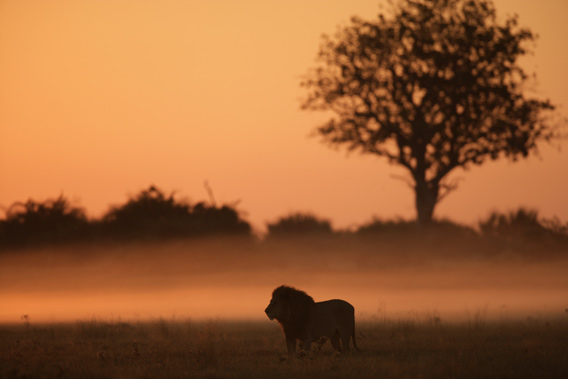 Male lion in the Okavango Delta. © National Geographic Entertainment. Photo by: Rhett A. Butler.
Now that California's carbon market has arrived, an Australian-based company that specializes in forest carbon offsets has jump started two forest projects with private landowners in the western U.S. The new company, Forest Carbon Partners, will make the projects available as carbon offsets for California polluters.
"As the California carbon market comes online, New Forests believes that forest carbon projects will become a critical source of offset supply. Forest Carbon Partners brings together a sophisticated understanding of both forestry and carbon markets to meet the demand for high-quality carbon credits that ensure important co-benefits for family forest landowners and the environment," says managing director, David Brand, in a press release. Forest Carbon Partners is a subsidiary of New Forests Inc., headquartered in Sydney.
Forest Carbon Partners is working with a private forest owner and a Native American tribe to develop offset projects on 4,450 hectares and hopes to expand to 40,000 hectares.
"Our end-to-end investment and project development process will deliver a large pipeline of offset supply to the California market, while focusing on projects with family forest owners that deliver significant land conservation and environmental benefits," said Brian Shillinglaw, manager of carbon investments and policy.
California's carbon market, which is set to become the world's second largest carbon market, is expected to spur green initiatives across the U.S., since the state is allowing companies outside California to participate in its offsets market.
Related articles
California finalizes cap-and-trade program
(10/24/2011) Bucking long-stalled efforts in the US to combat global climate change, California has approved final rules for a cap-and-trade program set to go into effect in 2013. The program will require large polluters in California to reduce emissions or to 'trade' emissions on the carbon market with another company or initiative that is sequestering carbon. The rules even allow companies outside the state to participate, creating clean energy incentives across the US.
California sets tough new clean car standards
(01/30/2012) The U.S. state that takes climate change most seriously—California—has unanimously approved new rules dubbed the Advanced Clean Cars program to lower carbon emissions, reduce oil dependence, mitigate health impacts from pollution, and save consumers money in the long-term. According to the new standards, by 2025 cars sold in California must cut greenhouse gas emissions by 34 percent and smog emissions by 75 percent. The program will also require 15.4 percent of all cars sold in California to be zero or near-zero emissions by 2025.
California approves cap-and-trade under global warming law
(12/17/2010) The California Air Resources Board voted 9-1 to adopt cap and trade regulations for AB32, California's 2006 climate law. The move, which establishes the first compliance carbon trading system in the United States, opens the door for carbon offsets generated via forest conservation projects.