The town of Ayun, home to 16,000 people in the Chitral district of Pakistan, has been rocked by large-scale protests and mass arrests over the issue of corruption and deforestation in recent days. Villagers are protesting forest destruction in the Kalasha Valleys, the home of the indigenous Kalash people.
The protests first began in November with 18 people arrested, all of whom were eventually released on bail. On December 25th, police allegedly used batons, tear gas, and aerial firing to disperse protestors, including women and children. Since then, police have reportedly rounded up over 100 villagers from their homes for arrest.
Activists blame the government Forest Department and the "timber mafia", contractors working with politicians, for vast deforestation that has worsened floods in the region, raised prices of fuelwood, contaminated water sources, and devastated local ecosystems.
"The natural resources of the coniferous and oak forests are vanishing day by day. The green valleys are being converted into barren lands. When environmentalists and some local leadership peacefully protested in [Ayun], the government administration put them in jail. If people cannot try and find a solution to these problems, without fear of government incarceration, who will be left to protect our forests in Chitral?" reads a recent op-ed in Chitral News on the issue.
The Kalash people in the region have their own unique religion, language, and culture, and are said to be descended from the armies of Alexander the Great, who entered the region in 326 BC.
Wildlife in Chitral has been little-studied, in part due to its inaccessibility. But a new university in the area hopes to contribute to a wider understanding of the area's flora and fauna.
"The 196 species of birds, 42 species of reptiles and 11 species of fish in the area including the rich variety of mammals make it a paradise for zoologists and the research carried out by the university students for the fulfillment of their course will leave a rich literature on flora and fauna," Haider Ali, a biologist, recently told Dawn.com.
Related articles
Chemotherapy tree facing extinction
(11/10/2011) A yew tree in the Himalayas that produces the chemotherapy drug, Taxol, is in danger of extinction. An update to the IUCN Red List, has moved the tree, named Taxus contorta, from Vulnerable to Endangered. Overharvesting for medicine and fuelwood have placed the species in serious danger.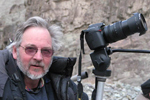 (10/28/2008) The snow leopard (Panthera uncia) is one of the rarest and most elusive big cat species with a population of 4,500 to 7,500 spread across a range of 1.2 to 1.6 million kilometers in some of the world's harshest and most desolate landscapes. Found in arid environments and at elevations sometimes reaching 18,000 feet (5,500 meters), the species faces great threats despite its extreme habitat. These threats vary across its range, but in all countries where it is found — Afghanistan, Bhutan, China, India, Kyrgyzstan, Kazakhstan, Nepal, Mongolia, Pakistan, Russia, Tajikistan, Uzbekistan and possibly Myanmar — the species is at risk. In some countries snow leopard are directly hunted for their pelt, in others they are imperiled by depletion of prey, loss of habitat, and killing as a predator of livestock. These threats, combined with the cat's large habitat requirements, means conservation through the establishment of protected areas alone may not be enough save it from extinction in the wild in many of the countries in which it lives. Working to stave off this fate in half a dozen of its range countries is the Snow Leopard Conservancy. Founded by Dr. Rodney Jackson, a biologist who has been studying snow leopard in the wild for 30 years, the Conservancy seeks to conserve the species by "promoting innovative grassroots measures that lead local people to become better stewards of endangered snow leopards, their prey, and habitat."
Drug use blamed as vulture population crashes 99% in India and Pakistan
(09/09/2008) Captive breeding programs are not large enough to ensure the oriental white-rumped vulture's survival, reports a new study in Biological Conservation.