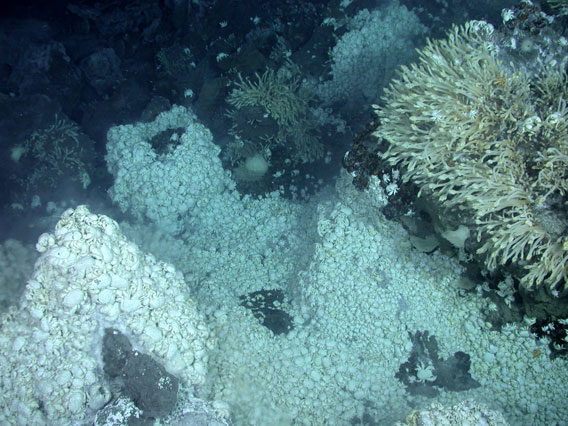 A new species of Yeti crabs cover nearly every inch of the "lost world" of deep sea Antarctic hydrothermal vents. Photo by: Oxford University. Click to enlarge.


Scientists have discovered a deep sea ecosystem dominated by hairy pale crabs off of Antarctica. The new species of "Yeti crabs" survive alongside many other likely new species, including a seven-armed meat-eating starfish, off of hydrothermal vents, which spew heat and chemicals into the lightless, frigid waters. According to the paper published in PLoS ONE, this is the first discovery of a hydrothermal vent ecosystem in the Southern Ocean though many others have been recorded in warmer waters worldwide.
"Hydrothermal vents are home to animals found nowhere else on the planet that get their energy not from the Sun but from breaking down chemicals, such as hydrogen sulphide," explains lead author, Alex Rogers of Oxford University's Department of Zoology, in a press release. "The first survey of these particular vents, in the Southern Ocean near Antarctica, has revealed a hot, dark, 'lost world' in which whole communities of previously unknown marine organisms thrive."
Scientists reached the hydrothermal vents in the East Scotia Ridge of the Southern Ocean via a Remotely Operated Vehicle (ROV). Besides capturing photos of ghostly crabs linings every inch of some of the vents, the ROV also took images of likely new species of barnacles, limpets, snails, sea anemones, starfish, and maybe even an octopus. The new species, which are believed only to survive in Antarctic waters, live around chimneys up to 15 meters (49.2 feet) tall and as hot as 352.6 degrees Celsius (666.6 degrees Fahrenheit).
"What we didn't find is almost as surprising as what we did," said Rogers. "Many animals such as tubeworms, vent mussels, vent crabs, and vent shrimps, found in hydrothermal vents in the Pacific, Atlantic, and Indian Oceans, simply weren't there."
The authors believe the new species discovered in Antarctica "[represent] a separate and new biogeographic province from those previously described for the global ocean." In other words, the researchers theorize that the new species have created a unique animal community that is endemic to Antarctic waters and doesn't mix with other hydrothermal vent communities in the north.
"The Southern Ocean is separated from the remaining global ocean by the surface-to-seabed Polar Front, which is a major barrier to dispersal of fauna to and from Antarctic waters. This region represents a sharp boundary in physical conditions," the authors write, noting that many Antarctic marine species are believed endemic to the Southern Ocean.
Hydrothermal vent ecosystems have only been known to marine scientists for around 35 years. Their initial discovery in the Galapagos Rift astounded scientists, who did not expect deep sea marine life to be able to exist in such densities. Further understanding of how the species exploit the chemicals produced by the vent have given rise to new theories on the origins of life. This new discovery is certain to bring about more questions.
"These findings are yet more evidence of the precious diversity to be found throughout the world's oceans," said Rogers. "Everywhere we look, whether it is in the sunlit coral reefs of tropical waters or these Antarctic vents shrouded in eternal darkness, we find unique ecosystems that we need to understand and protect."
Although located on the deep sea floor, hydrothermal vents are facing a sudden and new threat: deep sea mining. Hydrothermal vents are deposits of significant sources of minerals, and already Nautilus Minerals of Canada plans to be the first to mine deep sea hydrothermal vents off the coast of New Guinea in 2013, in this case for copper.
"Interest in mining deep-sea hydrothermal vents is likely to increase. Indeed, the
International Seabed Authority approved, in July this year, four new applications for exploration
of polymetallic sulphides associated with hydrothermal vents. The
applicants will restrict activity to inactive sites, which do not play
host to typical, living vent communities, but much concern
has been expressed about the potential for damage to sites in
international waters in the absence of an agreed and effective
conservation policy," Steven L. Chown with Stellenbosch University writes in a primer on the new discoveries.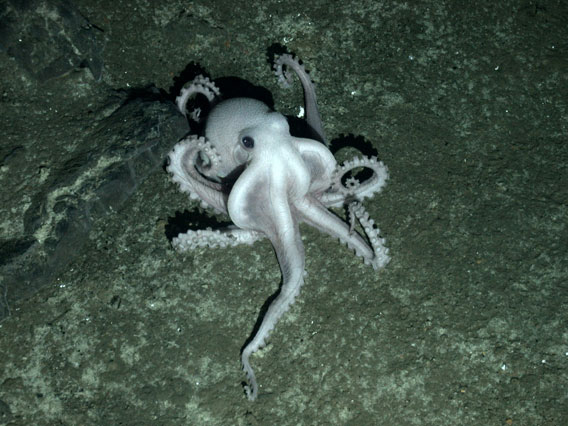 Unidentified pale octopus on seafloor may be a new species. It was photographed at nearly 2,400 meters (7,874 feet) below the surface. Photo by: Oxford University.
CITATION: Rogers AD, Tyler PA, Connelly DP, Copley JT, James R, et al. (2012) The Discovery of New Deep-Sea Hydrothermal Vent Communities in the Southern Ocean and Implications for Biogeography. PLoS Biol 10(1): e1001234. doi:10.1371/journal.pbio.1001234
Related articles
Yeti crab cultivates bacteria on its claws to feed itself
(12/02/2011) A species of deep-sea crab found in hydrothermal vents off Costa Rica cultivates "gardens" of bacteria on its claws to feed itself, reports Nature News.
Giant one-celled organisms discovered over six miles below the ocean's surface
(10/23/2011) Imagine a one-celled organism the size of a mango. It's not science fiction, but fact: scientists have cataloged dozens of giant one-celled creatures, around 4 inches (10 centimeters), in the deep abysses of the world's oceans. But recent exploration of the Mariana Trench has uncovered the deepest record yet of the one-celled behemoths, known as xenophyophores.
Photos: weird new species discovered in deep sea trench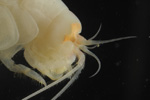 (10/18/2010) Fish were not expected to be able to survive so deep, but scientists have captured footage of a new species of a scavenger-hunting snailfish swimming at an astounding 7,000 meters below the surface. The video, taken from an 8,000 meter-deep sea trench in the Southeast Pacific Ocean, showed a level of biodiversity that surprised seasoned marine biologist, who have previously surveyed five other deep sea trenches.