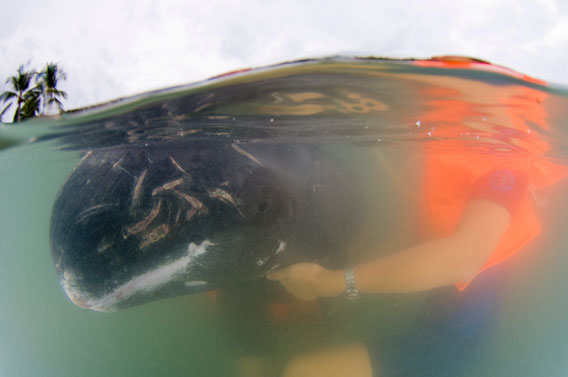 Transporting a stranded pygmy killer whale back to the wild. All photos by: Scubazoo.
On Tuesday a female pygmy killer whale (Feresa attenuata) was found stranded on Tanjung Aru beach, in the Malaysian state of Sabah on the island of Borneo. After being moved to a swimming enclosure at a local resort for recuperation, the whale was released back into the wild with aid from the Sabah Wildlife Department, marine biologist Lindsay Porter, the local NGO LEAP, and WWF Malaysia.


"It was fantastic to see such a show of support from everybody including the public, NGOs and individuals. Volunteers looked after and supported the whale round the clock for more than 30 hours including throughout the night. It shows that people are willing to show up at short notice and work together for such a cause. It also helps to raise awareness about Sabah's little known marine mammals. I hope this pygmy killer whale will survive and rejoin his family members," said Sabah Wildlife Department Director Laurentius Ambu.


Unfortunately little is known about pygmy killer whales. The IUCN Red List has categorized the species as Data Deficient given the lack of knowledge about the species' population, although researchers believe the species is naturally uncommon. Researchers think overfishing has taken a heavy toll on this species' prey, in addition the species is sometimes killed as bycatch, but strandings, such as this incident in Sabah, may be caused by underwater noise pollution.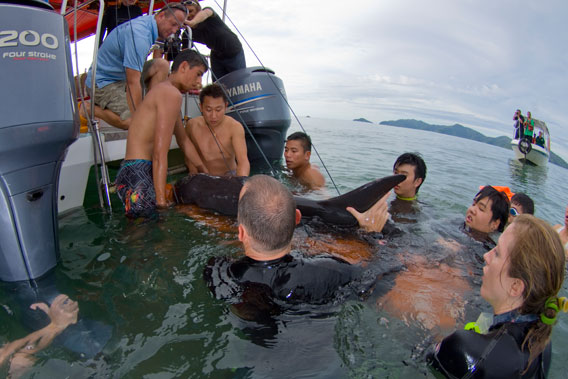 Moving the pygmy killer whale onto the boat to take it out to sea. All photos by: Scubazoo.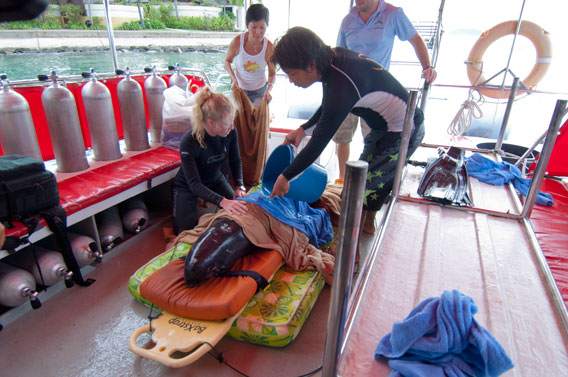 Going to sea. All photos by: Scubazoo.