Owing to the high yield of the African oil palm tree, palm oil is today the cheapest commercial source of edible oil. But oil palm expansion in recent decades has at times had high indirect costs, including destruction of biologically diverse rainforests and further marginalization of forest-dependent people, especially in southeast Asia.
Concerns over the environmental and social impact of palm oil production in the early 2000s spurred a group of palm oil producers, processors, and buyers to team up with conservation groups and other organizations to form a multistakeholder body to establish criteria for 'greener' palm oil. The body, known as the Roundtable on Sustainable Palm Oil (RSPO) was officially established in 2004 and now counts more than 700 members, affiliates, and associates, including some of the world's largest producers, retailers, and NGOs.
Shipments of RSPO-certified palm oil first reached Europe in 2008 and the United States last year. Many companies are supporting the initiative through purchases of Green Palm certificates which represent physical palm oil certified under the RSPO, when they aren't actually able to source certified palm oil directly.
Sales and production of RSPO-certified palm oil have accelerated in recent months, although production still exceeds demand, largely eroding the price premium producers had hoped to see by improving their environmental stewardship. The lack of a price premium has made it more difficult for environmental members of RSPO to push for stronger certification standards. Some NGOs outside RSPO remain very critical of the initiative.
Nonetheless RSPO represents the first industry-wide push to set minimum standards for palm oil. Malaysia and Indonesia have recently launched their own certification standards, which seem to be inspired by the RSPO, although both focus on compliance with national laws.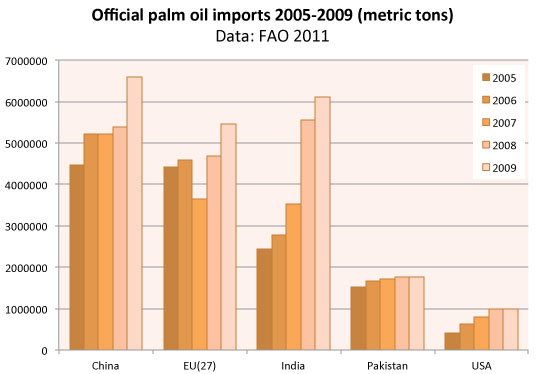 RSPO advocates — especially among civil society members — hope that competing systems could eventually raise standards and the price of certified palm oil, incentivizing wider production.
But a big question looms over all certification efforts: will the world's largest importers of palm oil — India and China — show the same preference for certified palm oil that is beginning to be seen in Western Europe and the United States? The failure of India and China to embrace certified palm oil in the long run, could relegate RSPO to a niche market, thereby limiting the effectiveness of the initiative to encourage more responsible palm oil production.
To explore this issue, mongabay.com reached out to Teoh Cheng Hai, a consultant who formerly worked for Golden Hope Plantations Berhad, which is now owned by Sime Darby Berhad, the world's largest palm oil company. He was the first Secretary-General of the RSPO and served as Honorary Advisor to the World Wide Fund for Nature Malaysia (WWF-Malaysia) from 2001 to 2004.
mongabay.com Is there much interest in RSPO from Chinese buyers? If so, why is there interest?
| | |
| --- | --- |
| | Oil palm plantations near Lahad Datu, Malaysia. Photo by Rhett A. Butler |
Teoh Cheng Hai: At present, there is a very low level of awareness of RSPO and CSPO from Chinese buyers. In fact, buyers and consumers have little knowledge on palm oil itself as an edible oil even though China has been a major consumer for many years and is currently is the world's second largest importer, accounting for about 13 percent of the global production. As palm oil has low cold stability, it is usually blended with other vegetable oils such as soyoil, sunflower and groundnut oil but palm oil is not included as a constituent of blends on the labels of consumer packs.
Although WWF China and CFNA (China Chamber of Commerce for Import/Export of Foodstuffs, Native Produce and Animal By-Products) have in recent years made effort to promote RSPO and sustainable palm oil in China, interest from Chinese companies has been low. A major reason is the lack for a convincing case for companies, as well as the Government to respond to the global call for sustainable production and consumption of palm oil. It should be borne in mind that the edible oil market is highly price sensitive and any additional costs for sustainability could have an impact on the companies' economic bottom-line.
At present, there are only 3 Chinese companies which are members of RSPO; however, their uptake of CSPO is quite limited.
mongabay.com Is the Chinese government supporting RSPO or is most of the interest from private companies?
Teoh Cheng Hai: Although the Chinese government has a strong national commitment to sustainability and has in recent years been working towards a Low Carbon Economy, there is no particular agenda or interest on palm oil sector. At the Ministry level, the Ministry of Commerce has shown initial interest in sustainable palm oil through its support of a recent policy study on challenges and opportunities for sustainable palm oil in China that was undertaken by CFNA together with DEFRA/DFID of UK.
mongabay.com How is palm oil typically used in China? Does it go into export-oriented products, or mostly for domestic consumption?
Teoh Cheng Hai: Of the 5.8 million metric tons of palm oil consumed by China in 2010, about 80-85 percent has been used for food applications while the remaining portion is mainly used for oleochemicals. Almost all of the palm oil imported is for domestic consumption and there negligible outflow if manufactured palm-based products. The lack of opportunity for leverage by the supply chain for uptake of CSPO is one of the difficulties in developing a good business case for promoting sustainable palm oil in China.
mongabay.com Do you expect China to use palm oil for biodiesel production?
Teoh Cheng Hai: Yes, as according to the national development plan, annual consumption of biodiesel is expected to be about 2 million tons by 2020. But at present the comparatively high price of crude palm oil makes it uneconomical to produce biodiesel from palm oil.
NOTE: Although I have been involved in the effort on promotion of sustainable palm oil in China since 2006 through my work for WWF China and CFNA, the above views are my personal responses and do not necessary reflect those of the organizations cited.
Related articles
Cargill should do more to end use of problematic palm oil, says RAN
(11/24/2011) As part of our coverage of the 9th Annual Roundtable Meeting on Sustainable Palm Oil currently underway in Kota Kinabalu in Sabah, Malaysia, mongabay.com is interviewing participants and attendees. In the following interview, mongabay.com speaks with the delegation from the Rainforest Action Network (RAN), an advocacy group which has been critical of some Roundtable on Sustainable Palm Oil (RSPO) members for what is sees as ongoing social and environmental problems.
Europe should lift duty on RSPO-certified palm oil to encourage use, says Dutch group
(09/21/2011) To encourage uptake of palm oil that is less damaging to the environment, the European Union (EU) should lift the import duty on palm oil certified under Roundtable on Sustainable Palm Oil (RSPO), said a Dutch industry group.
Malaysian government to launch RSPO rival for palm oil certification
(08/02/2011) The Malaysian government is developing its own certification system for palm oil production, potentially creating another rival to the certification system run by the Roundtable on Sustainable Palm Oil (RSPO), reports Malaysia's Business Times.
Alleged moratorium breach becomes test for RSPO
(06/24/2011) An alleged breach of Indonesia's new moratorium on primary forest and peatlands conversion may prove a test for the Roundtable on Sustainable Palm Oil (RSPO), an eco-certification initiative.
Palm oil company gives up land contested by local communities as part of sustainability pledge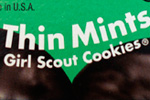 (03/21/2011) An Indonesia palm oil company has relinquished part of its plantation concession to communities that traditionally use the land as part of its commitment to sustainability principles under the Roundtable on Sustainable Palm Oil (RSPO), reports the Forest Peoples Programme. The move is a response to a new procedure that could reduce conflict between palm oil developers and forest-dependent communities.
Breakthrough? Controversial palm oil company signs rainforest pact
(02/09/2011) One of the world's highest profile and most controversial palm oil companies, Golden Agri-Resources Limited (GAR), has signed an agreement committing it to protect tropical forests and peatlands in Indonesia. The deal—signed with The Forest Trust, an environmental group that works with companies to improve their supply chains—could have significant ramifications for how palm oil is produced in the country, which is the world's largest producer of palm oil.
Greening the world with palm oil?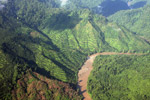 (01/26/2011) The commercial shows a typical office setting. A worker sits drearily at a desk, shredding papers and watching minutes tick by on the clock. When his break comes, he takes out a Nestle KitKat bar. As he tears into the package, the viewer, but not the office worker, notices something is amiss—what should be chocolate has been replaced by the dark hairy finger of an orangutan. With the jarring crunch of teeth breaking through bone, the worker bites into the "bar." Drops of blood fall on the keyboard and run down his face. His officemates stare, horrified. The advertisement cuts to a solitary tree standing amid a deforested landscape. A chainsaw whines. The message: Palm oil—an ingredient in many Nestle products—is killing orangutans by destroying their habitat, the rainforests of Borneo and Sumatra.
Converting palm oil companies from forest destroyers into forest protectors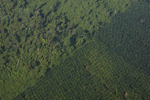 (01/02/2011) In efforts to save the world's remaining rainforests great hopes have been pinned on "degraded lands" — deforested lands that are presently sitting idle in tropical countries. Optimists say shifting agriculture to such lands will help humanity produce enough food to meet growing demand without sacrificing forests and biodiversity and exacerbating social conflict. But to date, degraded lands remain an enigma, especially in Indonesia, where deforestation continues at a rapid pace. Degraded lands are often misclassified by various Indonesian ministries—land in a far-off province may be listed as "wasteland" by Jakarta, but in reality is blanked by verdant forest that sequesters carbon, houses wildlife, and affords communities with food, water, and other essentials. Granting logging and plantation concessions on these lands can result in conflict and environmental degradation.
Lack of price premium for certified palm oil endangers sustainability initiative
(12/19/2010) The palm oil industry's sustainability initiative is making considerable progress toward improving its environmental performance, but needs to do more to accelerate the adoption of responsible practices, argue researchers writing in mongabay.com's open access journal Tropical Conservation Science.
Indonesia to launch rival palm oil certification standard
(11/10/2010) The Indonesian government is moving closer to launching its own certification system to ensure less damaging palm oil production, reports the Jakarta Post. The scheme would rival the Roundtable on Sustainable Palm Oil, a multi-stakeholder body that has been developing criteria since 2004 and began shipping certified sustainable palm oil (CSPO) in 2008.
U.S. companies should help drive push toward sustainable palm oil
(11/09/2010) U.S. companies should take a leadership role in helping ensure that palm oil production is sustainable and does not come at the cost of forests, climate, and communities, argues a new report published ahead of the annual meeting of the Roundtable on Sustainable Palm Oil (RSPO). The report, published by the National Wildlife Federation (NWF), says that while the U.S. is only a minor consumer of palm oil, its demand for the vegetable oil is fast rising, increasing four-fold since 2006. Palm oil, which is among the cheapest of vegetables owing to its high yield, is now found in up to 50 percent of packaged retail food products.
Nestle's palm oil debacle highlights current limitations of certification scheme
(03/26/2010) Last week Nestle, the world's largest food processor, was caught in a firestorm when it attempted to censor a Greenpeace campaign that targeted its use of palm oil sourced from a supplier accused of environmentally-damaging practices. The incident brought the increasingly raucous debate over palm oil into the spotlight and renewed questions over an industry-backed certification scheme that aims to improve the crop's environmental performance.
Consumers should help pay the bill for 'greener' palm oil
(01/12/2010) Palm oil is one of the world's most traded and versatile agricultural commodities. It can be used as edible vegetable oil, industrial lubricant, raw material in cosmetic and skincare products and feedstock for biofuel production. Growing global demand for palm oil and the ensuing cropland expansion has been blamed for a wide range of environmental ills, including tropical deforestation, peatland degradation, biodiversity loss and CO2 emissions. In response to these concerns, a group of stakeholders—including activists, investors, producers and retailers—formed the Roundtable on Sustainable Palm Oil (RSPO) to develop a certification scheme for palm oil produced through environmentally- and socially-responsible ways. It is widely anticipated that the creation of a premium market for RSPO-certified sustainable palm oil (CSPO) would incentivize palm oil producers to improve their management practices.