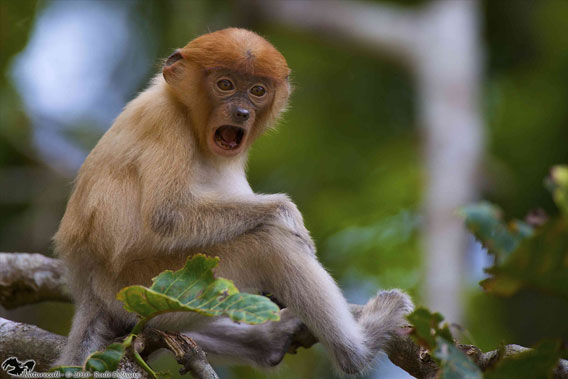 Young proboscis monkey. Photo courtesy of Rudi Delvaux/Danau Girang Field Center (DGFC)/Sabah Wildlife Department (SWD).
The practice of palm oil plantations planting along rivers is leading to a decline in proboscis monkeys (Nasalis larvatus) in the Malaysian state of Sabah on Borneo, says the director of the Sabah Wildlife Department, Laurentius Ambu. Proboscis monkeys, known for their bulbous noses and remarkable agility, depend on riverine forests and mangroves for survival, but habitat destruction has pushed the species to be classified as Endangered by the IUCN Red List.
"The oil palm industry does not have to plant all the way down to the river edge, they should leave the riparian forest with a buffer of preferably one kilometer for wildlife and also as a measure to protect our waterways for as the water is also ultimately used for human consumption," said Ambu in a press release.
Two years ago the palm oil industry and the Sabah government pledged to build wildlife corridors and acquisition land of at least 100 meters along rivers for reforestation and wildlife conservation. But a frustrated Ambu said little progress has been made, which he blamed on industry stalling.
"The State Government is committed to reforestation and we are working closely with community groups, NGOs and even private companies but the oil palm industry on the whole has been very slow to replant riparian areas although they talk a lot of it," said Ambu, who added that the Sabah government had given much to palm oil companies, and it was time for the companies to give back through reforestation of the areas in question.
| | |
| --- | --- |
| | Sabah's proboscis monkey (Nasalis larvatus) population is declining due to habitat loss as riparian forest are continually destroyed to plant oil palm and mangrove areas reclaimed for development. Photo courtesy of Rudi Delvaux/DGFC/SWD. |
A recent two-year study by local NGO HUTAN found that the populations of proboscis monkeys were declining along the Kinabatangan River by 10 percent annually due to forest destruction for palm oil. The land surrounding the Kinabatangan is heavily divided between the Kinabatangan Wildlife Sanctuary and private land, much of which has been converted to palm oil plantations in recent decades. This has created an untenable situation for wildlife unable to cross palm oil plantations with ease. This riverside forests are key for a wide-variety of species in Sabah beyond proboscis monkeys, including Bornean elephants, gibbons, and Bornean orangutans. The region also serves as an important eco-tourism hub.
"The only way to stop this decline and to ensure the survival of the eco-tourism industry that also benefits local community is to stop all forest conversions even if it is a small area and continue with the various tree planting projects that have been on going," Ambu said.
The director especially condemned the practice of planting palm oil over regularly-flooded river areas, which destroys the land entirely.
"These marginalized lands […] should be replanted by the oil palm companies with native species of trees that survive this flooding instead of just being abandoned and the soil washing out into the river during flooding," he said.
Palm oil plantations are a contentious environmental issue in Malaysia and Indonesia. As the world's highest yielding oil crop, oil palm vastly outperforms corn, soy, or rapeseed, providing more food per hectare by ten to twenty times as much. It also has a better carbon balance than rapeseed or soy—but only if not grown over forests or peat land. However, palm oil has been responsible for significant forest loss and biodiversity declines in Southeast Asia. A study in Conservation Letters found that 55-59 percent of palm oil plantations in Malaysia built between 1990 and 2009 occurred on forested land. In all it has been estimated that in Sabah alone forest cover declined by nearly 90 percent from 1975-1995, likely due to both logging and oil palm.
In recent years, some palm oil companies have attempted to respond to criticism by joining a sustainable initiative, the Roundtable on Sustainable Palm Oil (RSPO) and having a more constructive dialogue with conservationists.
Palm oil is found in everything from processed foods to sweets to toiletries.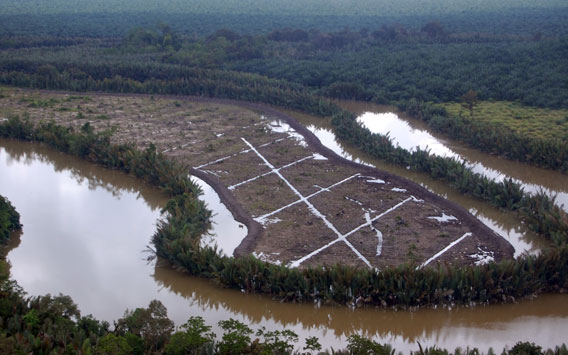 A prime example of an area that should not be cultivated for oil palm and should be reverted back to native forest. Photo credit HUTAN/Marc Ancrenaz.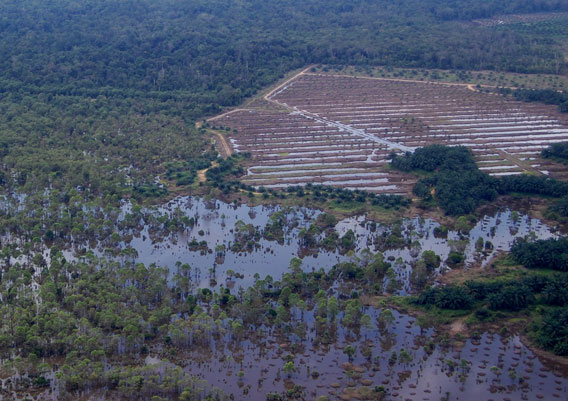 This series of pictures clearly highlights the fact that these land areas were not suitable for conversion to oil palm. Note, the difference between the flooded oil palm plantation areas and the forest with native trees. This clearly illustrates that oil palm should not be planted here and the land should be replanted back into native forest. Photo credit HUTAN/Marc Ancrenaz.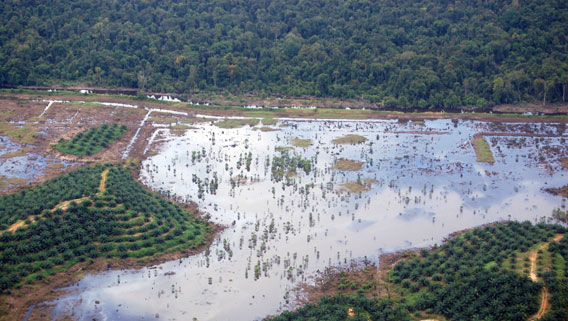 Photo credit HUTAN/Marc Ancrenaz.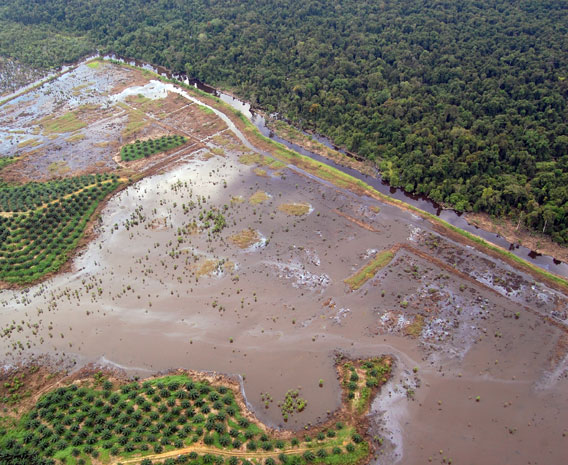 Photo credit HUTAN/Marc Ancrenaz.
Related articles
Cargill should do more to end use of problematic palm oil, says RAN
(11/24/2011) As part of our coverage of the 9th Annual Roundtable Meeting on Sustainable Palm Oil currently underway in Kota Kinabalu in Sabah, Malaysia, mongabay.com is interviewing participants and attendees. In the following interview, mongabay.com speaks with the delegation from the Rainforest Action Network (RAN), an advocacy group which has been critical of some Roundtable on Sustainable Palm Oil (RSPO) members for what is sees as ongoing social and environmental problems.
Malaysia to spend $7.7M to defend palm oil from criticism
(11/09/2011) The Malaysian government will spend 24 million ringgit ($7.7 million) in 2011 and 2012 to counter criticism over the social and environmental impact of palm oil, reports ANTARA.
Malaysia must take action to avoid extinction of its last rhinos
(11/05/2011) Malaysia must take immediate action to prevent the extinction of the handful of rhinos that survive on the island of Borneo, says a coalition of environmental groups.