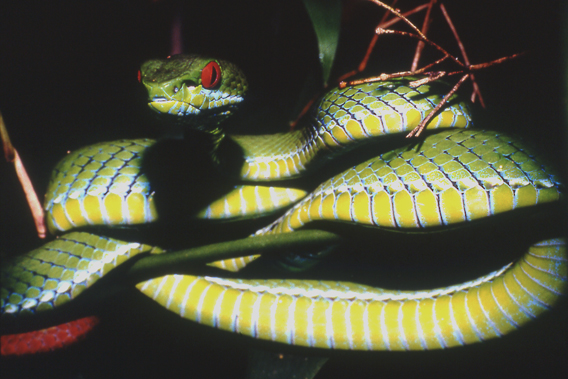 Hard to miss the bright red ruby eyes of the world's newest pitviper, Cryptelytrops rubeus, which was first described in 2011. Photo ©: Peter Paul van Dijk.
Every year scientists describe thousands of species for the first time. 2011 was no different, so here's a look at some of the significant new species discoveries for the year.
Herpetologists announced the discovery of dozens of previously unknown frog and toad species, including the world's tiniest frogs, the size of a Tic Tac, in New Guinea; several types in Vietnam, including one that sings like a bird; and more than two dozen in India and Sri Lanka. But an expedition launched to find 100 species of 'lost frogs' turned up only four species, highlighting the many risks facing amphibians.
Among reptiles, 2011 seemed to be the year of the viper: at least three species were described, including two pit vipers in Southeast Asia and a stunning new viper in Tanzania.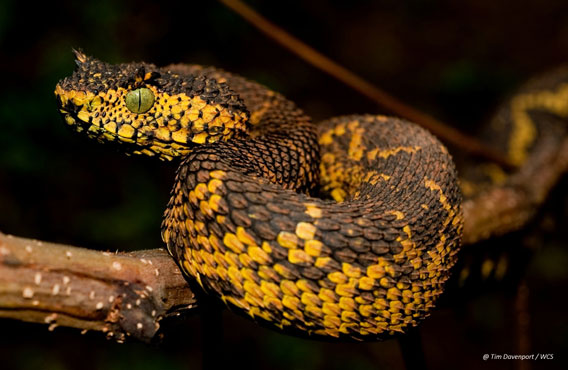 Matilda's horned viper. Photo by: Tim Davenport.
Among the oddities discovered in 2011: a 'SpongeBob' mushroom in Borneo, a species of zombie-creating Ophiocordyceps fungi in Brazil's Atlantic forest, a giant insect dubbed the 'Komodo dragon' of wasps, an apparently ancient eel off Palau, and a bee with the world's longest tongue relative to its body size. Other unusual creatures were found at great ocean depths, including a massive — for a one-celled organism — xenophyophore and Yeti crab that grows its own food by cultivating gardens of bacteria on its claws.
There were even discoveries of conspicuous animals like birds and mammals. Australia announced that a bottlenose dolphin in Port Philip and the Gippsland Lakes in southeastern Australia is distinct from other bottlenose dolphins. Between two and four previously unknown species of shrew were discovered on Sulawesi island in Indonesia, while seven new mice species were discovered in the Philippines, and one new mouse turned up in Brazil. Two species of seabirds were described for the first time: a storm petrel near Chile and Bryan's shearwater (Puffinus bryani), which may already be extinct. Scientists working in Madagascar revealed Mentocrex beankaensis, a new rail. Researchers announced a new species of titi monkey between the Guariba River and the Roosevelt River in northwestern part of Mato Grosso in Brazil; several new bats in the Caribbean and Southeast Asia; and a bizarre new ferret-badger in Vietnam. And perhaps least intuitively, a new elephant species was described: scientists decided officially that the forest elephant of Central Africa is genetically distinct enough from the better-known savanna elephant to be classified as its own species.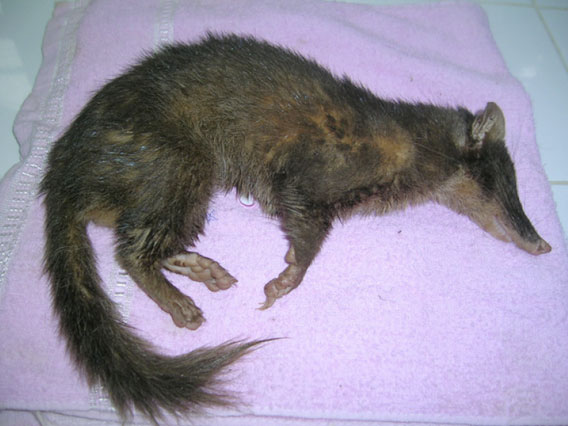 Side view of the Cuc Phuong ferret-badger (Melogale cucphuogensis). Photo by: Elke Schwierz.
And perhaps the biggest 'new species' haul of 2011 came during an expedition by the California Academy of Sciences and several Philippine scientific institutions, which turned up more than 300 plants, animals, and corals believed to be undocumented.
New species discoveries are bound to continue as genetic analysis becomes more widespread and scientists conduct surveys of ever more habitats. But species loss also continues, and that is something considerably more difficult to quantify. Cataloging the disappearance of a species is extremely costly — final proof can take years. Nonetheless in 2011 the book was closed on two particularly conspicuous creatures: neither the Vietnamese rhino nor the western black rhino roam the wilds any more.