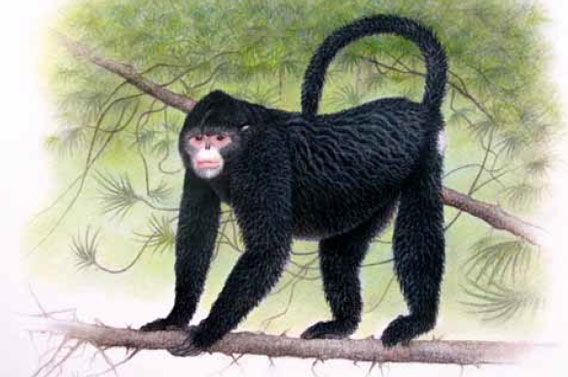 A new monkey, dubbed the Myanmar snub-nosed monkey (Rhinopithecus strykeri), was only discovered after researchers heard reports from hunters of a strange monkey with upturned nostrils and prominent lips in the remote Kachin region of Myanmar. It is known locally as mey nwoah, or 'monkey with an upturned face'. Reportedly its easy to locate since it sneeze in the rain. However researchers have warned that logging is likely to occur in the area soon. Illustration by: Martin Aveling/Fauna & Flora International.
Last year researchers scoured forests, rivers, wetlands, and islands in the vanishing ecosystems of the Mekong Delta to uncover an astounding 208 new species over a twelve month period. A new report by the World Wide Fund for Nature (WWF) highlights a number of the new species—from a new snub-nosed monkey to five new meat-eating pitcher plants to a an all-female, cloning lizard—while warning that many of them may soon be gone as the Mekong Delta suffers widespread deforestation, over-hunting and poaching, massive development projects, the destruction of mangroves, pollution, climate change, and a growing population.
The Greater Mekong region covers five Southeast Asia nations—Cambodia, Laos, Vietnam, Thailand, and Myanmar—as well as China's Yunnan province; the region is particularly rich in wildlife and home to such popular (and threatened) species as Asian elephants (Elephas maximus), the Indochinese tiger (Panthera tigris corbetti), and the Mekong giant catfish (Pangasianodon gigas). Adding to these scientists discovered over 17 new species every month, cataloging 145 new plants, 28 reptiles, 25 fish, 7 amphibians, 2 mammals, and 1 bird in 2010 (see photos and descriptions—more below ).
| | |
| --- | --- |
| | One of five new carnivorous pitcher plants discovered in the Mekong region in 2010: Nepenthes holdenii. Discovered by British photographer Jeremy Holden in the Cardamom Mountains of Cambodia, the new species is surprisingly drought resistant. Photo by: Francois May. |
"This report is an affirmation of what we know—that the Greater Mekong offers unparalleled diversity in nature—and what must be done," said Rebecca Ng of WWF's Greater Mekong Program. "The rich natural treasures of the region could be lost if regional governments don't recognize that protecting biodiversity is an investment to ensure long-term sustainability, especially in the face of global environmental change."
Although the forests and wetlands of the Mekong provide freshwater and food to hundreds of millions, business-as-usual in the region is degrading biodiversity and ecosystems. Forests are being cut for plantations, mangroves destroyed for aquaculture, dams built on rivers, and wildlife overexploited for meat and traditional medicine. One sign of this is the confirmation this year of the extinction of the Vietnamese rhino (Rhinoceros sondaicus annamiticus), a subspecies of the Javan rhino, and the last rhino in Southeast Asia. The rhino's death to poachers also marks the final stand of one of the region's last megafauna, perhaps portending that the Indochinese tigers and the giant Mekong catfish may be soon follow.
The report also highlights changes to the region by climate change, which is shifting precipitation patterns, causing more extreme flooding and drought.
"Only intact, healthy, and diverse natural ecosystems can provide the resilience to ensuing climate change while ensuring continued access to water, energy, food, commodities, and livelihoods for over 300 million people," the report reads.
The forests of Indo-Burma, covering the Greater Mekong, were listed as the world's most threatened forest hotspot by Conservation INternational (CI) in 2009. According to the organization, only 5 percent of the region's forests remained.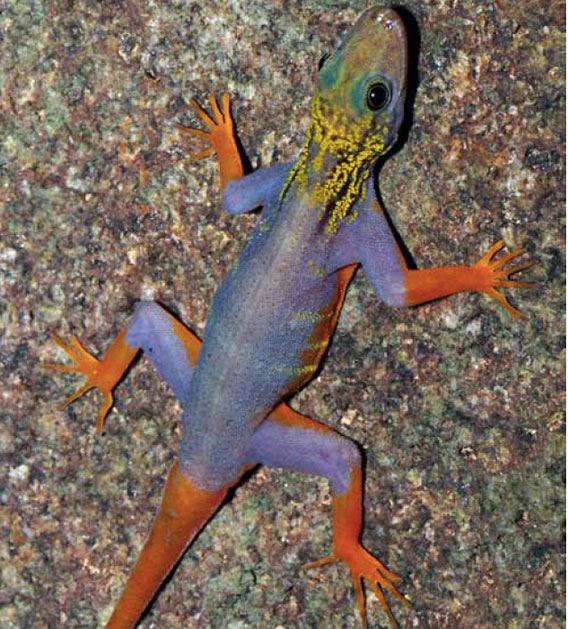 Found on an island in Vietnam's Rach Gia Bay, this new gecko is named after its wild, vibrant look: Cnemaspis psychedelica. The discovered should propel more investigations of the nearly hundred islands in the bay. Photo by: L. Lee Grismer.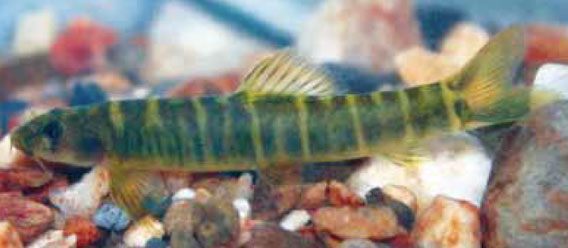 This new freshwater fish is a species of loach (Schistura udomritthiruji). In all the Mekong region boasts some of the highest biodievrsity of freshwater fish in the world with over 850 known species. 2010 added 25 new species. However many of the region's fish are imperiled by overfishing, pollution, loss of mangroves, and the construction of massive dams. Photo by: Jorge Bohlen.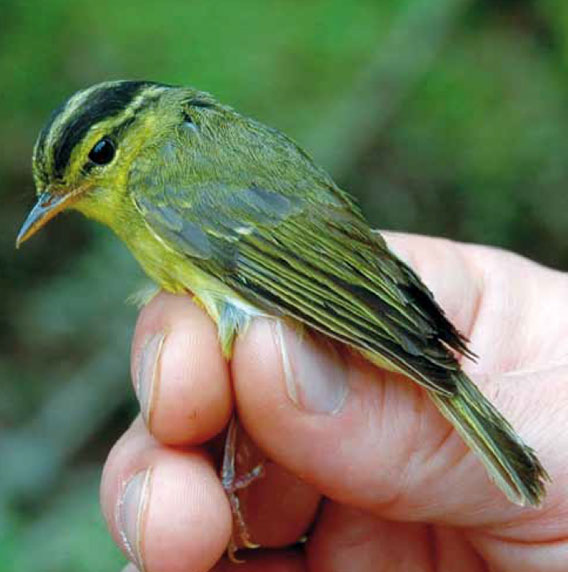 This little warbler inhabiting limestone karsts in Vietnam and Laos has been named a new species: the limestone leaf warbler ( Phylloscopus calciatilis). Although first sighted in 1994, the bird was not declared a new species until last year. Wood collection in the area puts this species at risk. Photo by: © Ulf Johansson/Swedish Museum of Natural History.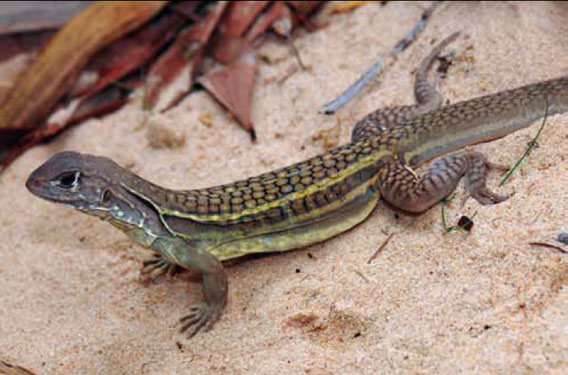 Like many new species in the region, this new skink (Leiolepis ngovantrii) was found on a plate. Discovered in a restaurant in Vietnam this new species held a few surprises for scientists. For one thing there are no males, and the all-female species reproduces by cloning. Many species in the Mekong region are hunted for food or traditional medicine; but in a world of growing human populations and dwindling habitat the ancient cultural practices have created many "silent forests" and pushed a number of species onto the endangered list. Photo by: L. Lee Grismer.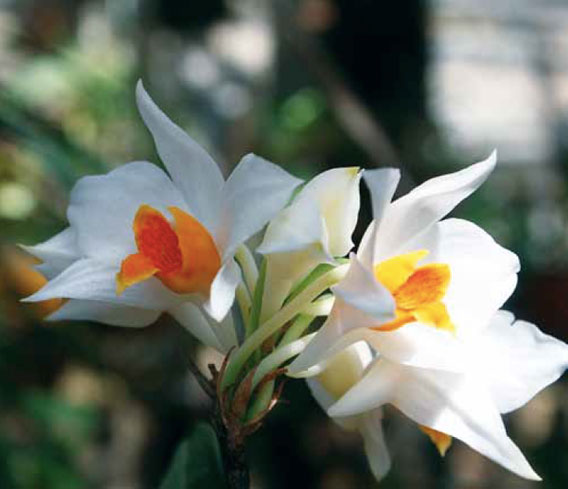 This new orchid is one of 145 new plants and 16 new orchids discovered in the region last year. This one was found in Vietnam and named Dendrobium daklakense. Photo by: © Duong Toan.


Tylototriton notialis is a new species of newt discovered in Laos, the first from this genus in country. Researchers fear that harvesting for medicine and the pet trade could imperil this species. Photo by: © Bryan Stuart.
Related articles
New species of frog sings like a bird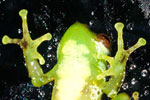 (12/12/2011) If you're trudging through the high-altitude rainforests of northern Vietnam and you hear bird song, you might want to check the trees for frogs. Yes, that's right: frogs. A new species of tree frog has been discovered in Vietnam that researchers say has a uniquely complex call that makes it sound more like a bird than a typical frog. Discovered in Pu Hoat Proposed Nature Reserve, the new species, dubbed Quang's tree frog (Gracixalus quangi), dwells in the forests at an altitude 600-1,300 meters (nearly 2,000-4,265 feet).
Photos: two new paper clip-sized frogs discovered in Vietnamese mountains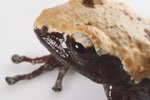 (12/07/2011) Researchers have discovered two new frog species living in the montane tropical forests of Vietnam. Known as moss frogs, these small amphibians employ camouflage as one way to keep predators at bay, in some cases resembling the moss that gives them their name.
Photos: bizarre new mammal discovered in Vietnam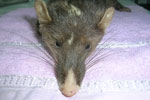 (11/28/2011) A new species of omnivorous mammal has been found in Cuc Phuong National Park, Vietnam. A part of the weasel family, the new species is known as a ferret-badger, a strange subfamily of mammals that have been little-studied by researchers. Smaller than proper badgers, ferret-badgers have elongated faces and long bushy tails.