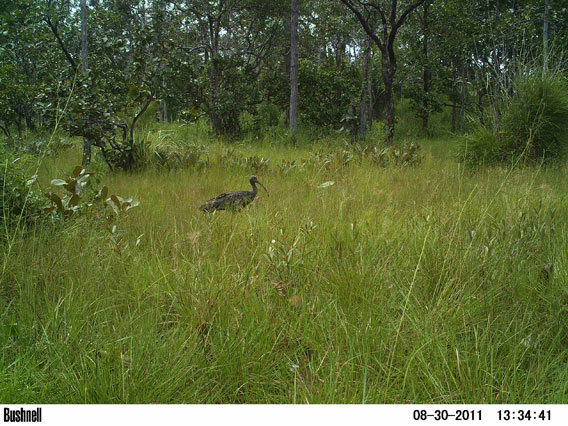 The first giant ibis confirmed in Cambodia's Koh Kong Province since 1918. Photo by: Wildlife Alliance.
The world's largest ibis, and one of the world's most endangered birds, has received some good news. A giant ibis (Thaumatibis giganteawas) has been photographed in the Kampong Som Valley in Koh Kong Province in Cambodia, the first record from this province in nearly a hundred years. Adults can grow to reach nearly 3.5 feet (106 centimeters) long.
The bird was captured by camera trap—an automated camera that uses infrared to snap photos of cryptic wildlife—by the NGO Wildlife Alliance. Listed as Critically Endangered by the IUCN Red List, the species is believed to be down to only around 100 breeding pairs. Most of these live in Cambodia, although a few may survive in Laos and Vietnam.
Wildlife Alliance writes that Kampong Som Valley "is an amazing ecosystem of flooded grasslands, wetlands, small lakes and a wide river mixed with regenerating deciduous and semi evergreen forest. This area of low population density and low human interference has been protected by the Cambodian Forestry Administration and Wildlife Alliance for the last 10 years with the strategic objective of maintaining and restoring the corridor link between the western and eastern forest bodies of the Southern Cardamom Mountains."
The organization now plans to survey the area for giant ibises to determine if the valley is home to a breeding population. The giant ibis is threatened by hunting, deforestation, and the draining of wetlands. It may also depend on small pools created by megafauna, such as elephants, which have vanished from much of Southeast Asia. The giant ibis appears to be particularly sensitive to human presence.
Ibises are long-legged wading birds, characterized by long scythe-shaped beaks. Currently, there are 28 species of ibis in the world. The ibis was worshiped by the Ancient Egyptians as being scared to the god, Thoth.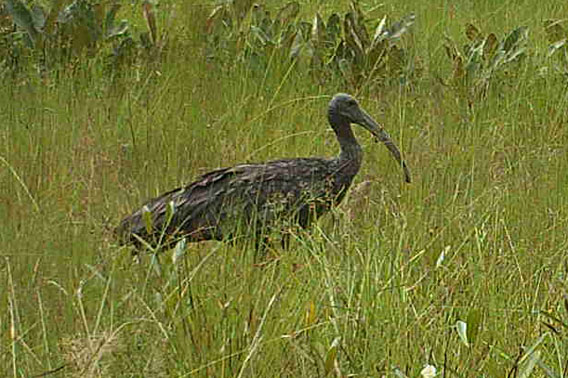 Detail of camera trap photo showing giant ibis in Cambodia's Koh Kong Province. Photo by: Wildlife Alliance.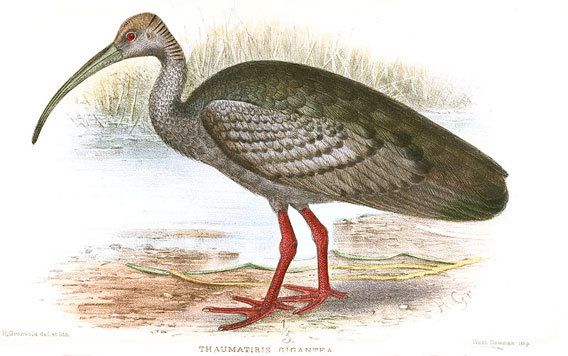 Illustration of giant ibis. Illustration by: Henrik Grönvold.
Related articles
Photos: Cambodians rally as 'Avatars' to save one of the region's last great rainforests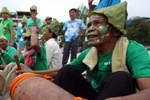 (05/31/2011) Two hundred Cambodians rallied in Phnom Penh last week to protest the widespread destruction of one of Southeast Asia's last intact lowland rainforests, known as Prey Lang. In an effort to gain wider media attention, protestors donned dress and make-up inspired by the James Cameron film, Avatar, which depicts the destruction of a forest and its inhabitants on an alien world. The idea worked as the rally received international attention from Reuters, CNN (i-report), MSNBC, and NPR, among other media outlets.
Cambodia's wildlife pioneer: saving species and places in Southeast Asia's last forest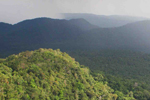 (05/11/2011) Suwanna Gauntlett has dedicated her life to protecting rainforests and wildlife in some of the world's most hostile and rugged environments and has set the trend of a new generation of direct action conservationists. She has designed, implemented, and supported bold, front-line conservation programs to save endangered wildlife populations from the brink of extinction, including saving the Amur Tiger (also known as the Siberian Tiger) from extinction in the 1990s in the Russian Far East, when only about 80 individuals remained and reversing the drastic decline of Olive Ridley sea turtles along the coast of Orissa, India in the 1990s, when annual nestings had declined from 600,000 to a mere 8,130. When she first arrived in Cambodia in the late 1990s, its forests were silent. 'You couldn't hear any birds, you couldn't hear any wildlife and you could hardly see any signs of wildlife because of the destruction,' Gauntlett said. Wildlife was being sold everywhere, in restaurants, on the street, and even her local beauty parlor had a bear.
No limbs or sight needed: bizarre new lizard uncovered in Cambodia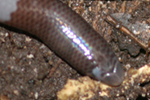 (05/09/2011) A new species of legless lizard has been discovered in Cambodia. Herpetologist Neang Thy uncovered, literally, the new species when he turned over a log in the species-rich Cardamom Mountains. While the new lizard looks like a snake or a big earthworm, it is in fact a lizard belong to the Dibamidae family. These bizarre reptiles spend much of their lives burrowing underground for insects, which has allowed them to lose the need for limbs.