Pictures: tigers in the wild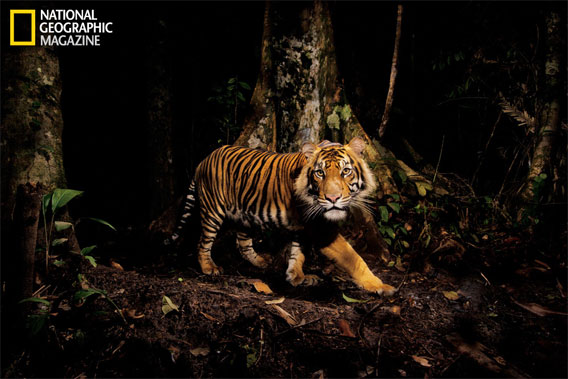 A tiger peers at a camera trap it triggered while hunting in the early morning in the forests of northern Sumatra, Indonesia. Tigers can thrive in many habitats, from the frigid Himalaya to tropical mangrove swamps in India and Bangladesh. ©Steve Winter/National Geographic




This month's National Geographic features the work of photographer Steve Winter, who spent months on the trail of one of earth's most majestic and endangered beasts 𔃐 the tiger. Winter worked extensively in some of tigers' last strongholds in India, Thailand and Indonesia, capturing rare moments in the daily lives of wild tigers.



Tigers are in severe decline in the wild and are fighting to survive. Dispersed among 13 Asian countries, the current population of tigers is estimated at fewer than 4,000; some 100,000 tigers roamed Asia a century ago.



National Geographic has provided an excerpt from the full text and some photos from the new issue:
| | |
| --- | --- |
| | December cover of National Geographic |

The tiger's enemies are well-known: Loss of habitat exacerbated by exploding human populations, poverty—which induces poaching of prey animals—and looming over all, the dark threat of the brutal Chinese black market for tiger parts. Less acknowledged are botched conservation strategies that for decades have failed the tiger. The tiger population, dispersed among Asia's 13 tiger countries, is estimated at fewer than 4,000 animals, though many conservationists believe there are hundreds less than that. To put this number in perspective: Global alarm for the species was first sounded in 1969, and early in the '80s it was estimated that some 8,000 tigers remained in the wild. So decades of vociferously expressed concern for tigers—not to mention millions of dollars donated by well-meaning individuals—has achieved the demise of perhaps half of the already imperiled population.
The new issue is on newsstands now.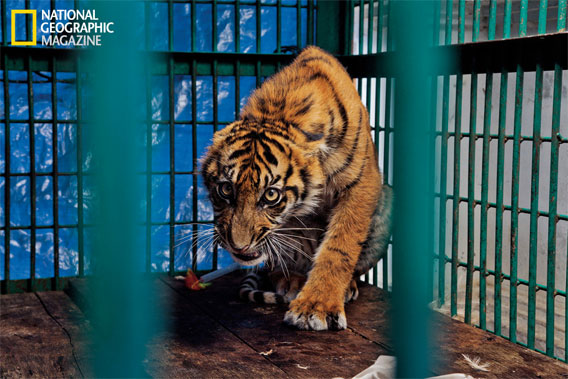 A poacher's snare cost this six-month-old cub its right front leg—and its freedom. The limb was amputated after the tiger had been enmeshed for three days in a snare in Aceh Province, Indonesia. Unable to hunt, the tiger now lives in a zoo on Java. ©Steve Winter/National Geographic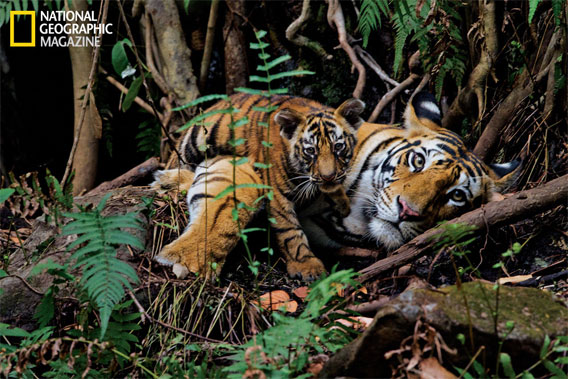 A mother rests with her two-month-old in Bandhavgarh National Park, where—contrary to the global trend—managers have built up tiger numbers. Compensation for loss of life caused by cats outside the park gives villagers some consolation. ©Steve Winter/National Geographic




Related articles