A 'significant proprtion' of Indonesia's $3.3. million pavilion at climate talks in Durban was funded by Indonesian pulp and paper companies companies, reports Reuters Alertnet.
Veby Mega Indah writes that Indonesia's official booklet on climate change includes three pages of advertorials for Asia Pulp & Paper (APP)/Sinar Mas and APRIL's Riau Andalan Pulp and Paper (RAPP) as well as state-owned oil company Pertamina.
Environmentalists have linked APRIL and APP to large-scale conversion of rainforests on the island of Sumatra. Both pulp and paper producers are currently targets of campaigns by local, national and international green groups.
Bustar Maitar, the director of Greenpeace Indonesia, a group that has been particularly vocal about APP's fiber souring practices, called the support an attempt to 'greenwash' its image.
"Sinar Mas is a leading company destroying Indonesian forests and peatland, and it's a shame for the government to welcome them to 'greenwash" it in the pavilion," he told Alertnet.
Both APRIL and APP claim to follow Indonesian laws and be responsible stewards of the environment.
"We are developing sustainable forest management and we never touch any primary forests," Wilson T.P. Siahaan, a spokesperson for APP Sinar Mas, was quoted as saying.
The Indonesian government forecasts 6-8 million hectares (15-20 million acres) of natural forest will be cleared for new paper and pulp production by 2050.
Related articles
Greenpeace NZ: APP misrepresented test results
(11/27/2011) Asia Pulp & Paper (APP) misled the public when the paper products giant claimed a paper testing company had found its fiber clear of rainforest fiber, says Greenpeace.
Report questions legitimacy of Asia Pulp & Paper's conservation initiatives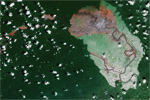 (11/22/2011) A new report by an Indonesian environmental group casts doubt on Asia Pulp & Paper's commitment to sustainability. In its corporate social responsibility reports and advertisements, Asia Pulp & Paper (APP), one of Indonesia's largest pulp and paper suppliers, has touted several forest reserves as indicators of its commitment to environmental stewardship. APP has portrayed these as voluntary, goodwill efforts to conserve Sumatra's endangered wildlife. But in a new report, Greenomics-Indonesia, a Jakarta-based NGO, says that at best these projects represent compliance with existing Indonesian laws or are in areas where commercial exploitation isn't viable.
War of words between Greenpeace, Asia Pulp & Paper over deforestation allegations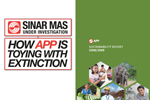 (11/16/2011) Greenpeace and Asia Pulp & Paper (APP), a giant global paper supplier, are locked in a heated battle over the activist group's allegations that APP products contain fiber sourced from the destruction of forests in Indonesia. At stake is APP's access to some of the world's most lucrative markets. Until APP provides solid evidence refuting Greenpeace's accusation that its pulp and paper production isn't coming at the expense of natural forests in Indonesia, APP will have a difficult time winning over critics.
Palm oil, paper drive large-scale destruction of Indonesia's forests, but account for diminishing role in economy, says report
(07/27/2011) Indonesia's forests were cleared at a rate of 1.5 million hectares per year between 2000 and 2009, reports a new satellite-based assessment by Forest Watch Indonesia (FWI), an NGO. Expansion of oil palm and wood-pulp plantations were the biggest drivers of deforestation, yet account for a declining share of the national economy. The study, which compared year 2000 data with 2009 Landsat images from NASA, found that Indonesia's forest cover declined from 103.32 million hectares to 88.17 million hectares in ten years. Since 1950 Indonesia lost more than 46 percent of its forests.
Pulp and paper firms urged to save 1.2M ha of forest slated for clearing in Indonesia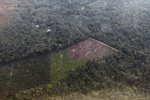 (03/17/2011) Indonesian environmental groups launched a urgent plea urging the country's two largest pulp and paper companies not to clear 800,000 hectares of forest and peatland in their concessions in Sumatra. Eyes on the Forest, a coalition of Indonesian NGOs, released maps showing that Asia Pulp and Paper (APP) and Asia Pacific Resources International Limited (APRIL) control blocks of land representing 31 percent of the remaining forest in the province of Riau, one of Sumatra's most forested provinces. Much of the forest lies on deep peat, which releases large of amount of carbon when drained and cleared for timber plantations.