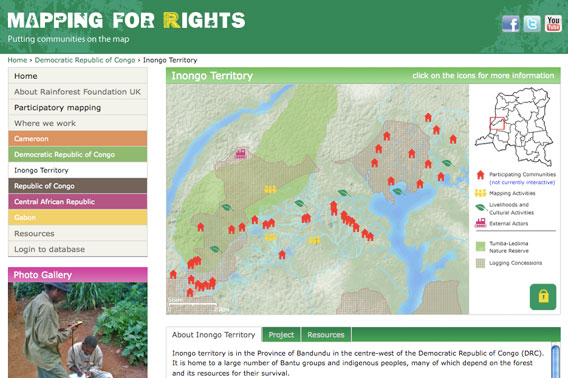 Screenshot of new website of community mapping in central Africa's forests.
A new initiative to place community mapping of central African rainforests online could prove key to local rights in the region, says the UK-based NGO Rainforest Foundation. Working with forest communities in five African countries, Rainforest Foundation has helped create digital maps of local forests, including use areas, parks, and threats such as logging and mining. The website, MappingForRights.org, includes interactive maps, photos, and video.
"It is now widely understood that helping indigenous peoples and other local communities to protect their land is one of the best and cheapest ways to conserve tropical rainforests. But the problem is that there are often no records even of where these communities are, or of which areas of forest they use or wish to protect," explains Simon Counsell, director of the Rainforest Foundation.
The website is working to change this in the Central African Republic, the Republic of Congo, Cameroon, Democratic Republic of Congo, and Gabon. The initiative has been released in conjunction with the 17th UN Summit on Climate Change where officials are likely to move forward on the REDD program (Reduced Emissions from Deforestation and Degradation). Meant to preserve forests for their carbon sequestration potential, REDD faces a major issue in community rights.
"Without a clear basis for understanding and recording who owns or occupies rainforests, REDD is very likely to fail, as it will be very hard to target forest protection payments to the right people. MappingforRights.org shows that, whilst reliable mapping of forest use and ownership requires detailed on-the-ground work with communities, often under very difficult conditions, it is perfectly possible to do so at reasonable cost and scale," Counsell says. He recommends to the program that it makes "scaling up community-based mapping of forests […] a top priority."
Forest communities in central Africa have fought long, and often losing battles, with logging and mining industries. They have also seen traditional lands taken away for strict wildlife protection. Community mapping may be a way forward in mitigating future conflict, establishing long-sought rights, and establishing more inclusive wildlife areas.
"Most of the rainforests of Africa are inhabited by local communities, some of which have been present in the forests for thousands of years, though mostly still lack any formal legal ownership rights," says Georges-Thierry Handja, mapping advisor for the Rainforest Foundation. "The [initiative] is already starting to show graphically how the areas of forest on which these communities depend have been handed out arbitrarily to logging companies, or put off-limits in National Parks or other strict conservation areas."
The new site brings together 10 years of mapping work by Rainforest Foundation and other groups in the region, and could be an example for other parts of the world where marginalized forest communities are seeking recognition.
Related articles
Unsung heroes: the life of a wildlife ranger in the Congo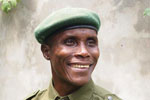 (11/01/2011) The effort to save wildlife from destruction worldwide has many heroes. Some receive accolades for their work, but others live in obscurity, doing good—sometimes even dangerous—work everyday with little recognition. These are not scientists or big-name conservationists, but wildlife rangers, NGO staff members, and low level officials. One of these conservation heroes is Bunda Bokitsi, chief guard of the Etate Patrol Post for Salonga National Park in the Democratic Republic of the Congo. In a nation known for a prolonged civil war, desperate poverty, and corruption—as well as an astounding natural heritage—Bunda Bokitsi works everyday to secure Salonga National Park from poachers, bushmeat hunters, and trappers.
Palm oil, poverty, and conservation collide in Cameroon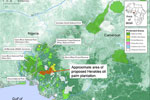 (09/13/2011) Industrial palm oil production is coming to Africa, its ancestral home. And like other places where expansion has occurred rapidly, the crop is spurring hope for economic development while generating controversy over its potential impacts. The world's most productive oil seed has been a boon to southeast Asian economies, but the looming arrival of industrial plantations in Africa is raising fears that some of the same detriments that have plagued leading producers Malaysia and Indonesia—deforestation, greenhouse gas emissions, biodiversity loss, conflicts with local people, social displacement, and poor working conditions—could befall one of the world's most destitute regions. While there is no question that oil palm is a highly lucrative crop that can contribute to economic development, there is also little doubt that conversion of native forests for plantations exacts a heavy toll on the environment. The apparent conflict seems to pit agroindustrial goliaths against greens, with communities falling somewhere in between. But Herakles, a New York-based investment firm planning to construct a 60,000-hectare plantation in the Central African country of Cameroon, says its approach will bridge this gap between economic development and the environment. Social and environmental campaigners are skeptical.
Leopards losing out to bushmeat hunters in competition for prey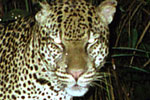 (08/25/2011) According to a surprising new study in the Journal of Zoology, bushmeat hunting is imperiling jungle-dwelling leopards (Panthera pardus) in Africa, even though hunters aren't targeting the elusive big cats themselves. Instead, by hunting many of the leopard's preferred prey—such as red river hogs and forest antelopes—bushmeat hunters are out-competing leopards.