The thylacine, the dodo, the great auk, the passenger pigeon, the golden toad: these species have become symbols of extinction. But they are only the tip of the recent extinction crisis, and according to a survey of 583 conservation scientists, they are only the beginning. In a new survey in Conservation Biology, 99.5 percent of conservation scientists said a serious loss in biodiversity was either 'likely', 'very likely', or 'virtually certain'. The prediction of a significant loss of species is not surprising—scientists have been warning for decades that if global society continues with business as usual the world will suffer from mass extinction—what is perhaps surprising is the practically unanimous expectation that a global biodiversity decline will occur.
"Understanding the degree of consensus within the scientific community will help policy makers to interpret scientific advice, improving the likelihood of successful of conservation initiatives," said study author Murray Rudd with the University of York. "The extremely high level of consensus demonstrated by these results underlines the urgency of preventing further damage to the natural world."
In addition, nearly 80 percent of respondents agreed that it was 'virtually certain' that human activities were accelerating species loss. Deforestation, habitat loss, climate change, pollution, overexploitation for food or medicine, disease, and invasive species are among a few of the big drivers of biodiversity decline worldwide.
According to the survey, tropical coral reefs are the most likely to see extinctions. Eighty-eight percent of respondents familiar with coral reefs—the most biodiverse marine ecosystems on Earth—predicted that a serious loss was 'very likely' or 'virtually certain'. While coral reefs are suffering from pollution and overfishing, perhaps the most drastic impact is the ongoing rise of greenhouse gas emissions. Ocean acidification from rising carbon levels hurts a coral reef's ability to calcify, imperiling the ecosystem. In addition, rising sea temperatures and sea levels due to climate can cause coral bleaching, which has devastated whole reef systems.
Around half of the researcher (50.3 percent) would like to see criteria laid out for 'conservation triage'. Conservation triage is a controversial idea whereby conservation priorities—much like triage in an emergency room—would be more strictly determined given limited funds and resources. The idea, however, portends that some species would be allowed to go extinct without conservation-efforts because their situation would be perceived as too dire to 'waste' resources.
According to the IUCN Red List, over 19,000 species are currently classified as Vulnerable, Endangered, and Critically Endangered. However the Red List has only had the capacity to date to analyze around 3 percent of the world's known species. Even more alarming no one knows just how many species inhabit Earth with estimates ranging from 3 million to 100 million (currently almost 2 million have been described).
CITATION: Rudd. M. Scientists' Opinions on the Global Status and Management of Biological Diversity. Conservation Biology, Wiley-Blackwell, DOI: 10.1111/j.1523-1739.2011.01772.x
A Gallery of the Critically Endangered

The Sumatran orangutan (Pongo abelii) is considered Critically Endangered with approximately 7,000 left, representing an 80% decline in 75 years. Photo by: Rhett A. Butler.

A female leather-back sea turtle lays a precarious nest. The world's largest marine turtle in the world, the leather-back is listed as Critically Endangered by the IUCN Red List. Photo by: Tiffany Roufs.

A black-and-white ruffed lemur (Varecia variegata) feeds on a tamarind in Madagascar. Their population has dropped by 80% in 27 years. This species is also listed as Critically Endangered. Photo by: Rhett A. Butler.

Listed as Critically Endangered, the Sumatran rhino (Dicerorhinus sumatrensis) is down to around 250 individuals and is one of the world's rarest mammals. Photo by: Jeremy Hance.

Native to the Indonesian island of Sulawesi, the black-crested macaque (Macaca nigra) is classified by the IUCN Red List as Critically Endangered. Photo by: Rhett A. Butler.

The blue iguana (Cyclura lewisi) has been helped by conservation efforts going from around 24 individuals to 500, but it is still listed as Critically Endangered. Photo by: Rhett A. Butler.
Related articles
11 challenges facing 7 billion super-consumers
(10/31/2011) Perhaps the most disconcerting thing about Halloween this year is not the ghouls and goblins taking to the streets, but a baby born somewhere in the world. It's not the baby's or the parent's fault, of course, but this child will become a part of an artificial, but still important, milestone: according to the UN, the Earth's seventh billionth person will be born today. That's seven billion people who require, in the very least, freshwater, food, shelter, medicine, and education. In some parts of the world, they will also have a car, an iPod, a suburban house and yard, pets, computers, a lawn-mower, a microwave, and perhaps a swimming pool. Though rarely addressed directly in policy (and more often than not avoided in polite conversations), the issue of overpopulation is central to environmentally sustainability and human welfare.
Controversial study finds intensive farming partnered with strict protected areas is best for biodiversity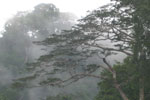 (09/01/2011) Given that we have very likely entered an age of mass extinction—and human population continues to rise (not unrelated)—researchers are scrambling to determine the best methods to save the world's suffering species. In the midst of this debate, a new study in Science, which is bound to have detractors, has found that setting aside land for strict protection coupled with intensive farming is the best way to both preserve species and feed a growing human world. However, other researchers say the study is missing the point, both on global hunger and biodiversity.
Humanity knows less than 15 percent of the world's species
(08/23/2011) Scientists have named, cataloged, and described less than 2 million species in the past two and a half centuries, yet, according to an new innovative analysis, we are no-where near even a basic understanding of the diversity of life on this small blue planet. The study in PLoS Biology, which is likely to be controversial, predicts that there are 8.7 million species in the world, though the number could be as low as 7.4 or as high as 10 million. The research implies that about 86 percent of the world's species have still yet to be described.
Over 80 percent of rediscovered species still face extinction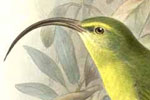 (08/18/2011) Imagine if your job was to locate extinct species. In 2010, biologists with The Search for Lost Frogs set out on a tropical mission hoping to confirm the existence of frog species not seen in decades. The team recovered proof of four out of a hundred missing species, including a toad among the expedition's Top Ten Amphibians list. According to a new study study in the open access journal PLoS ONE, such biological surveys are critical conservation tools to prevent the 'romeo error': the abandonment of conservation efforts due to belief that a species is extinct. The study, the first of its kind, found that rediscovered species are especially in danger of vanishing again, this time altogether, without targeted conservation measures.
The glass is half-full: conservation has made a difference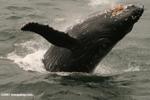 (08/11/2011) Don't despair: that's the message of a new paper in Trends in Ecology and Evolution, which argues that decades of conservation actions at multiple scales have had a positive impact for many of the world's endangered species. While such actions have not yet turned back the tide of the current mass extinction crisis, they have achieved notable successes which often get lost in the gloom-and-doom news stories on biodiversity declines. According to the paper, conservation actions take place on three scales. Microscale conservation focuses on a single species or ecosystem; mesoscale means conservation cooperation between a number of countries, such as efforts to curb the illegal wildlife trade or protect wide-ranging species; and finally macroscale means global organizations or campaigns, such as those that pressure multinational corporations to become more biodiversity-friendly.
Protected areas not enough to save life on Earth
(08/03/2011) Since the creation of Yellowstone National Park in 1872 protected areas have spread across the world. Today, over 100,000 protected areas—national parks, wildlife refuges, game reserves, marine protected areas (MPAs), wildlife sanctuaries, etc.—cover some 7.3 million square miles (19 million kilometers), mostly on land, though conservation areas in the oceans are spreading. While there are a number of reasons behind the establishment of protected areas, one of the most important is the conservation of wildlife for future generations. But now a new open access study in Marine Ecology Progress Series has found that protected areas are not enough to stem the loss of global biodiversity. Even with the volume of protected areas, many scientists say we are in the midst of a mass extinction with extinction levels jumping to 100 to 10,000 times the average rate over the past 500 million years. While protected areas are important, the study argues that society must deal with the underlying problems of human population and overconsumption if we are to have any chance of preserving life on Earth—and leaving a recognizable planet for our children.
Decline in top predators and megafauna 'humankind's most pervasive influence on nature'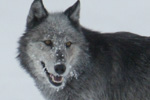 (07/14/2011) Worldwide wolf populations have dropped around 99 percent from historic populations. Lion populations have fallen from 450,000 to 20,000 in 50 years. Three subspecies of tiger went extinct in the 20th Century. Overfishing and finning has cut some shark populations down by 90 percent in just a few decades. Though humpback whales have rebounded since whaling was banned, they are still far from historic numbers. While some humans have mourned such statistics as an aesthetic loss, scientists now say these declines have a far greater impact on humans than just the vanishing of iconic animals. The almost wholesale destruction of top predators—such as sharks, wolves, and big cats—has drastically altered the world's ecosystems, according to a new review study in Science. Although researchers have long known that the decline of animals at the top of food chain, including big herbivores and omnivores, affects ecosystems through what is known as 'trophic cascade', studies over the past few decades are only beginning to reveal the extent to which these animals maintain healthy environments, preserve biodiversity, and improve nature's productivity.
Climate change to push over 10 percent of the world's species to extinction by 2100
(07/11/2011) Scientists have predicted for decades that climate change could have a grave impact on life on Earth, which is already facing numerous threats from habitat loss, over-exploitation, pollution, invasive species, and other impacts. However, empirical proof of extinctions–and even endangerment–due to climate change have been difficult to come by. A new study in the Proceeding of the National Academy of Science has found that by the time today's infants are 90 years old (i.e. the year 2100) climate change could have pushed over 11 percent of the world's species to extinction.
Ocean prognosis: mass extinction
(06/20/2011) Multiple and converging human impacts on the world's oceans are putting marine species at risk of a mass extinction not seen for millions of years, according to a panel of oceanic experts. The bleak assessment finds that the world's oceans are in a significantly worse state than has been widely recognized, although past reports of this nature have hardly been uplifting. The panel, organized by the International Program on the State of the Ocean (IPSO), found that overfishing, pollution, and climate change are synergistically pummeling oceanic ecosystems in ways not seen during human history. Still, the scientists believe that there is time to turn things around if society recognizes the need to change.
Over 900 species added to endangered list during past year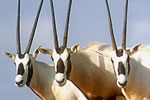 (06/16/2011) The past twelve months have seen 914 species added to the threatened list by the world's authority of species endangerment, the International Union for the Conservation of Nature (IUCN)'s Red List. Over 19,000 species are now classified in one of three threatened categories, i.e. Vulnerable, Endangered, and Critically Endangered, a jump of 8,219 species since 2000. Species are added to the threatened list for a variety of reasons: for many this year was the first time they were evaluated, for others new information was discovered about their plight, and for some their situation in the wild simply deteriorated. While scientists have described nearly 2 million species, the IUCN Red List has evaluated only around 3 percent of these.