A new report by an Indonesian environmental group casts doubt on Asia Pulp & Paper's commitment to sustainability.
In its corporate social responsibility reports and advertisements, Asia Pulp & Paper (APP), one of Indonesia's largest pulp and paper suppliers, has touted several forest reserves as indicators of its commitment to environmental stewardship. APP has portrayed these as voluntary, goodwill efforts to conserve Sumatra's endangered wildlife. But in a new report, Greenomics-Indonesia, a Jakarta-based NGO, says that at best these projects represent compliance with existing Indonesian laws or are in areas where commercial exploitation isn't viable.
"APP's claim that it is voluntarily setting aside land for conservation is without merit," said Elfian Effendi, Executive Director of Greenomics.
The Greenomics report looked specifically at the 6,000-hectare Taman Raja Reserve and 15,650-hectare Kampar Carbon Reserve, areas APP claims to have set aside to protect biodiversity and carbon stocks. It used documents from the Ministry of Forestry and APP suppliers PT Rimba Hutani Mas and PT Putra Riau Perkasa to show that neither reserve was suitable for conversion to timber plantations due to inaccessibility or topography.
| | |
| --- | --- |
| | Large-scale deforestation in Sumatra. Image courtesy of Google Earth and the NASA Earth Observatory |
"The evolution of this 'commitment' clearly shows that it is in reality no commitment at all, but was rather forced upon APP as a result of steep and very steep declivity and inaccessibility, thus making land clearing and pulpwood plantation development impossible," stated the report in reference to Taman Raja. "Consequently, it is inappropriate for APP to tout its so-called commitment to the global public through advertising and the media."
Greenomics found a similar case for the Kampar Carbon Reserve, which APP has promoted as a REDD+ project to benefit wildlife and local communities. Carbon Conservation, a Singapore-based forest carbon project developer now owned by a gold and copper mining firm, is APP's partner on the project.
"The deep peatlands located in the PT Putra Riau Perkasa concession were ultimately saved from land clearing, but not because of APP's commitment to biodiversity conservation, but rather because there were too inaccessible. In other words, APP was not able to get its hands on them."
An earlier report from Greenomics questioned APP's right to develop the Kampar peatlands on the grounds that "the land satisfied all the legal requirements for designation as a protected zone."
| | |
| --- | --- |
| | Maps showing that remaining natural forest in the PT RHM concession is located in the Taman Raja Block, which the bulk of it being concentrated in areas that are characterized by steep slopes (25-40%) and very steep slopes (>40%). From the technical perspective, it is impossible to develop pulpwood plantations on steep or very steep slopes. Image and caption courtesy of Greenomics-Indonesia. CLICK IMAGE TO ENLARGE. |
Reached by mongabay.com, APP did not respond directly to points raised in the report, but asserted that its program qualified as "active conservation management," while seemingly calling into question Greenomics' authorship of the report.
"As an 'Indonesian' NGO, in their 'surprisingly very well-written' report in English, it is strange that Greenomics doesn't seem to understand the concept of 'active conservation management' for which a program of this nature qualifies," said an APP spokesperson.
Greenomics confirmed that it authored the report.
"The report is 100% written by Greenomics," said Effendi. "Greenomics is not backed up technically and financially by international NGOs or APP's competitors or other interested individuals."
"This is just a moral reaction to stop the continued misleading undertaken aggressively by APP," he added, alluding to a sharp increase in rhetoric against NGOs working on forest issues in Indonesia. Greenpeace — which is in the midst of a campaign to reform APP's sourcing practices — and Indonesia Corruption Watch have been particularly targeted in recent months.
Greenomics also objected to APP's characterization of its program as "active conservation management." Effendi noted that Dr Hadi Daryanto, the Secretary General of the Ministry of Forestry, said that the setting aside of forest areas that must be protected according to a company's operating permit "is not a form of 'active conservation management'" and cannot be construed as its commitment to conservation.
APP did not respond to a request for clarification on its interpretation of "active conservation management" and whether it believes this reflects commitment above and beyond what is stipulated under Ministry of Forestry regulations.
The Greenomics report is not the first time APP's commitment to environmental protection has been criticized. In 2006, WWF — a former APP partner — issued a stinging rebuke of APP's representation of its conservation initiatives.
"APP portrayed itself as a forest- and wildlife-protecting company," stated WWF's October 2006 Monitoring Brief on Asia Pulp & Paper. "However, in reality, APP's performance does not match its claims. APP refuses to commit to 'conservation beyond compliance' and continues to destroy High Conservation Value Forests (HCVFs) and threatens the Sumatran tigers, elephants and other wildlife that rely on them."
APP also saw its partnership with the Rainforest Alliance sour over its continued conversion of Sumatran rainforests for eucalyptus and acacia plantations. The NGO ended its relationship with APP after its audit reported mismanagement of the High Conservation Value Forests that APP promised to protect. In 2007 the Forest Stewardship Council, a body that sets "green"-labeling criteria for wood products, revoked APP's certification over continuing complaints about poor forest management practices.
Despite the criticism, APP continues to maintain it is a responsible supplier of packaging and paper products. Yesterday APP launched an ad campaign in Australia inviting "people and organizations involved in forestry, paper production, and the environment to take the opportunity to see our operations in Indonesia for themselves."
CITATIONS:
REASONS BEHIND Asia Pulp and Paper's Taman Raja & Kampar Carbon Reserves. Greenomics-Indonesia 8 November 2011
Pulling the wool over the public's eyes: Asia Pulp & Paper deceives public over "Kampar Carbon Reserve" project. Greenomics-Indonesia November 2010
WWF Monitoring Brief October 2006: Asia Pulp & Paper (APP). Hiding Destruction behind False Advertisements: APP continues to ignore calls for conservation beyond "legal compliance", and even fails on the latter. WWF Indonesia

Related articles

War of words between Greenpeace, Asia Pulp & Paper over deforestation allegations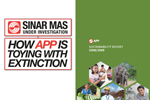 (11/16/2011) Greenpeace and Asia Pulp & Paper (APP), a giant global paper supplier, are locked in a heated battle over the activist group's allegations that APP products contain fiber sourced from the destruction of forests in Indonesia. At stake is APP's access to some of the world's most lucrative markets
Asia Pulp & Paper to undertake human rights audit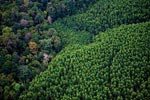 (09/22/2011) Paper products giant Asia Pulp & Paper (APP) will undertake a human rights audit across its Indonesian operations. The move, which APP says is an acknowledgment of a recent United Nations call for the global protection of human rights by businesses, comes as APP intensifies its effort to improve its image abroad. APP, a brand for paper products manufactured by several subsidiaries in Indonesia, has been beset by criticism from environmental and human rights group over its development of timber plantations on the island of Sumatra. The complaints have cost APP a number of prominent customers.
APP affiliate 'regrets' astroturfing on Indonesia deforestation claims
(08/21/2011) Solaris, an Australian affiliate of Asia Pulp and Paper (APP), has been caught astroturfing an article that repeated criticism of APP from Greenpeace. The article, which appeared on Mumbrella—an Australian media and marketing news site—garnered a multitude of negative comments which were later tracked to IP addresses used by Solaris. Astroturfing is corporate or government messaging falsified as coming from the public or a grassroots movement.
Palm oil, paper drive large-scale destruction of Indonesia's forests, but account for diminishing role in economy, says report
(07/27/2011) Indonesia's forests were cleared at a rate of 1.5 million hectares per year between 2000 and 2009, reports a new satellite-based assessment by Forest Watch Indonesia (FWI), an NGO. Expansion of oil palm and wood-pulp plantations were the biggest drivers of deforestation, yet account for a declining share of the national economy. The study, which compared year 2000 data with 2009 Landsat images from NASA, found that Indonesia's forest cover declined from 103.32 million hectares to 88.17 million hectares in ten years. Since 1950 Indonesia lost more than 46 percent of its forests.
Pulp and paper firms urged to save 1.2M ha of forest slated for clearing in Indonesia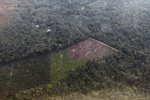 (03/17/2011) Indonesian environmental groups launched a urgent plea urging the country's two largest pulp and paper companies not to clear 800,000 hectares of forest and peatland in their concessions in Sumatra. Eyes on the Forest, a coalition of Indonesian NGOs, released maps showing that Asia Pulp and Paper (APP) and Asia Pacific Resources International Limited (APRIL) control blocks of land representing 31 percent of the remaining forest in the province of Riau, one of Sumatra's most forested provinces. Much of the forest lies on deep peat, which releases large of amount of carbon when drained and cleared for timber plantations.