Scientists only have so many hands and eyes. That's why ecologists enlisted hundreds of Makushi and Wapishana villagers to record the sights and signs of animals across 48,000 square kilometers of the Amazon basin near the Brazil-Guyana border.
In the ongoing project, scientists seek to describe the interactions between indigenous peoples, their environment and the native fauna. Local residents understand these relationships better than visiting scholars, said Stanford University anthropologist Jeff Luzar in an interview with mongabay.com. Without the villagers, said Luzar, the project's scale would have proven impossible to manage.
| | |
| --- | --- |
| | Project researcher L. Flamarion de Oliveira (Museu Nacional, Brasil), with Makushi citizen-biologists Samson and Joseph from Moco Moco Village, North Rupununi, after completing wildlife transects in the Kanuku Mountains. Photo by: José Fragoso. |
But the possible trade-off is accuracy, because indigenous people typically aren't familiar with scientific methods. So Luzar and his colleagues tested whether training would help citizen-technicians collect data worthy of publication in a peer-reviewed journal.
During the three-year study, they trained 335 residents from 23 communities to gather data about wildlife population densities. The paid technicians trekked through mountains, savannas, woodlands, rainforests and swamps looking for animals or animal signs like eaten fruit, feathers and tracks.
Professional scientists then retraced some of the technicians' steps to ensure the data were valid.
| | |
| --- | --- |
| Sean Giery and Makushi citizen-biologist from Fairview village, Iwokrama Forest. Sean is holding an anaconda captured as he walked a wildlife transect with the citizen-biologist. Photo by: José Fragoso | |
Eighteen technicians fabricated data at least once, but most of them collected valid information, according to the study, published in the October issue of Bioscience. They logged nearly 1,300 miles (2,000 km) each month and sighted more than 48,000 animals from almost 270 species, including rarely sighted tapirs and pacas.
"These people are quite capable of assessing biodiversity, and they can do it in a scientifically sound way," Stanford University ecologist and lead author José Fragoso told mongabay.com.
In remote areas, this may be the only way to gather data needed to understand the environment, he added.
One major limitation is financing, said Andrew Noss, director of Integrated Management of Indigenous Lands at the Wildlife Conservation Society-Ecuador in Quito in an interview with mongabay.com.
"People need to sustain themselves, so the time they provide to wildlife management needs to be compensated," said Noss, who was not involved in the study.
Indeed, although technicians were paid, livelihood issues sometimes affected the research. Some technicians filed incomplete datasheets because they had to fish, farm or fetch palm leaves for roofing as part of their obligations in a subsistence-oriented economy.


The Lethem, a one-lane dirt road traversing the great Rupununi savanna, may soon be widened and paved to allow access from Brazil to the Atlantic coast of Guyana. Many of the villages with whom the researchers collaborated sit on or near this road. Photo by: José Fragoso



Citizen-biologist Nick from Quiko village discussing sampling methodologies during a retraining workshop. Photo by: José Fragoso
Convincing scientists that the approach is rigorous may also be problematic, said Fragoso. His study is among only a handful to use this strategy, but marrying scientific approaches and local traditions could help communities take ownership of managing their own resources.
Technicians had the opportunity to "bridge two very distinct things: bush knowledge and book knowledge," which made them feel more confident, said Luzar, the study's first author.
After the study began, some technicians took leadership positions in their communities. They also developed a quadrilingual guide to teach children about animals using the data they collected.
"We showed them how to assess what they had," Fragoso said. "But how that information is used is up to them."
CITATIONS: Luzar JB, Silvus KM, Overman H, Giery ST, Read JM, Fragoso JMV (2011). Large-scale Environmental Monitoring by Indigenous People. Bioscience 61: 771-781. DOI:10.1525/bio.2011.61.10.7

Daniela Hernandez is a graduate student in the Science Communication Program at the University of California, Santa Cruz.

Related articles
How rainforest shamans treat disease
Rainforests, wildlife preserved by indigenous spiritual beliefs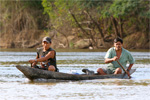 (11/15/2010) New research within the native Wapishana and Makushi communities of
Guyana suggests that indigenous cultural beliefs such as shamanism
help preserve tropical forests and wildlife. The analysis, published in the September 2010 Journal of Latin
American Geography, draws from a massive data set that tracks wildlife
populations, hunting kill sites, and spiritually significant features
of the landscape within a 48,000-square-kilometer area in southern
Guyana. The authors recruited the hunters themselves to record much of
the data.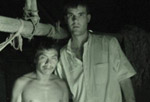 (11/10/2009) Ethnobotanists, people who study the relationship between plants and people, have long documented the extensive use of medicinal plants by indigenous shamans in places around the world, including the Amazon. But few have reported on the actual process by which traditional healers diagnose and treat disease. A new paper, published in the Journal of Ethnobiology and Ethnomedicine, moves beyond the cataloging of plant use to examine the diseases and conditions treated in two indigenous villages deep in the rainforests of Suriname. The research, which based on data on more than 20,000 patient visits to traditional clinics over a four-year period, finds that shamans in the Trio tribe have a complex understanding of disease concepts, one that is comparable to Western medical science. Trio medicine men recognize at least 75 distinct disease conditions—ranging from common ailments like fever [këike] to specific and rare medical conditions like Bell's palsy [ehpijanejan] and distinguish between old (endemic) and new (introduced since contact with the outside world) illnesses. In an interview with mongabay.com, Lead author Christopher Herndon, currently a reproductive medicine physician at the University of California, San Francisco, says the findings are a testament to the under-appreciated healing prowess of indigenous shaman.