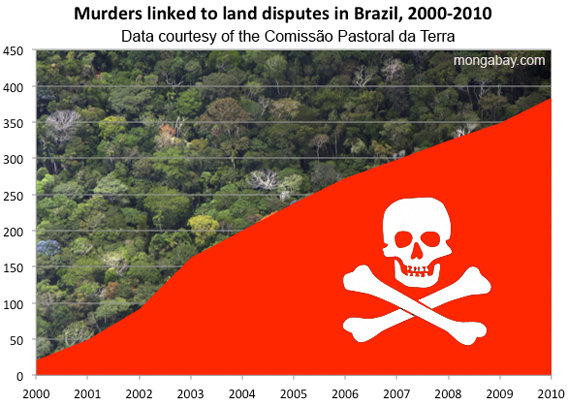 Murders tied to land disputes in rural Brazil, cumulative total of 383 since 2000.

Amnesty International has called for an independent investigation of the murder of Nísio Gomes. A religious leader of the Guarani tribe, Gomes was executed by masked gunmen in front of his community and son earlier this month in the southwestern Brazilian state of Mato Grosso do Sul. Officials believe the gunmen were likely hired by local ranchers, who are embroiled in a land dispute with the Guarani tribe. In addition to killing Gomes, there are unconfirmed reports that the gunmen kidnapped three Guarani youths.
According to reports, after ordering the Guarani community to lie on the ground, some forty gunmen surrounded Gomes and shot him repeatedly. His body was taken away by his killers.
"Unfortunately, this is not an isolated incident. For years, gunmen in the midwest of Brazil have launched violent attacks with impunity against indigenous communities who attempt to occupy their ancestral lands," Guadalupe Marengo with Amnesty International said.
According to Survival International, Gomes and 60-70 other Guarani had recently returned to their traditional lands after being evicted by cattle ranchers 30 years ago.
Over 40,000 Guarani live in Brazil today making them the largest tribe in the country, however they are threatened by the vast network of cattle ranching, sugar cane, and soy that has been established on their traditional lands.
"It seems like the ranchers won't be happy until they've eradicated the Guarani," said Stephen Corry, director of Survival International, an NGO devoted to indigenous rights. "This level of sustained violence was commonplace in the past and it resulted in the extinction of thousands of tribes. It is utterly shameful that the Brazilian government allows it to continue today."
Renato Santana, of the Indian Missionary Council, described Gomes as an "outspoken defender of Indian rights."
Survival International reports that Gomes' last words were to his son, Valmir.
"Don't leave this place," Gomes said. "Take care of this land with courage. This is our land. Nobody will drag you from it. Look after my granddaughters and all the children well. I leave this land in your hands."
Over the last 20 years, at least 1,150 environmental, social, and indigenous activists have been murdered in Brazil.
Related articles
Another anti-logging activist killed in Brazil
(10/28/2011) Another opponent of logging in the Brazilian Amazon was gunned down in the state of Pará, reports AFP.
Tribal leader to the UN: Indigenous peoples of the Amazon are in danger
(09/22/2011) Amazonian indigenous peoples and their traditional territories are living under constant threat.
Rash of murders threatens to silence environmental and social activism in Brazil
(06/10/2011) Authorities in Brazil have sent an elite police force consisting of 60 officers to offer protection to environmental activists in the Amazon after a series of killings, reports the Associated Press. The move comes 10 days after Brazil's Vice President Michel Temer announced the creation of a working group on Amazon violence following the assassinations of three activists in the region in late May. The Brazilian Amazon is no stranger to systemic violence against environmental activists, yet the response from the federal government in the past two weeks is the most significant to date.