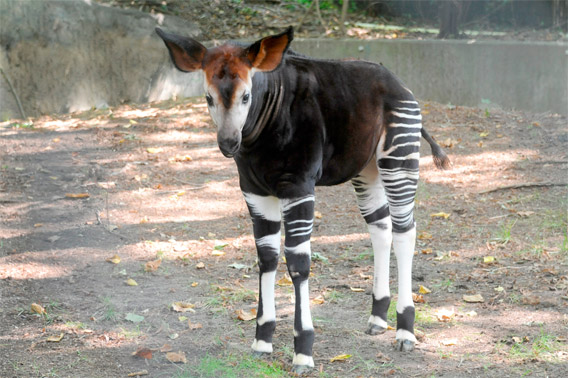 Okapi Calf Born at WCS's Bronx Zoo. Photo by Julie Larsen Maher © WCS.
A rare okapi was born at the Wildlife Conservation Society's Bronx Zoo following 14 months of patient animal husbandry by wildlife experts, reports WCS.
Okapi — a type of forest giraffe — are native to the Ituri Forest in the Democratic Republic of Congo. IUCN estimates some 10,000-35,000 survive in the wild.
The calf becomes one of 146 okapi in zoos around the world.
WCS says the birth is the product of careful efforts, including monitoring the mother's health and proper match-making.
"The Bronx Zoo's okapi program has been a tremendous success and has helped the zoo community better understand the reproductive biology of these beautiful creatures," said Jim Breheny, WCS Executive Vice President and Director of the Bronx Zoo. "The arrival of this okapi calf is the culmination of more than a year's work by Bronx Zoo mammal curators."
WCS says prospective okapi pairs are selected for mating by the Association of Zoos and Aquariums (AZA) Okapi Species Survival Plan (SSP). "Pairs are chosen to ensure that genetic diversity in the North American zoo population remains healthy," it said in a statement.
The calf is now on exhibit "intermittently" at the Bronx Zoo's Ituri Forest, depending on weather conditions.