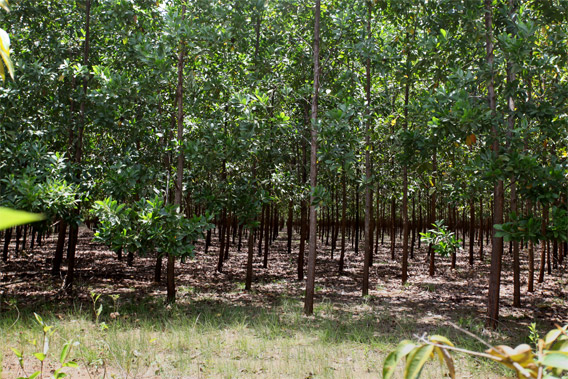 The Cooper-Blackburn bill would allow foreign operators to illegally log rainforests and sell the resulting pulp in the United States without penalty.
A proposed bill would gut the Lacey Act, undermining an amendment that bans import of illegally logged forest products, says a coalition of environmentalists and woodworkers in a letter addressed to members of Congress.
The bill, introduced last month by Jim Cooper, Marsha Blackburn, and Mary Bono Mack, would grant an exemption to pulp and paper importers from Lacey Act requirements, while reducing fines for non-compliance to a pittance for "first time" offenders no matter the size of the infraction.
Opponents say the proposed legislation would hurt domestic industries and fail to discourage illegal logging abroad.
"Workers in the domestic pulp and paper sector have really been hit hard by illegal foreign competition," said Roy Houseman of the United Steelworkers in a statement.
| | |
| --- | --- |
| | Companies found to be buying illegally logged timber from places like Madagascar would face a maximum fine of $250 under the Cooper-Blackburn bill. Photo by Rhett A. Butler |
"The Lacey Act serves a critical purpose for our environment in helping to prevent illegal logging, but it also serves an important purpose for U.S. workers and businesses that have to compete with imports of products made from illegally-sourced trees. As our nation continues to struggle with high unemployment, the Cooper-Blackburn bill would only lead to additional job losses at America's pulp and paper mills. These are good jobs, mostly in rural communities, that our members cannot afford to lose."
"This legislation puts out the welcome mat for foreign illegal logging operations and those unscrupulous operators who do business with them," added Jake Schmidt, International Climate Policy Director for the Natural Resources Defense Council (NRDC).
The bill is a response to a campaign by Gibson Guitars against the federal government's enforcement of the Lacey Act. Authorities have twice raided Gibson's facilities in Nashville, Tennessee for allegedly importing wood products sourced illegally. The first infraction was for Madagascar ebony purchased from a German company under investigation for wood trafficking, while the second seizure was linked to the import of fingerboards made of Indian rosewood. Gibson contends the action was politically motivated (Gibson's CEO is an outspoken supporter of conservative causes) and says the government has yet to produce evidence of the alleged crimes.
Two of the bill's sponsors, Congressman Jim Cooper and Congresswoman Marsha Blackburn, have worked to win support from the music industry in light of the Gibson case. However these efforts have included what some are calling questionable representation of the intent of the legislation.
"I was disturbed to find on the sponsor's site a slanted portrayal of the bill," said Charlie Welch, conservation coordinator at the Duke Lemur Center. "It implied that a main thrust of the legislation was to protect especially owners of wooden musical instruments from confiscation of the instrument for possibly containing illegal wood, via a grandfather clause. This despite admitted assurances that confiscations from owners are not the objective."
"It strikes me that such statements, also lacking in full background of the bill, are designed to incite panic, hence support, from musicians and the music industry."
Gibson's campaign has been taken up by Tea Party groups critical of onerous government regulation. At least one of these groups actively advocates for an Asian pulp and paper supplier that is frequently criticized by environmentalists for destroying rainforests in Indonesia and has been slapped with countervailing duties by the Department of Commerce for their trade practices.
The text of the letter appears below.
PLEASE OPPOSE H.R. 3210 – THE RELIEF ACT
We strongly oppose H.R. 3210, the Retailers and Entertainers Lacey Implementation and Enforcement Fairness (RELIEF) Act, sponsored by Representatives Cooper, Blackburn and Bono Mack. As proposed, this amendment would be devastating to the 2008 Lacey Act amendments, one of the most important and successful trade and conservation laws passed in the last decade. This bill would hurt American businesses and severely undermine longstanding U.S. leadership in global forest conservation and curbing illegal logging.
Responding to the economic and environmental costs of illegally traded timber, the 2008 amendments to the Lacey Act passed with overwhelming bipartisan support from Congress, industry, labor and environmental organizations, making it unlawful to trade timber and wood products or other plants taken in violation of the laws of either a U.S. state or a foreign country.
Illegal logging costs the U.S. timber and wood products industry approximately $1 billion per year. In an October 11, 2011 letter to Congress more than 15 U.S. trade associations underscored that "Illegal logging threatens U.S. jobs by allowing unfair competition in wood commodities throughout the world and destroys the world's forests." When the U.S. government combats illegal logging, this promotes the use of sustainably and legally sourced U.S. forest products. This ensures that the U.S. forest products industry can compete on a level playing field, thereby boosting its strength and supporting U.S. jobs.
After three years, the 2008 amendments are already showing impressive results. Illegal logging is on the decline, as much as 25% worldwide, with reductions as high as 50—70% in some key countries. Companies around the globe are changing the way they make sourcing decisions and monitor their supply chains. Consistent enforcement over time is essential to solidify these new behaviors so they become common practice. Signatories to the October 11th letter urged, "that no legislative action be taken to diminish the contributions of the Lacey Act to these important objectives."
H.R. 3210 and the accompanying documents are framed as an effort to fix certain issues that are under serious consideration by Agencies as they implement this Act, but unfortunately the bill significantly changes provisions of the Act that are fundamental to its effective implementation. While we are actively engaged with the Agencies to ensure strong and effective implementation of the Act, we are gravely concerned about many provisions of H.R. 3210, and particularly those that would eviscerate three key provisions of the Lacey Act responsible for driving positive change:
Import Declaration. H.R. 3210 would remove the requirement for manufacturers and retailers of all non-­solid wood products to know what kind of wood they are trading. Knowing the type and source of wood is essential to ensuring legality, one of the centerpieces of the Lacey Act. Among the multitude of products this would exempt, this measure would explicitly exclude pulp and paper from any future requirement to document its wood source. Pulp, paper, paperboard, and the products made from them are by far the largest segment of imports covered by the Lacey Act amendments. They may in fact constitute a majority of such imports. Excluding pulp and paper alone risks killing good paying manufacturing jobs in an industry that employs almost 400,000 people in forty—two states with a combined $30 billion in annual compensation.

The agencies of jurisdiction have already decided to implement the declaration requirement in a phased manner to allow industry time to prepare. In addition, leading retailers, importers, producers, labor and environmental groups have developed a careful consensus on recommendations to improve implementation of the declaration. This measure would ignore that consensus.

Significant penalties to deter illegal-­sourcing. The law has been effective in part through the deterrent effect it has on bad operators, who perceive their risk of being prosecuted or having goods seized as a reason to change behavior. H.R. 3210 would remove this impetus for change by limiting penalties for all "first infractions" to a minor fine of $250, regardless of size of the company, volume or value of the illegal product. This provision would likely impact a case currently under investigation involving significant quantities of precious wood allegedly logged illegally in the biodiversity—rich forests of Madagascar.
Forfeiture of illegally-­obtained product. Under the Act, ill—begotten gains would be subject to confiscation, as is U.S. standard practice for dealing with illegal goods. H.R. 3210 would instead allow for all major manufacturers to keep wood that has been proven to be stolen, regardless of the severity of evidence of illegal logging. Without the threat of losing merchandise that has been acquired in contravention of the law, what is the incentive to ensure legal sourcing?
There is a robust process in place to vet and successfully implement changes to the law. In fact, written into the law is a call for a review of implementation after two years. This is underway, but overdue. Yet H.R. 3210, if passed, would subvert that process, and with it the views of many key stakeholders, in favor of specific interests. Members should instead push the Agencies for rapid completion of this report to Congress, and work with the Agencies to effectively implement the Act. We are committed to working with Members of Congress, companies, NGOs, Agencies, and other interested stakeholders in developing rules that ensure effective implementation of the Lacey Act and maintain its environmental integrity.
The ground—breaking 2008 amendments made the United States the first country in the world to prohibit commerce in illegal plants, timber and wood products. In September 2011, the amendment to the Lacey Act was recognized internationally and received the World Future Council's silver medal as one of the three most inspiring and innovative pieces of national legislation to protect the world's forests. The European Union, Australia and other countries are following the U.S. lead.
Now is the time for sensible dialogue to ensure the Lacey Act amendments of 2008 remain strong while addressing reasonable concerns. The Agencies need to finalize the Report to Congress, and prioritize the consensus recommendations. Dismantling the principal tenets of the law is misguided and would be a travesty. We urge you to oppose H.R. 3210.
Signed
The Blue Green Alliance, the Center for Biological Diversity, the Center for International Environmental Law, the Clean Air Task Force, the Environmental Investigation Agency, Friends of the Earth, Global Witness, Greenpeace, the League of Conservation Voters, the Missouri Botanical Garden, the Natural Resources Defense Council, the Rainforest Action Network, the Rainforest Alliance, Rainforest Relief, the Saint Louis Zoo, Sierra Club, Sound & Fair, The Field Museum, The Madagascar Fauna Group, The Nature Conservancy, the Union of Concerned Scientists, the United States Green Building Council, United Steelworkers, the Wildlife Conservation Society, and the World Wildlife Fund.
Related articles
Background: the Lacey Act and the Fish & Wildlife Service raid on Gibson Guitars
(09/02/2011) On 24 August 2011, agents of the Fish & Wildlife Service (FWS) raided Gibson Guitar facilities in Nashville and Memphis, Tennessee, seizing ebony and rosewood material, guitars and guitar parts as evidence of suspected violation(s) of the U.S. Lacey Act. The Lacey Act is a long-standing anti-trafficking statute which prohibits commerce of illegally-sourced wildlife, plants and wood products from either the U.S. or other countries.
Endangered species trafficking: What did Gibson Guitar know?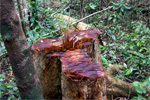 (07/07/2011) A motion filed last month by the U.S. Department of Justice alleges Gibson Guitar knew it was trafficking in endangered timber when it was busted by the U.S. Fish and Wildlife Service in November 2009, reports the Environmental Investigation Agency (EIA).
Environmental groups deny 'conspiracy' claims by Madagascar's acting leader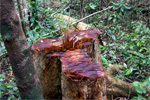 (02/03/2011) Two environmental groups investigating the illegal rosewood trade flatly rejected claims by Madagascar's acting president that they are involved in a campaign to undermine his rule. Andry Rajoelina, the former mayor of the capital city of Antananarivo who assumed power following civil strife in March 2009, claimed last month in an interview with Revue de l'océan Indien that the London-based Global Witness and the Washington D.C.-based Environmental Investigation Agency were attempting to sully his image through their undercover investigation into the rosewood trade. The groups found evidence suggesting that Rajoelina was involved in rosewood trafficking. The evidence included video footage of Chinese rosewood traders claiming to deal directly with Rajoelina.
The $1M bed: why Madagascar's rainforests are being destroyed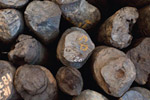 (10/26/2010) Consumer demand for rosewood furniture and musical instruments is driving illegal logging in Madagascar's national parks, endangering wildlife and undermining local community livelihoods, according to a new report from the Environmental Investigation Agency (EIA) and Global Witness. The report, based on more than a year of investigations, shows that Madagascar's valuable hardwoods—including ebony, pallisander, and rosewood—are being illegally harvested from rainforest parks and trafficked to Asia, Europe, and the United States. The vast majority of timber however ends up in China, where it is converted into luxury furniture.
How to end Madagascar's logging crisis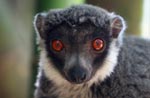 (02/10/2010) In the aftermath of a military coup last March, Madagascar's rainforests have been pillaged for precious hardwoods, including rosewood and ebonies. Tens of thousands of hectares have been affected, including some of the island's most biologically-diverse national parks: Marojejy, Masoala, and Makira. Illegal logging has also spurred the rise of a commercial bushmeat trade. Hunters are now slaughtering rare and gentle lemurs for restaurants.
Coup leaders sell out Madagascar's forests, people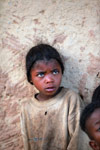 (01/27/2010) Madagascar is renowned for its biological richness. Located off the eastern coast of southern Africa and slightly larger than California, the island has an eclectic collection of plants and animals, more than 80 percent of which are found nowhere else in the world. But Madagascar's biological bounty has been under siege for nearly a year in the aftermath of a political crisis which saw its president chased into exile at gunpoint; a collapse in its civil service, including its park management system; and evaporation of donor funds which provide half the government's annual budget. In the absence of governance, organized gangs ransacked the island's biological treasures, including precious hardwoods and endangered lemurs from protected rainforests, and frightened away tourists, who provide a critical economic incentive for conservation. Now, as the coup leaders take an increasingly active role in the plunder as a means to finance an upcoming election they hope will legitimize their power grab, the question becomes whether Madagascar's once highly regarded conservation system can be restored and maintained.