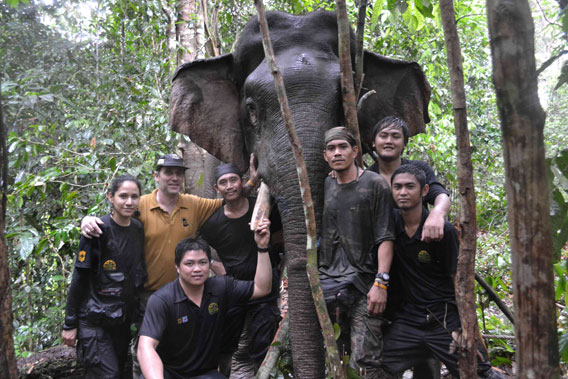 Members of the collaring team with male, Gading. Don't worry the elephant is tranquilized. Photo courtesy of DGFC and HUTAN.
Researchers have fitted three Bornean elephants with satellite collars to track them across the Lower Kinabatangan Wildlife Sanctuary, in the Malaysian state of Sabah, Borneo. The effort means currently five elephants are being tracked. The tracking is a part of a collaborative effort by the Sabah Wildlife Department (SWD), the NGO HUTAN, and the Danau Girang Field Centre (DGFC).
"Extensive agriculture through palm oil plantations has considerably reduced the habitat of the elephant in the Kinabatangan, therefore increasing human-elephant conflicts. The herd there, estimated at about 200 to 250 individuals, finds it difficult to move between flooded lands, swamps, fenced plantations, villages, and nature lodges. Moreover, uncontrolled tourism with sometimes up to 20 boats aligned along river banks, less than 5 meters from where the elephants graze, increases the pressure on the herd," said Benoit Goossens, Director of the DGFC, in a press release.
The Bornean elephant (Elephas maximus borneensis) is generally considered a prospective subspecies of the Asian elephant. It is thought to be the smallest elephant in the world. Asian elephants are classified as Endangered by the IUCN Red List. They are imperiled by habitat loss, deforestation, poaching, and increasingly human-wildlife conflict.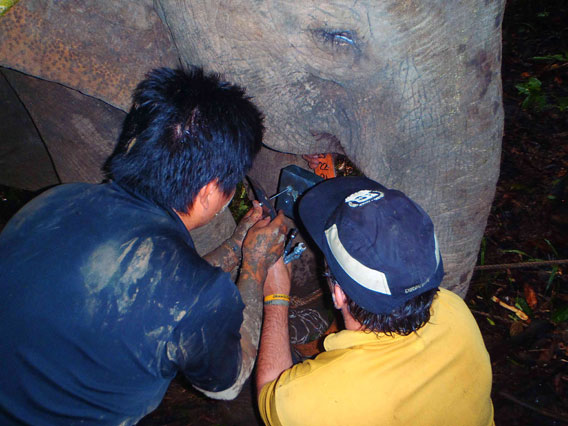 Dr Benoit Goossens fixing the weight to the belt of the satellite collar together with members of the Wildlife Rescue Unit. Photo courtesy of DGFC and HUTAN.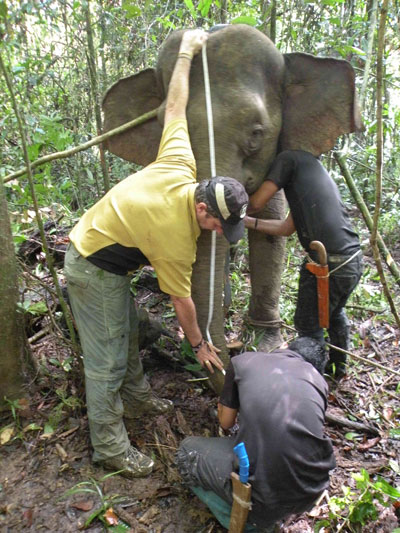 Dr Benoit Goossens and Wildlife Rescue Unit's member taking measurements of female, Jasmin. Photo courtesy of DGFC and HUTAN.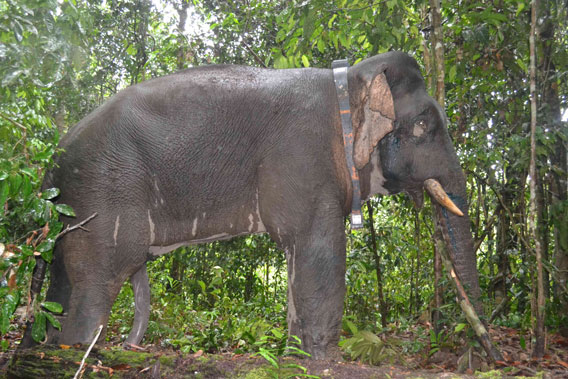 Male Gading, fit with his new satellite collar, minutes before he wakes up from tranquilizer. Photo courtesy of DGFC and HUTAN.
For more information on Borneo elephants: Snares set by palm oil workers taking a toll on pygmy elephants of Borneo