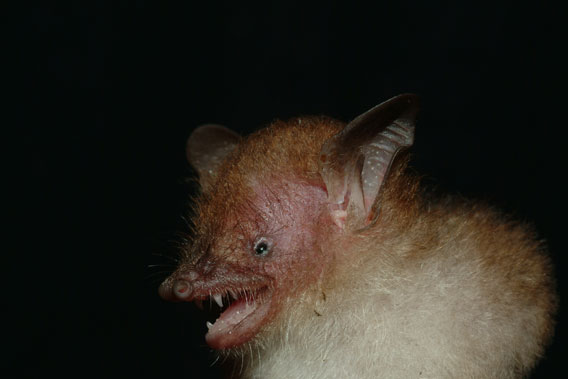 Murina walstoni, a new bat species named after Joe Walston, Wildlife Conservation Society's (WCS) Executive Director for Asia Programs. Photo by: Gabor Csorba.
In the forests of Cambodia and Vietnam, researchers have discovered three new species of tube-nosed bats, known for extraordinary nostrils that look like blooming flowers. The new bats, described in the Journal of Mammalogy, are likely imperiled by deforestation.
"They all possess specially shaped nostrils (hence the name for the group) the exact role of which not known yet," Gabor Csorba, lead author of the paper with the Hungarian Natural History Museum, told mongabay.com.
Csorba says the bats remained hidden for so long, because they have 'highly sophisticated echolocation systems', making it impossible for scientists to catch the bats in mist nets—the usual method for trapping bats in the wild.
"This echolocation allowed them to fly in very cluttered environment (the dense forest interior)—and also to avoid the nets. They almost
exclusively fly very low, sometimes just centimeters above ground in a typical, very maneuverable manner," Csorba says. Instead researchers used a non-net trap, known as a harp trap.
All three of the new species are in the genus Murina, in the vesper bat family; although little is known about these bats, they are believed to be good indicators of a forests' health. This, unfortunately, makes them particularly vulnerable to disturbance.
"Deforestation (not only clear-cutting, but selective logging, as well) evidently threaten them. […] The huge majority of [these bats are] good indicators of the state of the forest. Generally speaking, the more the Murina species in a forest, the better the condition of it," explains Csorba.
One of the bats was named after Wildlife Conservation Society's (WCS) Executive Director for Asia Programs Joe Walston, who says of the discovery: "important research like this confirms the richness of the region for biodiversity and increases the urgency to protect wild places while there is still time."
According to Conservation International (CI), the tropical forests of Southeast Asia are the world's most imperiled: logging, clearcutting for agriculture and aquaculture, massive hydroelectric projects, and other big development projects are taking a heavy toll in already-vanishing forests. Only around 5 percent of these rainforests remain intact.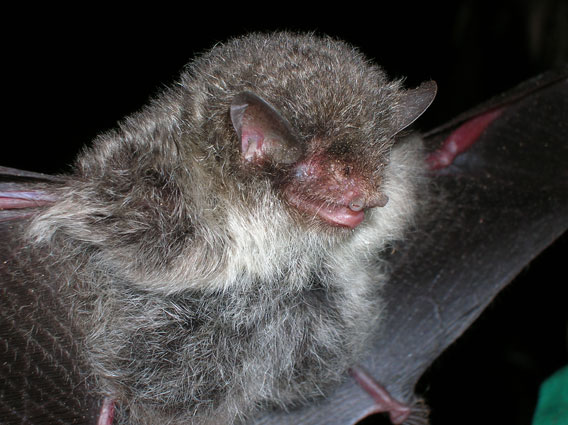 New bat species: Murina cineracea. Photo by: Neil Furey.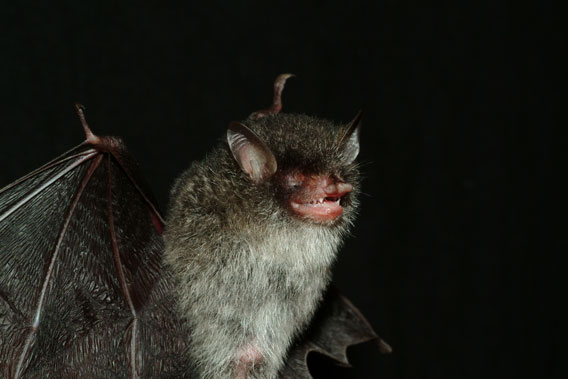 New bat species with an especially evocative name: Murina beelzebub. Photo by: Gabor Csorba.
CITATION: Gabor Csorba, Nguyen Truong Son, Ith Saveng, Neil M. Furey. Revealing cryptic bat diversity: three new Murina and redescription of
M. tubinaris from Southeast Asia. Journal of Mammalogy 92(4):891-904. Doi: 10.1644/10-MAMM-A-269.1.
Related articles
New 'demon' bat discovered in Vietnam (PHOTO)
(09/01/2011) Scientists have discovered three previously unknown bat species in southern Indochina, reports Fauna & Flora International.
Photos: new bat uncovered in the Caribbean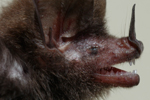 (05/26/2011) Researchers have declared a new species of bat from the Caribbean island of St. Vincent. While the new bat had been documented before, it was long believed to be a member of a similar species that is found throughout South America and a few Caribbean Islands, that is until PhD student Peter Larsen noticed it was far larger than its relative down south.
(04/03/2011) US agriculture stands to lose billions in free ecosystem services from the often-feared and rarely respected humble bat. According to a recent study in Science bats in North America provide the US agricultural industry at least $3.7 billion and up to a staggering $53 billion a year by eating mounds of potentially pesky insects. Yet these bats, and their economic services, are under threat by a perplexing disease known as white-nose syndrome (WNS) and to a lesser extent wind turbines.