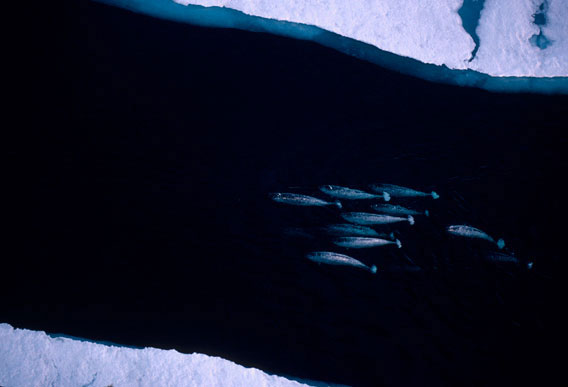 Aerial group of migrating narwhals. Photo by: Doug Allen/WWF.
A new program aims to track one of the ocean's most enigmatic creatures: the narwhal (Monodon monoceros). Tagging nine narwhales in August, researchers plan to track the species in order to gain new insights about how the little-known toothed whale will withstand a rapidly melting Arctic due to climate change.
"[This] is a chance to better understand these animals while their world changes around them. We know narwhals are often associated with sea ice, and we know the sea ice is shrinking. WWF is trying to understand how narwhals, as well as all other ice associated animals in the arctic can adapt to a changing environment," says Peter Ewins with WWF-Canada, which is helping support the tracking program. "We can put this knowledge together with existing Inuit knowledge, and we can work with Inuit and other stakeholders to help the animals survive the coming changes."
Narwhals are listed as Near Threatened by the IUCN Red List with concerns that it could be highly vulnerable to climate impacts in the Arctic. The species could also be imperiled by opening the Arctic to gas and oil drilling and increased shipping lanes. Currently researchers estimate that narwhals number around 80,000 individuals.
The narwhal is most well-known for its single spiraling tusk, which is believed to have contributed to the legend of the unicorn. In males the tusk can grow as long as 3 meters.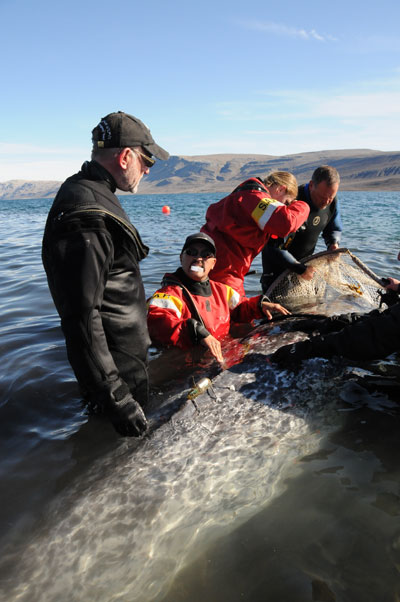 Tagging a narwhal. Photo courtesy of WWF.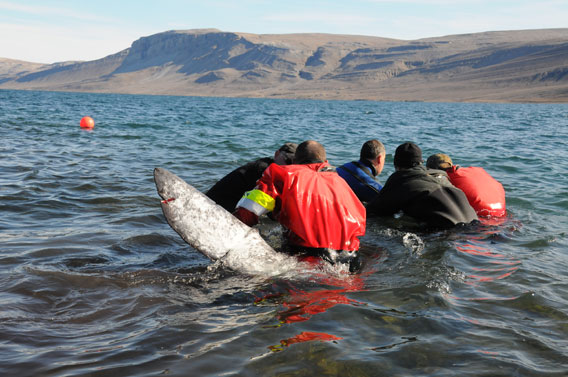 Researchers release narwhal after tagging it. Photo courtesy of WWF.


Narwhal. Photo by Bryan and Cherry Alexander.
Related articles
Obama administration opens more of the Arctic to drilling
(10/05/2011) Nearly 500 Arctic oil and gas leases from the Bush administration have been restarted this week by the Obama administration. Known as Chukchi Lease 193, the various leases had been held up in court after environmental groups and indigenous groups challenged them, citing a significant lack of baseline information about the Chukchi Sea ecosystem. The Obama administration now says that many of the ecosystem gaps need not be filled, but Arctic indigenous and environmental groups disagree.
Climate change shocker: Canada's ice shelves halved in six years
(09/28/2011) After the Arctic sea ice extent hit its second lowest size on record this summer—or lowest (depending on the source)—comes another climate change shocker: in the past six years Canada's millennia-old ice shelves have shed nearly half their size. One ice shelf—the Serson shelf—is almost entirely gone, while another—the Ward Hunt shelf—has split into two distinct shelves. The ice shelves have lost 3 billion tons in this year alone.
Northwest Passage open as sea ice falls to lowest cover ever recorded
(09/12/2011) Arctic sea ice cover fell to its lowest level on record, report researchers from the University of Bremen.