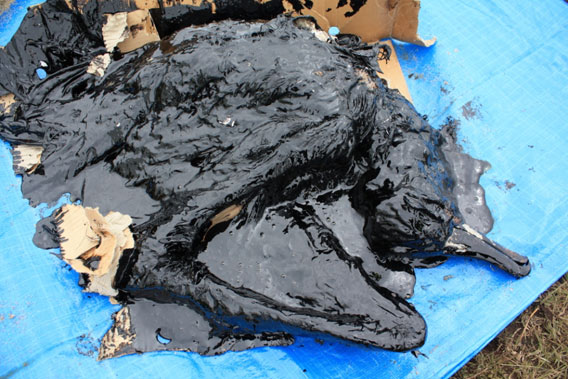 White capped albatross killed by oil. This species is listed as Near Threatened by the IUCN Red List. Photo ©: Forest & Bird.
According to the New Zealand government an oil spill from a grounded container ship in the Bay of Plenty has killed 1,250 seabirds with hundreds of others in rescue centers. However, conservationists say the avian death-toll is far higher with most contaminated birds simply vanishing in the sea.
"The number of birds being found washed up on the beaches will be a very small proportion of the birds being affected," explained Karen Baird, Seabird Conservation Advocate with NGO Forest & Bird. "A lot of oil-covered birds will simply sink at sea and some of the more lightly oiled birds will be flying back to their colonies."
After grounding itself on a reef, the container ship, MV Rena, released 350 tons into New Zealand's Bay of Plenty, polluting some of the nation's favorite beaches and decimating wildlife in the area.
Baird has warned that the oil disaster could injure and kill seabird chicks as well as adults. Since it is breeding season, adult birds may be unwittingly bringing oil back to their nests. Many chicks are also expected to starve when their parents don't return.
"The fact the dead birds include numbers of Buller's shearwaters is significant, because they only breed on the Poor Knights Islands north of Auckland. This shows the zone of impact from the disaster has already spread outside the Bay of Plenty," Baird adds.
Sixty-eight Buller's shearwaters have been found dead so far.
Conservationists also warn that the spill could be impacting whales, dolphins, fish, and seals. So far five seals have been taken in by rescue centers.
New Zealand's Environment Minister, Nick Smith, has already called the spill the nation's 'worst environmental disaster'. But it may not be over: the ship still contains 1,400 tons of oil that could spill if the vessel breaks up on the reef. Currently, efforts are underway for a salvage crew to pump the leftover oil out of the ship before this happens.
Kevin Hackwell, also of Forest & Bird, says the spill should make the New Zealand government reconsider its offshore drilling plans.
"The Rena disaster raises serious questions about our preparedness for an oil spill anywhere in our waters," he says.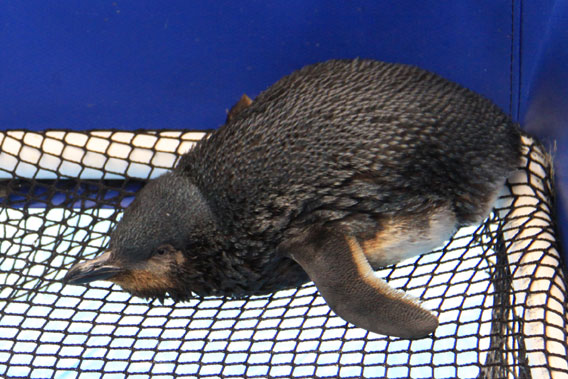 An oiled little blue penguin (Eudyptula minor), also known as the fairy penguin, in a rescue center. Twenty little blue penguins have been killed so far. The little blue is the world's smallest penguin. Photo ©: Maritime New Zealand.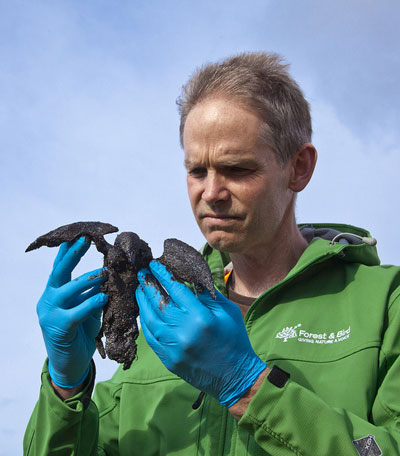 Central North Island Field Officer, Al Fleming inspects an unidentified dead bird. Photo ©: Kim Westerskov.
Related articles
Bird-killing oil spill New Zealand's 'worst environmental disaster'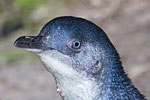 (10/12/2011) An oil spill from a grounded container ship in New Zealand's Bay of Plenty is threatening to worsen as authorities fear the ship is breaking up. Already, 350 tons of oil from the ship, the MV Rena, has leaked out with some reaching nearby beaches including a popular holiday spot, Papamoa Beach. To date the spill has killed over 200 birds, including little blue penguins, shags, petrels, albatrosses and plovers. If the ship breaks up and sinks, authorities fear it could release its remaining 1,400 tons into the marine ecosystem.
Deepwater oil spill likely to hurt fish populations over decades
(09/28/2011) Oil pollution doesn't have to kill fish to have a long-term impact, according to a recent study in the Proceedings of the National Academy of Sciences (PNAS). Researchers found that Gulf killifish (Fundulus grandis) that had been exposed to very low to non-detectable levels of oil contamination from the Deepwater oil spill last year, still showed developmental problems that are likely to impact fish populations for decades to come.
Shell spills over 50,000 gallons of oil off Scotland
(08/16/2011) Yesterday, Royal Dutch Shell estimated that to date 54,600 gallons of oil had spilled into the North Sea off the east coast of Scotland, spreading some 19 miles wide (30 kilometers) at its maximum. While the company stopped the initial leak on Thursday, it has now announced that the oil has found a 'second pathway' and is still leaking into the sea around 84 gallons a day.