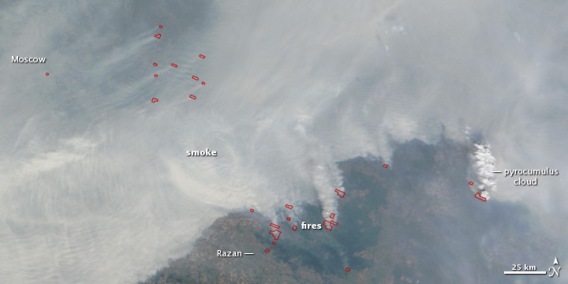 Image of Russia and nearby areas from August 4th, 2010 by NASA's Moderate Resolution Imaging Spectroradiometer. Especially intense fires are outlined in red. Smoke from peat and forest fires lead to dangerous levels of pollution throughout Moscow and surrounding areas. Photo by: NASA. Click to enlarge.
Last year's Russian heatwave and drought resulted in vast wildfires and a mortality rate that was 56,000 people higher than the same period in 2009. Now, researchers have published a paper in the Proceedings of the National Academy of Sciences (PNAS) that finds the heatwave would very likely have never happened if not for climate change. The study flies in the face of previous research by the National Oceanic and Atmospheric Administration (NOAA) that concluded the heatwave was simply due to natural variation and not a warming world.
Looking at local warming in the region from 1880 to 2010, Stefan Rahmstorf and Dim Coumou with the Potsdam Institute for Climate Impact Research found an 80 percent likelihood that the heatwave was due to climate change.
"For July temperature in Moscow, we estimate that the local warming trend has increased the number of records expected in the past decade fivefold, which implies an approximate 80 percent probability that the 2010 July heat record would not have occurred without climate warming," Rahmstorf and Coumou write.
However, what about the fact that a previous study from NOAA found no evidence of a climate changes signature in the Russian heatwave?
According to the new study, NOAA researchers over-corrected for the urban heat island effect. Urban heat island effect is when a city shows slightly warmer temperatures than surrounding countryside, and is regularly taken into by climatologists. However, in this case the new study argues treating the urban heat island effect as the same in winter and summer doomed the NOAA study to underestimate recent warm trends in Moscow.
"[The NOAA study] leads to a massive over-adjustment for urban heat island in summer, because the urban heat island in Moscow is mostly a winter phenomenon. This unrealistic adjustment turns a strong July warming into a slight cooling," Rahmstorf and Coumou write in a blog entry on Real Climate.
Recalculating the over-adjustment, the authors found evidence of significant warming in Moscow in July.
"[Satellite data shows] for a large region around Moscow a linear warming of 1.4 degrees Celsius over the period 1979-2009. That is (even without the high 2010 value) a warming three times larger than the global mean!"
The subsequent heatwave, drought, and fires destroyed 20 percent of Russia's massive wheat harvest, pushing the government to ban wheat exports for the year. This had global implications on food security and prices.
During the disaster, Russian President Dmitry Medvedev told a Russian Security Council meeting, "Unfortunately, what is happening now in our central regions is evidence of this global climate change, because we have never in our history faced such weather conditions in the past. This means that we need to change the way we work, change the methods that we used in the past."
CITATIONS:Stefan Rahmstorf1 and Dim Coumou. Increase of extreme events in a warming world. PNAS, 2011. doi: 10.1073/pnas.1101766108.
R. Dole, M. Hoerling, J. Perlwitz, J. Eischeid, P. Pegion, T. Zhang, X.‐W. Quan, T. Xu, and D. Murray (2011), Was there a basis for anticipating the 2010 Russian heat wave?, Geophysical Research Letters, 38, L06702, doi:10.1029/2010GL046582.
Related articles
Burning up: warmer world means the rise of megafires
(05/12/2011) Megafires are likely both worsened by and contributing to global climate change, according to a new United Nations report. In the tropics, deforestation is playing a major role in creating giant, unprecedented fires.
Numerous causes, including climate change, behind record food prices
(02/07/2011) Food prices hit a record high in January according to the UN's Food and Agriculture Organization (FAO), threatening the world's poor. Rising 3.4% since December, the FAO stated that prices reached the highest point since the agency began tracking food prices in 1990. Given the complexity of world markets and agriculture, experts have pointed to a number of reasons behind the rise including rising meat and dairy consumption, the commodity boom, fresh water scarcity, soil erosion, biofuels, growing human population, and a warming world that has exacerbated extreme weather events like last year's heatwave in Russia.
Record number of nations hit all time temperature highs
(11/23/2010) To date, nineteen nations have hit or matched record high temperatures this year, according to Jeff Master's Wunder Blog, making 2010 the only year to have so many national records. In contrast, no nation this year has hit a record cold temperature.
NASA image captures one of the warmest Julys on record
(08/19/2010) The NASA Goddard Institute for Space Studies (GISS) has found that the global average temperature of July 2010 was nearly 1 degree Fahrenheit (0.55 degrees Celsius) higher than average temperatures from July1951-1980. In fact, this July was tied for the warmest on record with July 2005 and 1998.
New NASA images reveal devastating impact of Russian fires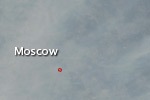 (08/11/2010) A new series of images released by NASA show the extent of smoke hovering over Moscow and Central European Russia, while another image measures the amount of carbon monoxide in the area, a gas which can produce a number of health problems. Russia is in the midst of a full-scale disaster as hundreds of forest and peatland fires are covering part of the world's largest nation in a thick cloud of smoke. Temperatures in Moscow and elsewhere have broken past heat records several times in the last month while a long drought combined with fires have led to the loss of 20 percent of Russia's grain crop, causing Prime Minister Vladimir Putin to ban grain exports. Russian officials say that it;s likely some 15,000 people to date have died from the disaster.
Summer from hell: seventeen nations hit all-time heat records
(08/09/2010) The summer isn't over yet, but already seventeen nations have matched or beaten their all-time heat records. According to Jeff Masters' WunderBlog, Belarus, the Ukraine, Cyprus, Russia, Finland, Qatar, the Sudan, Saudi Arabia, Niger, Chad, Kuwait, Iraq, Pakistan, Colombia, Myanmar, Ascension Island, and the Solomon Islands have all equaled or broken their top temperature records this year. In addition, the hottest temperature ever recorded in Asia was taken in Pakistan at 128 degrees Fahrenheit (53 degrees Celsius); this incredible temperature still has to be reviewed by the World Meteorological Organization (WMO).
Officials point to Russian drought and Asian deluge as consistent with climate change
(08/08/2010) Government officials are pointing to the drought and wildfires in Russia, and the floods across Central and East Asia as consistent with climate change predictions. While climatologists say that a single weather event cannot be linked directly to a warming planet, patterns of worsening storms, severer droughts, and disasters brought on by extreme weather are expected as the planet warms.
Record highs, forest fires, and ash-fog engulf Moscow
(07/27/2010) Moscow and parts of Russia have been hit by record high temperatures and forest fires. Ashen fog from peat forests burning near Moscow has prompted officials to warn elderly and those with heart or bronchial problems to stay inside. Workers should be allowed a siesta to rest in the afternoon, as well, said the Russia's chief health official.