Imagine a one-celled organism the size of a mango. It's not science fiction, but fact: scientists have cataloged dozens of giant one-celled creatures, around 4 inches (10 centimeters), in the deep abysses of the world's oceans. But recent exploration of the Mariana Trench has uncovered the deepest record yet of the one-celled behemoths, known as xenophyophores.
Found at 6.6 miles beneath the ocean's surface, the xenophyophores beats the previous record by nearly two miles. The Mariana Trench xenophyophores were discovered by dropcams, developed by the Scripps Institution of Oceanography and National Geographic, which are unmanned HD cameras 'dropped' into the deep ocean to record life at the bottom.
| | |
| --- | --- |
| | Xenophyophore in the Galapagos Rift. Photo by: NOAA. |
Previous research has shown that xenophyophores are host to a number of multicellular organisms, meaning that the Mariana Trench could be teeming with life.
"The identification of these gigantic cells in one of the deepest marine environments on the planet opens up a whole new habitat for further study of biodiversity, biotechnological potential and extreme environment adaptation," says Doug Bartlett, the Scripps marine microbiologist who organized the Mariana Trench expedition, in a press release.
Xenophyophores are the largest known single cells, and have been found in great abundance on the sea floor. But given their fragility and deep-water lives, they are incredibly difficult to study and much of their natural history remains mysterious to scientists.
| | |
| --- | --- |
| Close-ups of xenophyophores obtained on previous expeditions. Photo credit: Lisa Levin (all except upper right, credit David Checkley) | |
"As one of very few taxa found exclusively in the deep sea, the xenophyophores are emblematic of what the deep sea offers. They are fascinating giants that are highly adapted to extreme conditions but at the same time are very fragile and poorly studied," explains Lisa Levin, director of the Scripps Center for Marine Biodiversity and Conservation. "These and many other structurally important organisms in the deep sea need our stewardship as human activities move to deeper waters."
Related articles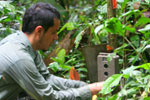 If camera traps don't prove existence of Bigfoot or Yeti nothing will

(10/13/2011) Let me state for the record that I am skeptical of the existence of Bigfoot or the Yeti, however I do have a fascination for following the latest news on the seemingly never-ending search for these hidden hominids. This week a Yeti conference in Russia announced 'indisputable proof' of the legendary hairy ape in the wilds of Southern Siberia. What did this proof consist of? Not DNA, photographs, video, or the Yeti itself (dead or alive) as one would expect from the word 'indisputable', but a few alleged Yeti hairs, an alleged bed, and alleged footprints. Cryptozoologists, those who are fascinated by hidden species such as the proposed Yeti and Bigfoot, don't serve their cause by stating the reality of a species without the evidence long-deemed necessary by scientific community to prove it—either a body or DNA samples combined with clear photographic evidence—instead they make themselves easy targets of scorn and ridicule.
Could blockbuster animated movies help save life on Earth?
(09/26/2011) Some scientists may scoff at the idea that animated anthropomorphized animals—from Bambi to Simba to Nemo—could have an important impact on conservation efforts to save real-world species, but a new opinion piece in mongabay.com's open-access journal Tropical Conservation Science argues that conservationists would do well to join forces with the makers of animated blockbusters to help save the world's dwindling biodiversity. The paper points out that a number of recent films focused on imperiled places, such as coral reefs (Finding Nemo) and the Atlantic Forest (Rio), as well as conservation problems like overfishing (Happy Feet) and climate change (Ice Age: the Meltdown).
World's oldest person discovered in Amazon rainforest
(08/31/2011) Maria Lucimar Pereira is arguably the world's oldest living person: a member of the Kaxinawá tribe, Pereira lives in the Brazilian Amazon and will be soon celebrating her 121st birthday, according to Survival International.
(07/17/2011) A blackspot tuskfish (Choerodon schoenleinii) has been photographed picking up a clam in its mouth, swimming over to a rock, and then using the rock as an anvil by smashing the clam against it until it breaks open. In the journal Coral Reefs scientists argue this is the first conclusive evidence of a fish using tools. Once thought only the domain of humans, biologists have found that tool use is actually present all over the animal kingdom, from elephants to chimps, and crows to capuchins. Such tool use is often considered evidence of higher intelligence.
Forgotten species: the rebellious spotted handfish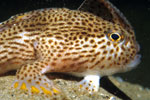 (07/12/2011) Evolution is a bizarre mistress. In her adaptation workshop she has crafted parrots that don't fly, amphibians with lifelong gills, poison-injecting rodents, and tusked whales. In an evolutionary hodge-podge that is reminiscent of such mythical beasts as chimeras and griffins, she has from time-to-time given some species' attributes of others, such as the marine iguana who is as happy underwater as a seal, the duck-billed platypus that lays eggs like a reptile, and the purple frog that has a lifestyle reminiscent of a mole. Then there's one of her least-known hodge-podges: the fish who 'walks' with hands instead of swimming.
Google Earth used to identify marine animal behavior
(06/14/2011) From the all-seeing eye of Google Earth, one can spy the tip of Mount Everest, traffic on 5th Avenue in Manhattan, and the ruins of Machu Picchu, but who would have guessed everyone's favorite interactive globe would also provide marine biologists a God's-eye view of fish behavior? Well, a new study in the just-launched Scientific Reports has discovered visible evidence on Google Earth of the interactions between marine predators and prey in the Great Barrier Reef.
Updating the top 100 weirdest and most imperiled mammals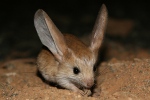 (01/24/2011) A lot can change in three years. In January 2007, the Zoological Society of London (ZSL) jumpstarted a program unique in the conservation world: EDGE, which stands for Evolutionarily Distinct and Globally Endangered, selects the species it works with not based on popularity or fund-raising potential but on how endangered and evolutionary unique (in laymen's terms: weird) they are. When EDGE first arrived in 2007, it made news with its announcement of the world's top 100 most unique and endangered mammals. While this list included a number of well-known species—such as the blue whale and the Asian elephant—it also introduced the public to many little-recognized mammals that share our planet, such as the adorable long-eared jerboa, the ancient poisonous solenodon, and the ET-like aye-aye. However, after three years the EDGE program found that their top 100 mammals list already need updating.
Breaking all of life's rules: scientists discover bacteria that can survive on arsenic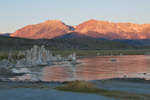 (12/02/2010) While for days rumors have circulated around the Internet that NASA had discovered alien life, the truth may be even less expected. Instead of aliens, NASA-funded researchers have discovered a microorganism on Earth that breaks all the rules of life: in Mono Lake in California scientists found a bacterium that can survive wholly on arsenic. The microorganism is capable of replacing phosphate, one of the essential blocks of all known life, with the toxic chemical arsenic according to new researched published in Science. Uncovered by lead author and NASA-funded scientist, Felicia Wolf-Simon, along with astrobiolgist colleagues at Arizona State University, the discovery is thought to have widespread implications on how life may survive on other planets.
Researchers track the little-known giant sunfish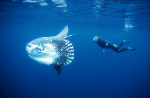 (11/10/2010) Getting to know the heaviest bony fish in the world is surprisingly hard. At 3 m (10 ft) long and 2,200 kg (4,850 lb), the Mola mola, or ocean sunfish, is an elusive giant. A typical day in its life is still a mystery. Now, a study published on 30 September in the Journal of Experimental Marine Biology and Ecology has opened a small portal onto their behaviors – and has underlined concerns that sunfish die in alarming numbers as unintentional catches in commercial fisheries.
Photo: expedition discovers 20% of world's squids, including new species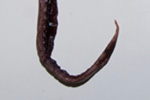 (11/18/2010) An expedition to the seamounts of the southern Indian Ocean has proven that the region is a biodiverse hotspot for squids. To date, the expedition has identified 70 species of squid comprising 20% of the world's known squid species. But that's not all: they have also uncovered new species. At just over 2 feet long (27 inches or 70 centimeters), a species of squid found by the expedition proves to a brand new member of the chiroteuthid family. Squids from this family, which number around a dozen known species, employ bioluminescent organs to attract unwary prey.
Photos: weird new species discovered in deep sea trench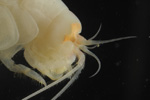 (10/18/2010) Fish were not expected to be able to survive so deep, but scientists have captured footage of a new species of a scavenger-hunting snailfish swimming at an astounding 7,000 meters below the surface. The video, taken from an 8,000 meter-deep sea trench in the Southeast Pacific Ocean, showed a level of biodiversity that surprised seasoned marine biologist, who have previously surveyed five other deep sea trenches.
What is the most unexplored ecosystem on Earth?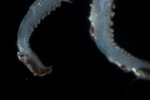 (08/02/2010) One should be forgiven for thinking that the most under-explored ecosystem in the world is tropical rainforests or cave systems since new species are frequently uncovered in such places. But new research in the open-access journal PLoS ONE finds that the least explored part of the world is the deep sea, especially what lies beneath the open ocean. Ironically, not only does this ecosystem remain the least explored, it is also the world's largest habitat.
First footage captured of giant sea serpent of the deep: the oarfish
(02/09/2010) Scientists have captured what they believe to be the first footage ever of the oarfish, the species likely responsible for legends told of sea serpents.
Photos: Gelatinous Blobfish in danger
(01/26/2010) A species dubbed "the world's most miserable-looking fish" is at risk of extinction due to poor fishing practices, reports The Daily Telegraph.
Madfish?: scientist warns that farmed fish could be a source of mad cow disease
(06/17/2009) In a paper that shows just how strange our modern world has become, Robert P. Friedland, neurologist from the University of Louisville, warns that farmed fish could be at risk of Creutzfeldt Jakob disease, or mad cow disease.
Will jellyfish take over the world?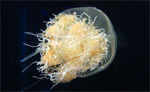 (06/16/2009) It could be a plot of a (bad) science-fiction film: a man-made disaster creates spawns of millions upon millions of jellyfish which rapidly take over the ocean. Humans, starving for mahi-mahi and Chilean seabass, turn to jellyfish, which becomes the new tuna (after the tuna fishery has collapsed, of course). Fish sticks become jelly-sticks, and fish-and-chips becomes jelly-and-chips. The sci-fi film could end with the ominous image of a jellyfish evolving terrestrial limbs and pulling itself onto land—readying itself for a new conquest.
Massive freshwater stingray takes 13 men to pull it ashore in Thailand
(02/27/2009) It took ninety minutes and thirteen men to reel in an astounding specimen of giant freshwater stingray on the Ban Pakong River in Thailand. At seven feet wide and weighing an estimated 580-770 pounds (265-350 kilograms), the monstrous fish is thought to be the largest freshwater fish ever caught with a rod and line, according to Fishsiam, a company that provides fishing tours in Thailand.
Scientists find fish that literally lives in trees
(10/17/2007) Scientists have found a fish that literally lives in trees, according to research published in The American Naturalist and highlighted in New Scientist Magazine.