Modern-day Nile crocodile
Researchers excavating a coal mine in Colombia have discovered a previously unknown species of prehistoric crocodile. The beast is described in the September 15 issue of the journal Palaeontology.
The freswhwater crocodile, named Acherontisuchus guajiraensis, lived some 60 million years ago in swampy habitats shared with Titanoboa, the world's largest known snake. The crododile reached a length of 20 feet, roughly the maximum size of today's saltwater crocodile.
Unlike another ancient crocodile found at the same site, the newly discovered species appears to have had a specialized diet, feeding on lungfish and bonefish. It is the first known land animal from the Paleocene New World tropics specialized for eating fish, according to the researchers.
"The general common wisdom was that ancestrally all crocodyliforms looked like a modern alligator, that all of these strange forms descended from a more generalized ancestor, but these guys are showing that sometimes one kind of specialized animal evolved from a very different specialized animal, not a generalized one," said Jonathan Bloch, the associate curator of vertebrate paleontology of Florida Museum, who led the excavation with paleobotanist Carlos Jaramillo of the Smithsonian Tropical Research Institute. "It's really showing us a level of complexity to the history that 10 years ago was not anticipated."
The researchers say the croc is a relative of modern crocodiles.
Related articles
Authorities capture the biggest crocodile ever recorded (PHOTO)
(09/06/2011) Authorities in the Philippines captured the largest crocodile on record after a series of fatal attacks, reports Agence France-Presse (AFP).
Secrets of the Amazon: giant anacondas and floating forests, an interview with Paul Rosolie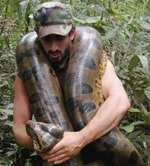 (03/10/2010) At twenty-two Paul Rosolie has seen more adventure than many of us will in our lifetime. First visiting the Amazon at eighteen, Rosolie has explored strange jungle ecosystems, caught anaconda and black caiman bare-handed, joined indigenous hunting expeditions, led volunteer expeditions, and hand-raised a baby giant anteater. "Rainforests were my childhood obsession," Rosolie told Mongabay.com. "For as long as I can remember, going to the Amazon had been my dream […] In those first ten minutes [of visiting], cowering under the bellowing calls of howler monkeys, I saw trails of leaf cutter ants under impossibly large, vine-tangled trees; a flock of scarlet macaws crossed the sky like a brilliant flying rainbow. I saw a place where nature was in its full; it is the most amazing place on earth."
Prehistoric snake gobbled-up dinosaur babies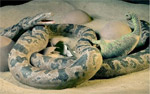 (03/02/2010) A fossilized snake has been discovered inside a titanosaur nest in India, leading researchers to conclude that the snake fed on newly-hatched dinosaur babies, rather than their eggs like modern snakes. Paleontologist and snake expert Jason Head says that the snake, known as Sanajeh indicus, lacked the wipe-jaws needed to swallow eggs, but just-hatched baby titanosaurs would have been perfect prey for the 3.5 meter (nearly 12 feet) long serpent. Titanosaurs belong to the sauropods, long-necked herbivorous dinosaurs which includes the world's largest animals to ever walk the land.
World's largest snake discovered: prehistoric serpent was twice the size of an anaconda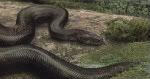 (02/04/2009) Paleontologists have recently uncovered the world's largest snake announces a paper in Nature. Measuring an astonishing 42 to 45 feet, the Titanoboa cerrejonensis makes the anaconda look diminutive. In fact the prehistoric serpent even makes once-ridiculous horror movie snakes appear conservative. "Truly enormous snakes really spark people's imagination, but reality has exceeded the fantasies of Hollywood," said Jonathan Bloch, one of the leaders of the party that discovered the prehistoric serpent. "The snake that tried to eat Jennifer Lopez in the movie Anaconda is not as big as the one we found."
World's only blue lizard heads toward extinction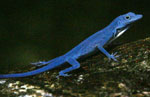 (03/07/2007) High above the forest floor on the remote Colombian island of Gorgona lives a lizard with brilliant blue skin, rivaling the color of the sky. Anolis gorgonae, or the blue anole, is a species so elusive and rare, that scientists have been unable to give even an estimate of its population. Due to the lizard&spod;s isolated habitat and reclusive habits, researchers know little about the blue anole, but are captivated by its stunning coloration.
Python explodes after swallowing 6-foot alligator in Florida Everglades
(10/05/2005) The National Park Service released photos that show the carcass of an American alligator that was almost swallowed by a Burmese python.