Scientists have discovered 12 new species of frogs in the rainforests of India's Western Ghats, according to a paper published in the latest issue of ZooTaxa.
The twelve species were identified after researchers revised the "night frog" or Nyctibatrachus genus based on twenty years of field studies. The findings include the rediscovery of three 'lost' species: the Kempholey Night Frog (Nyctibatrachus kempholeyensis) (last seen 75 years ago), the Coorg Night Frog (Nyctibatrachus sanctipalustris) (last seen 91 years ago), and the Forest Night Frog (Nyctibatrachus sylvaticus) (last seen in 1937).
Six of the new species are from "unprotected, highly degraded habitats", according to Delhi University Professor S D Biju, who led the research.
Biju and his colleagues have now described 45 previously unknown species of frog in India.
Newly discovered frogs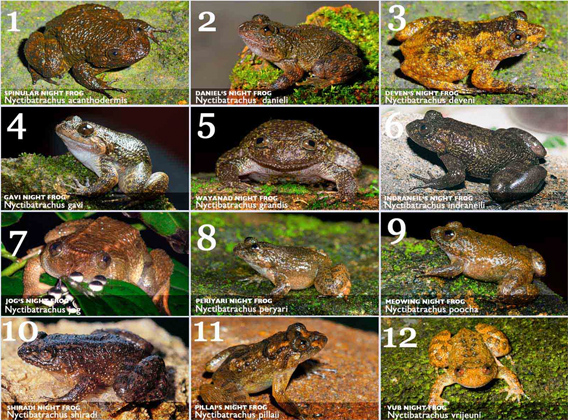 Click image to enlarge
Rediscovered frogs