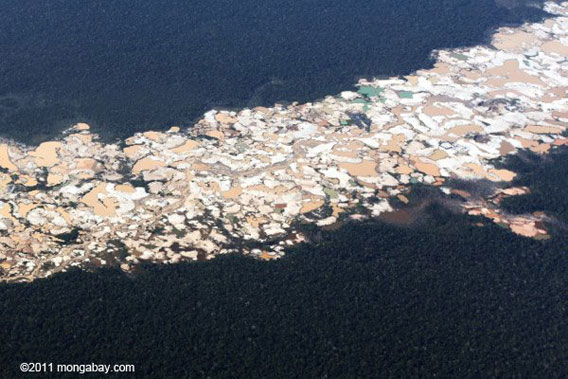 Gold mining in Peruvian Amazon. Photo by: Rhett A. Butler.
Peru's new president, Ollanta Humala, has signed into law a measure requiring that indigenous groups are consulted prior to any mining, logging, or oil and gas projects on their land. If properly enforced, the new legislation will give indigenous people free, prior and informed consent (FPIC) over such industrial projects, though the new law does not go so far as to allow local communities a veto over projects. Still, the law puts Peru in line with the Indigenous and Tribal Peoples Convention of 1989, which the South American nation ratified nearly two decades ago.
"What we want to do with this law is have the voice of indigenous people be heard, and have them treated like citizens, not little children who are not consulted about anything," Humala said yesterday. The message seemed a reference to his predecessor, Alan Garcia, who frequently referred to indigenous people as 'confused savages' among other derogatory terms. Garcia had blocked a similar law after it had been passed by Peru's congress.
Recently, Peru has had a troubled history between the federal government and indigenous tribes. Conflict between big oil companies and indigenous people turned violent two years ago when a standoff between indigenous protestors and government police ended with 23 police officers and at least 10 protesters dead, though indigenous people say that bodies of protesters were dumped in rivers to hide the numbers killed. Humala chose to sign the law in the same Amazonian region—Bagua—where the violence occurred.
Recent years have seen unprecedented industrial activity in the Amazon regions of Peru: under Garcia 70 percent of the Peruvian Amazon was handed out to oil and gas companies.
One of Humala's campaign promises was to work to smooth over relations between indigenous people and the government, and he has stated the new law will help mitigate social conflict. Businesses have thrown their support behind the law, given the lack of veto power to local communities and its potential to create better relations between industry and indigenous people.
"We've taken an important step to solving a problem, we're
building a republic that respects all its nationalities,"
Humala declared.
Humala has also promised to keep Peru's breakneck economy—largely driven by mining and gas—going, while expanding benefits to Peru's poor and disenfranchised. He recently slapped higher taxes on mining company profits, though not as high as companies had feared.
While the indigenous organization, AIDESEP, applauded the new legislation prior to the President's signing, it stated that it was only a first step.
"We mustn't fall into false triumphalism. It is now up to the government to form a national indigenous organization […] that will uphold strict compliance with this new law," the group said in a statement last month.
Related articles
Peru passes landmark indigenous rights legislation
(08/24/2011) A new administration in Peru is moving toward granting indigenous people long-sought legal rights, reports Survival International. Yesterday, the Peruvian congress approved new legislation that gives indigenous people free, prior and informed consent (FPIC) for any project on their land. If signed into law and enforced, the legislation would provide indigenous groups considerable clout in keeping industry off their lands if they choose.
Oil company hires indigenous people to clean up its Amazon spill with rags and buckets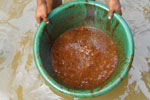 (07/13/2011) On Sunday morning children swimming in the Mashiria River in the Peruvian Amazon noticed oil floating on the water. A pipeline owned by Maple Energy had ruptured in Block 31-E, polluting the Mashiria River which is used by the Shipibo indigenous community in Nuevo Sucre for fishing and drinking water. In response to the spill, Maple Energy's local operator—Dublin incorporate transnational—hired 32 Shipibo community members to clean up the spills using only rags and buckets.
Peru cancels massive dam project after years of protests
(06/16/2011) Three years of sustained community opposition have brought down plans for a massive dam on the Madre de Dios River in Peru. Yesterday the Peruvian government announced it was terminating the contract with Empresa de Generación Eléctrica Amazonas Sur (Egasur) to build a 1.5 gigawatt dam, known as the Inambari Dam. The dam was one of six that were agreed upon between Peru and Brazil to supply the latter with energy.