Arctic sea ice cover fell to its lowest level on record, report researchers from the University of Bremen.
Analyzing data from NASA's Aqua satellite, Georg Heygster and colleagues found that Arctic sea ice fell to a record low of 4.24 million square kilometers on September 8, about 27,000 square kilometers than the previous record set roughly four years ago.
Heygster said this year's mark is "most probably" the lowest Arctic sea ice extent "since the last climate optimum about 8,000 years ago." He added that the record could be extended if sea ice continues to melt in coming weeks. Sea ice is no longer melting from the surface; instead if it melting from underneath due to warmer water below.
The U.S. National Snow and Ice Data Center (NSIDC), which tracks sea ice using a different methology, is expected to release an update on sea ice extent later this month. Its last update showed sea ice coverage at 4.3 million square kilometers.
Melting of sea ice opened the Northwest Passage to navigation again this summer. The ice retreat has set off a scramble between Canada, Russia, the U.S., Denmark, Sweden and Norway which are all seeking to claim rights to the Arctic's rich mineral and gas deposits.
Sea ice hits its nadir in September before rebounding during the long Arctic winter. The loss of sea ice in the Arctic, which imperils a number of key species, has been widely linked to climate change resulting global greenhouse gas emissions.
"The sea ice retreat can no more be explained with the natural variability from one year to the next," said a statement from the University of Bremen. "Climate models show rather, that the reduction is related to the man-made global warming."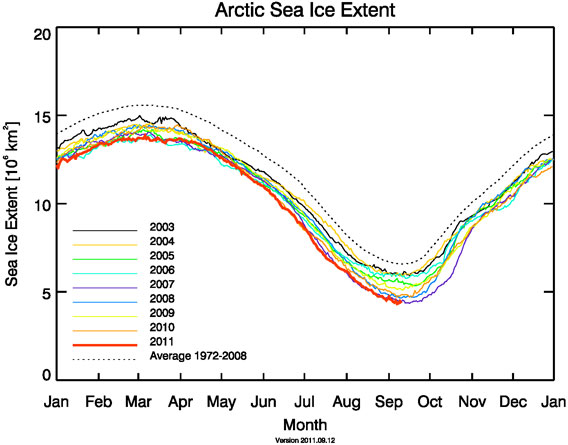 Predictions range widely, but many experts expect the Arctic to be free of sea ice entirely within a few decades. By almost all standards, however, sea ice is disappearing faster than expected, partly a consequence of a positive feedback loop triggered by retreating ice. Sea ice typically helps cool the Arctic by reflecting sunlight back into space. But when sea ice melts, the dark areas of open water absorb the sun's radiation, warming the region and worsening melting.
Environmentalists are concerned that the loss of summer sea ice could have dramatic implications for wildlife — like polar bear and walrus — that depend on pack ice for feeding.
Related articles
Mass walrus haul-outs, polar bear cub mortality linked to climate change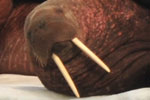 (09/01/2011) Recent, unprecedented walrus haul-outs and increased instances of long-distance swims by polar bears show the direct impacts on wildlife of dwindling Arctic sea ice from climate change. These threatened species also face the prospect of offshore drilling in the Arctic after the Obama Administration recently approved a number of plans to move forward on oil exploration. At least 8,000 walruses hauled out on an Alaskan beach along the Chukchi Sea on August 17. Only a day before, the U.S. Geological Survey announced it would begin tagging walruses near Point Lay, Alaska to study how a lack of sea ice is affecting the species
Arctic open for exploitation: Obama administration grants Shell approval to drill
(08/08/2011) Less than a year and a half after the oil spill in the Gulf of Mexico, the Obama administration has bucked warnings from environmentalists to grant preliminary approval to oil giant, Royal Dutch Shell, to drill off the Arctic coast. Exploratory drilling will occur just north of the western edge of the Arctic National Wildlife Refuge (ANWR) in the Beaufort Sea, home to bowhead and beluga whales, seals, walruses, polar bears, and a wide variety of migrating birds.
The truth about polar bears and climate change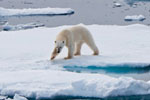 (06/21/2011) Although scientists say innumerable species are threatened by climate change, polar bears have been the global symbol of the movement to rein-in greenhouse gas emissions. This is perhaps not surprising, since polar bears are well known to the public—even though they inhabit a region largely absent of humans—and they make a big impression. Their glaringly white coat contrasts with their deadly skills: as the world's biggest terrestrial predators, they are capable of killing a seal with single blow. When young they are ridiculously adorable, but when adults they are stunning behemoths. But that's not all. Unlike many other species, the perils of climate change are also easy to visualize in connection with polar bears: their habitat is literally melting away.
Russia and Norway carve up wildlife-rich Arctic sea for fossil fuels
(06/09/2011) As climate change melts the Arctic sea ice, nations are rushing to carve up once-inaccessible areas for oil and gas exploitation, industrial fishing, and shipping routes. Now, BBC reports that Russia and Norway have essentially agreed to split the Arctic's Barents Sea in half —one of the region's richest in biodiversity and ecological productivity—for industrial exploitation.
Arctic on the line: oil industry versus Greenpeace at the top of the world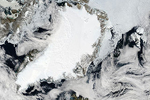 (06/06/2011) At the top of the world sits a lone region of shifting sea ice, bare islands, and strange creatures. For most of human history the Arctic remained inaccessible to all but the hardiest of peoples, keeping it relatively pristine and untouched. But today, the Arctic is arguably changing faster than anywhere else on Earth due to global climate change. Greenhouse gases from society have heated up parts of the Arctic over the past half-century by 4-5 degrees Fahrenheit, leading to a staggering decline in the Arctic sea ice. The large-scale changes suffered by the Arctic have created a new debate over conservation and exploitation, a debate currently represented by the protests of Greenpeace against oil company Cairn Energy, both of whom have been interviewed by mongabay.com (see below).
With pressure to drill, what should be saved in the Arctic?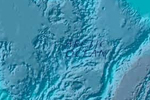 (04/27/2011) Two major threats face the Arctic: the first is global climate change, which is warming the Arctic twice as fast the global average; the second is industrial expansion into untouched areas. The oil industry is exploring new areas in the Arctic, which they could not have reached before without anthropogenic climate change melting the region's summer ice; but, of course, the Arctic wouldn't be warming without a hundred years of massive emissions from this very same industry, thus creating a positive feedback loop that is likely to wholly transform the Arctic.
Arctic sea ice maximum ties for lowest on record
(03/24/2011) Providing more data on how climate change is impacting the Arctic, the maximum extent of sea ice this year was tied with 2006 for the lowest on record. Maximum sea ice simply means the territory the sea ice covers at its greatest point before the seasonal melt begins.
The ocean crisis: hope in troubled waters, an interview with Carl Safina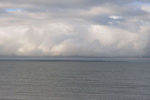 (02/07/2011) Being compared—by more than one reviewer—to Henry Thoreau and Rachel Carson would make any nature writer's day. But add in effusive reviews that compare one to a jazz musician, Ernest Hemingway, and Charles Darwin, and you have a sense of the praise heaped on Carl Safina for his newest work, The View from Lazy Point: A Natural Year in an Unnatural World. Like Safina's other books, The View from Lazy Point focuses on the beauty, poetry, and crisis of the world's oceans and its hundreds-of-thousands of unique inhabitants. Taking the reader on a journey around the world—the Arctic, Antarctic, and the tropics—Safina always returns home to take in the view, and write about the wildlife of his home, i.e. Lazy Point, on Long Island. While Safina's newest book addresses the many ways in which the ocean is being degraded, depleted, and ultimately imperiled as a living ecosystem (such as overfishing and climate change) it also tweezes out stories of hope by focusing on how single animals survive, and in turn how nature survives in an increasingly human world. However, what makes Safina's work different than most nature writing is his ability to move seamlessly from contemporary practical problems to the age-old philosophical underpinnings that got us here. By doing so, he points a way forward.
Disappearance of arctic ice could create 'grolar bears', narlugas; trigger biodiversity loss
(12/22/2010) The melting of the Artic Ocean may result in a loss of marine mammal biodiversity, reports a new study published in the journal BNature and conducted jointly by the National Oceanic and Atmospheric Association (NOAA), the University of Alaska, and the University of Massachusetts. The study is the first to project what might happen if species pushed into new habitats because of ice loss hybridize with one another, resulting in such crossbreeds as "narlugas" and "grolar bears".
High Arctic species plummeting across the board, others Arctic residents on the rise
(03/18/2010) Between 1970 and 2004 species populations in the high Arctic have declined by 26 percent, according to the first report by the Arctic Species Trend Index (ASTI). While this may be a natural cycle, scientists are concerned that environmental impacts such as climate change are worsening natural population fluctuations in the high Arctic. Declining species include lemmings, red knot, and caribou. "Rapid changes to the Arctic's ecosystems will have consequences for the Arctic that will be felt globally. The Arctic is host to abundant and diverse wildlife populations, many of which migrate annually from all regions of the globe. This region acts as a critical component in the Earth's physical, chemical, and biological regulatory system," lead-author Louise McRae from the Zoological Society of London (ZSL) said in a press release.