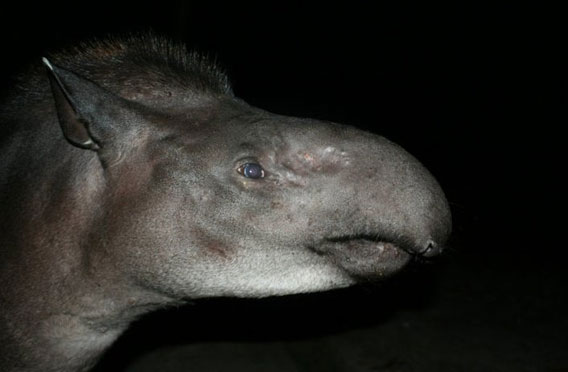 Lowland tapir in Yasuni National Park in Ecuador. Photo by: Jeremy Hance.
Patricia Medici will be speaking at the Wildlife Conservation Network Expo in San Francisco on October 1st, 2011.
Compared to some of South America's megafauna stand-out species—the jaguar, the anaconda, and the harpy eagle come to mind—the tapir doesn't get a lot of love. This is a shame. For one thing, they're the largest terrestrial animal on the South American continent: pound-for-pound they beat both the jaguar and the llama. For another they play a very significant role in their ecosystem: they disperse seeds, modify habitats, and are periodic prey to big predators. For another, modern tapirs are some of the last survivors of a megafauna family that roamed much of the northern hemisphere, including North America, and only declined during the Pleistocene extinction. Finally, for anyone fortunate enough to have witnessed the often-shy tapir in the wild, one knows there is something mystical and ancient about these admittedly strange-looking beasts.
For Patricia Medici, one of the world's foremost tapir experts, she was instantly endeared to the animal. "I immediately thought [the lowland tapir] was an animal I would love to work with. I found them extremely interesting, mostly due to their role as seed dispersers and ecosystem engineers. In addition, there was so little known about these animals at that point, I thought that a long-term project on tapirs had the potential to make a significant contribution to the conservation of the species and its remaining habitats in Brazil," Mecici told mongabay.com in an interview.
| | |
| --- | --- |
| | Patrícia Medici, Coordinator of the Lowland Tapir Conservation Initiative in Brazil. Photo by: Liana John. |
Medici is doing pioneering research and conservation work on the lowland tapir (Tapirus terrestris) in Brazil. The lowland tapir is the most widespread of the three American tapir species (a fourth species is found in Southeast Asia). After first working with populations in the Atlantic Forest, Medici is now undertaking surveying in the Pantanal.
"The work in the Pantanal is progressing extremely well," she says, "so far we have managed to capture 21 individuals, 14 of those were radio-collared (we do not radio-collar juveniles and calves). In addition to radio-telemetry, we have been using camera-traps to investigate tapir social organization and reproduction, both very important pieces of information for future tapir population modeling. We have NEVER been able to collect this type of information before. We now have huge amounts of data and information coming in. The main goal is to use this information in a few years to develop an Action Plan for the Conservation of Tapirs in the Pantanal."
Medici describes the lowland tapir as incredibly 'plastic', given that it can survive in the dense jungles of the Amazon, the fragmented habitat of the Atlantic Forest, the wetlands of the Pantanal, and the plains of the cerrado.
It may be strange to think that the biggest animal in South America, and one of the most widespread, has not been thoroughly researched and lacks conservation plans, but being a tapir means long going unappreciated. However, as researchers uncover more about these mega-herbivores they discover that the tapir plays an irreplaceable role in its various ecosystems.
| | |
| --- | --- |
| | Juvenile male tapir (Picolo) captured in 2008 at Baía das Pedras Ranch, study area of the Pantanal Tapir Program in the Nhecolândia Sub-Region of the Brazilian Pantanal. In the photo, Patrícia Medici and veterinarian Joares May Jr. Photo credit: Lowland Tapir Conservation Initiative, IPÊ. |
"[Tapirs] have been recognized as 'ecological engineers' as well as 'gardeners of the forest'. Exclusion experiments carried out with large terrestrial herbivores in Bolivia have demonstrated that tapirs, peccaries, and deer greatly affect ecosystem dynamics. Generally speaking, these animals impact the structure and diversity of plant communities by decreasing the abundance of preferred species, and by changing competitive interactions between plants, therefore maintaining habitat heterogeneity. […] In addition, tapirs selectively browse vegetative parts of different food plants, and seem to have an important role as long-distance seed dispersers. […] Thus, local tapir extinctions or drastic population declines may trigger a breakdown of key ecological processes, jeopardizing the integrity of the ecosystem in the long term," Medici explains, who this year received the 2011 Research Prize from the Durrell Institute of Conservation and Ecology (DICE) of the University of Kent in the United Kingdom.
Yet, despite its wide range across 11 countries in South America, the lowland tapir is not wholly secure from extinction. It is listed as Vulnerable by the IUCN Red List with a population on the decline. Habitat loss is one of the biggest threats to the lowland tapir, but Medici says even where habitat is secure, other human impacts are imperiling the species.
"Hunting is one of the most important threats. Tapirs are among the preferred game species for subsistence and commercial hunters throughout the Amazon. Estimates of tapir harvest in the State of Loreto in the Peruvian Amazon range from 15,447 to 17,886 individuals per year. Due to their individualistic lifestyle, low reproductive rate, long generation time, and low population density lowland tapirs rarely achieve high local abundance, which makes them highly susceptible to overhunting, and populations show rapid decline when harvested," Medici says, adding that she believes there is 'no sustainable levels' for tapir hunting. Tapir is a popular game animal for indigenous tribes, but is also increasingly sold in rising commercial wildlife-meat markets and restaurants in South America.
"Another serious threat to this species is road-kill. Morro do Diabo State Park in São Paulo, Brazil, is crossed by a highway that, from 1996 to 2006, killed an average of six tapirs per year. Most of the tapirs killed were adult individuals capable of breeding," Medici adds.
In her research, Medici is finding that conservation efforts for the tapir depend on the ecosystem in which it survives, i.e. tapir conservation in the Atlantic Forest has different priorities than that of the Amazon. The goal is to eventually have a Conservation Action Plan written up for each ecosystem.