Coquerel's sifakas kissing. The Madagascar film series helped raise the profile of many of the island's unique species, including lemurs. Photo by: Rhett A. Butler.
Some scientists may scoff at the idea that animated anthropomorphized animals—from Bambi to Simba to Nemo—could have an important impact on conservation efforts to save real-world species, but a new opinion piece in mongabay.com's open-access journal Tropical Conservation Science argues that conservationists would do well to join forces with the makers of animated blockbusters to help save the world's dwindling biodiversity. The paper points out that a number of recent films focused on imperiled places, such as coral reefs (Finding Nemo) and the Atlantic Forest (Rio), as well as conservation problems like overfishing (Happy Feet) and climate change (Ice Age: the Meltdown).
"The concept of animations with conservation, ecological or broad environmental themes is not novel and dates back to the 1940s with Walt Disney's Bambi to the pivotal screening of FernGully: The Last Rainforest at the 1991 Earth Summit in Rio de Janeiro, which became an icon of the global environmental movement," the authors write. "While many of these animations had implicit ecological nuances, others explicitly draw attention to the environmental issues as their primary focus, most notably Avatar which came under intense scrutiny by conservationists and the mass media."
Still, the authors bemoan the fact that few conservation groups have utilized these hugely popular films to educate the public about the global biodiversity crisis. Such films reach the public in a potent and memorable way that science has a hard time doing according to the authors.
"The use of animation characters in the media based on known flagship species, many of which are threatened, is a powerful tool in driving conservation interest by evoking positive emotions towards the local environment. In cases this can convey ecological awareness of selected species and their conservation needs to a large citizenry, many who are detached from biodiversity and conservation issues or possess only superficial knowledge."
The opinion piece points out that there are legitimate criticisms with some of the animated films from a scientific and conservation standpoint, including inaccurate depictions of species or environments, over-simplification of conservation problems, and sometimes even spurring activities that hurt species, such as the illegal pet trade. In some cases, the authors write, "interest is primarily in the characters portrayed and not implicit conservation messages. This mass appeal ironically threatens the very species (e.g. owl trade in India linked to Harry Potter movies) and nullifies any conservation messages these animations attempted to portray (e.g. increased demand for clownfish in the pet fish trade after Finding Nemo)."
Still, despite such drawbacks, animated films reach millions of people around the world, often offering an environmental message, sometimes implicitly but in other cases quite explicitly. While conveying scientific information accurately may be paramount to researchers, for storytellers it is most important to connect an audience emotionally, and in the end that may prove more powerful for garnering public support than scientific data.
The paper recommends that conservation groups reach-out to filmmakers to work together on increasing support and awareness of biodiversity issue by combining real-world information to filmgoers.
"Clearly, conservation NGOs would do well to first establish partnerships with animation studios, as well as local stakeholders such as local movie distributors, government agencies and schools to develop effective outreach programs integrating content from these animations with conservation science. Conservation themes and featured biodiversity, including less charismatic species that have been woven into storylines should be clearly interpreted and explained, and these outreach resources made widely available to libraries, educational institutions and local communities," the researchers write, proposing the use of supplementary materials—such as leaflets, documentaries, lesson plans—and activities like workshops and seminars.
CITATION: Yong, D. L., Fam, S. D. and Lum, S. 2011. Reel conservation: Can big screen animations save tropical biodiversity? Tropical Conservation Science Vol. 4(3):244-253.
Related articles
Big damage in Papua New Guinea: new film documents how industrial logging destroys lives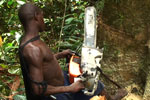 (08/29/2011) In one scene a young man, perhaps not long ago a boy, named Douglas stands shirtless and in shorts as he runs a chainsaw into a massive tropical tree. Prior to this we have already heard from an official how employees operating chainsaws must have a bevy of protective equipment as well as training, but in Papua New Guinea these are just words. The reality is this: Douglas straining to pull the chainsaw out of the tree as it begins to fall while his fellow employees flee the tumbling giant. The new film Bikpela Bagarap('Big Damage') documents the impact of industrial logging on the lives of local people in Papua New Guinea.
Featured video: WWF's Astonish Me
(08/16/2011) Highlighting new species recently discovered around the world, the short film Astonish Me, was created as apart of a happy 50th birthday celebration for conservation organization WWF.
A lion's story, an interview with the filmmakers of The Last Lions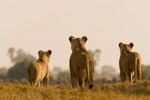 (02/14/2011) The new theatrical film, The Last Lions does not open, as one would expect, with a shot of lions or even an African panorama. Instead the first shot is a view of our planet from space at night. Billions of artificial lights illuminate continent showing just how much humans over the past few thousand years have come to dominate our world. Then comes the lions, but not in person, just in this staggering, and little known, statistic: in the last 50 years we have gone from a population of 450,000 lions to 20,000 today, a 95% decline. While the dramatic story of the The Last Lions follows the perils and tragedies of lion motherhood in one of the world's last untouched places—the Okavango Delta—this statistic hangs over the film, reminding us that the story we are witnessing is on the verge of extinction.