Eight months into the year, six nations have seen record high temperatures, including Kuwait, Iraq, Armenia, Iran, and Republic of the Congo, reports Jeff Master's Wunderblog. To date no record lows have been recorded in any country in the world so far. This is similar, though not quite as extreme, to last year when twenty countries broke all time highs with none hitting an all time low.
On August 3rd, Kuwait made a number of new records when it hit 127 Fahrenheit (53.3 Celsius) at Mitrabah: a record for Kuwait, for an Arabic nation, and a world record for the month of August.
Asia has suffered under incredible heat over the summer with Kuwait's record number, Iraq's, and Iran's all falling in the top ten highs ever recorded on the continent.
High temperatures, along with drought and fires, have also plagued much of the US this summer with Texas experiencing its worst drought since the Dust Bowl. In July Oklahoma recorded the highest average temperature over a month (89.1 Fahrenheit) of any of the all 50 states.
Globally, last year was tied for the warmest on record since tracking begin in 1880. According to NASA's Goddard Institute for Space Studies (GISS) the warmest years to date are: 2005 and 2010 (tied), followed by 1998, 2002, 2003, 2006, 2007 and 2009. Needless to say 2000-2009 was the warmest decade yet.
Scientists say the world is warming due to greenhouse gas emissions from burning fossil fuels and deforestation among other human impacts.
Related articles
Arctic sea ice in free fall: new record low for July
(08/10/2011) Average Arctic sea ice extent hit a new record low for July according to the National Snow and Ice Data Center (NSIDC).If the melt continues apace, the sea ice extent could hit its lowest point since record keeping by satellite began 32 years ago. However, ice loss slowed through the second half of July as weather grew colder in the Arctic, and by the end of the month was slightly above conditions in 2007, in which the lowest sea ice extent ever was measured.
Chart: US suffers record drought
(08/01/2011) An exceptional drought is still scorching major parts of Texas, New Mexico, Oklahoma, and Louisiana. A new report from the National Drought Mitigation Center finds that over July, nearly 12 percent of the US saw exceptional drought conditions, the highest record since monitoring began a dozen years. Exceptional drought is the worst possible on a 5-scale drought scale.
Adaptation, justice and morality in a warming world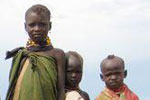 (07/28/2011) If last year was the first in which climate change impacts became apparent worldwide—unprecedented drought and fires in Russia, megaflood in Pakistan, record drought in the Amazon, deadly floods in South America, plus record highs all over the place—this may be the year in which the American public sees climate change as no longer distant and abstract, but happening at home. With burning across the southwest, record drought in Texas, majors flooding in the Midwest, heatwaves everywhere, its becoming harder and harder to ignore the obvious. Climate change consultant and blogger, Brian Thomas, says these patterns are pushing 'prominent scientists' to state 'more explicitly that the pattern we're seeing today shows a definite climate change link,' but that it may not yet change the public perception in the US.