Concern is rising for the welfare of uncontacted natives in the Brazilian Amazon after armed marauders stormed the area where they were last documented. Last week men with rifles and machine guns, believed to be drug traffickers from Peru, overran a remote government guard post run by FUNAI (Brazil's Indigenous Affairs Department) on the Envira River, near the uncontacted indigenous people's location on the border of Brazil and Peru. The uncontacted indigenous people in question made headlines worldwide earlier this year after photos and film of them were released from flyovers.
"There is no knowing how many tribal peoples the drugs trade has wiped out in the past, but all possible measures should be taken to stop it happening again. The world's attention should be on these uncontacted Indians, just as it was at the beginning of this year when they were first captured on film," Stephen Corry, the head of indigenous rights group Survival International, said in a press release.
Brazilian officials found a broken arrow in one of the drug traffickers backpack, which added to fears that the armed men had run into the uncontacted tribe.
"Arrows are like the identity card of uncontacted Indians. We think the Peruvians made the Indians flee. Now we have good proof. We are more worried than ever," Carlos Travassos, the head of Brazil's isolated Indians department, explained, before adding that, "This situation could be one of the biggest blows we have ever seen in the protection of uncontacted Indians in recent decades. It's a catastrophe."
FUNAI officials say the men may have been targeting the uncontacted tribe deliberately in order to make way for illegal logging or drug trafficking from Peru to Brazil. Officials have estimated the uncontacted tribe contained around 200 people. However, following the drug traffickers invasion a rapid survey of the area revealed no one from the tribe.
Earlier this year, when the photos of the uncontacted people were released, Survival International stated that the photos "reveal a thriving, healthy community with baskets full of manioc and papaya fresh from their gardens", but warned that the indigenous community was imperiled by illegal loggers from Peru.
When known about uncontacted indigenous groups are usually monitored from afar, however some governments and corporations simply deny their existence if their presence upsets their plans.
To see photos of the uncontacted tribe: Incredible new photos of uncontacted tribe in the Amazon
Related articles
Incredible new photos of uncontacted tribe in the Amazon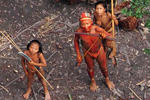 (01/31/2011) Taken by Brazil's Indian Affairs Department and released by indigenous-rights group, Survival International, new aerial photos show an uncontacted tribe on the border of Brazil and Peru in detail. According to a press release by Survival International, the photos "reveal a thriving, healthy community with baskets full of manioc and papaya fresh from their gardens", but a community that is also threatened by illegal loggers from Peru.
ConocoPhillips withdraws from oil exploitation in uncontacted indigenous territory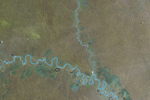 (05/11/2011) ConocoPhillips has announced it is withdrawing from its 45% share of oil drilling in Block 39 of Peru's Amazon rainforest. The withdrawal comes after pressure from indigenous-rights and environmental groups to leave two Peruvian oil blocks—39 and 67—alone, due to the presence of indigenous people who have chosen to remain uncontacted. ConocoPhillips and other companies have been warned they will 'decimate' tribes if they remain. However, Spanish oil company Repsol-YPF still operates in block 39 and is currently doing seismic testing for oil reserves in the untouched region. ConocoPhillips has not divulged what company is taking their place.
50 NGOS tell big oil to get out of uncontacted natives' territory
(11/21/2010) A letter signed by over 50 NGOs is calling on three big oil companies—Perenco, Repsol-YPF, and ConocoPhillips—to withdraw from Peruvian territory inhabited by uncontacted indigenous tribes. The letter states that the oil companies' presence in the area threatens the uncontacted tribe with diseases, for which they have little immunity, and puts the lives of oil company workers in jeopardy, since past encounters have ended in violence.