As the price of gold rises, the ecological cost mounts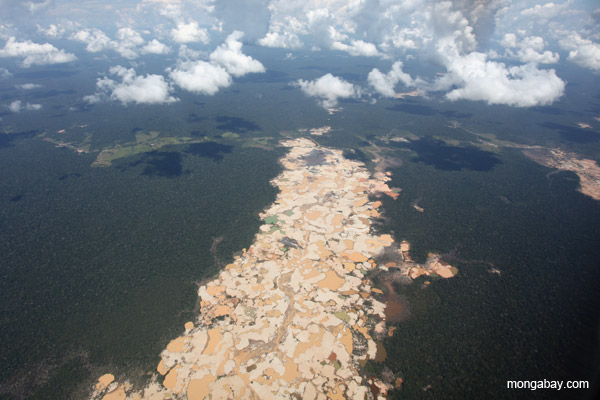 Illegal gold mine established in 2009 in the department of Madre de Dios. This mine encroaches on Tambopata Reserve. All photos by Rhett A. Butler.
The surging price of gold is impacting some of the world's most important ecosystems: tropical forests.
Rainforests across the Amazon — Brazil, Guyana, Suriname, French Guiana, Colombia, Venezuela, Bolivia, and Peru — are being dug up for gold. Much of the mining is illegal and therefore little controlled: toxic compounds like mercury and cyanide is dumped into rivers and streams, affecting wildlife and downstream populations. Commercial bushmeat hunters poach animals in the forests around the mines.
These photos were taken yesterday and today in the Peruvian Amazon where a gold rush has been particularly damaging: the region is arguably the most biodiverse place on Earth.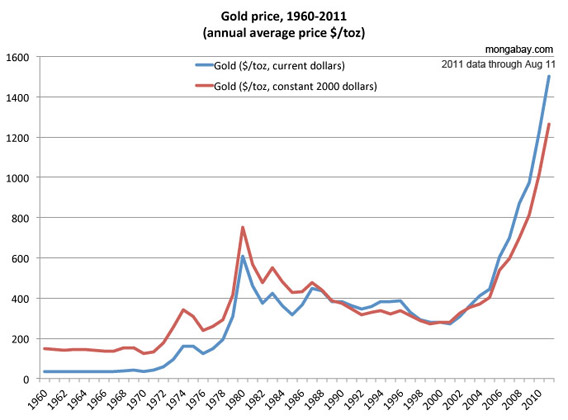 Price of gold, 1960-2011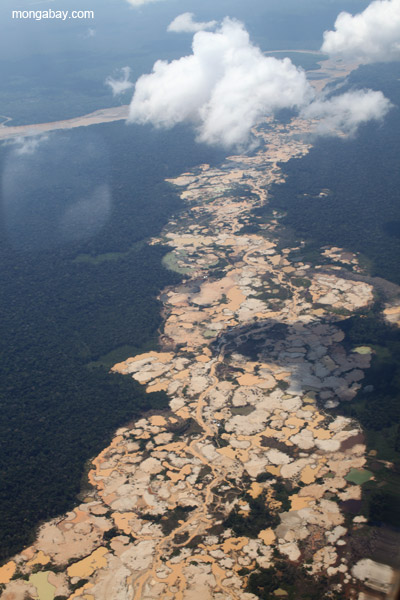 Lamal gold mine in Peru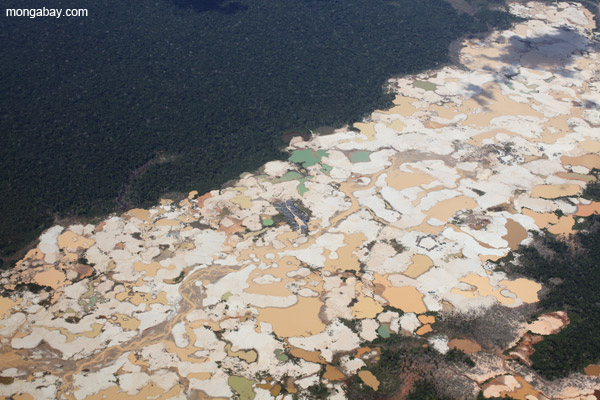 Gold mining in Peru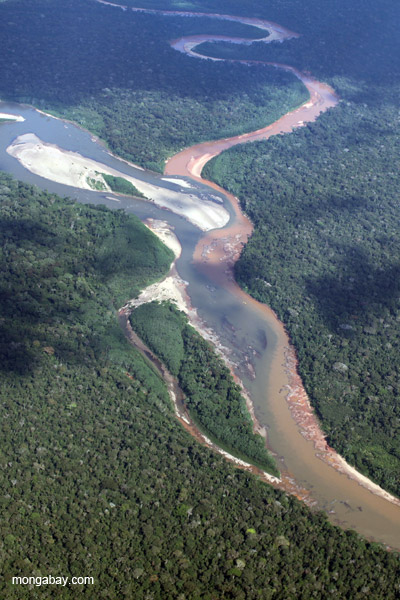 Muddy toxin-laden river that drains the Río Huaypetue gold mine joining a clearwater river in the Peruvian Amazon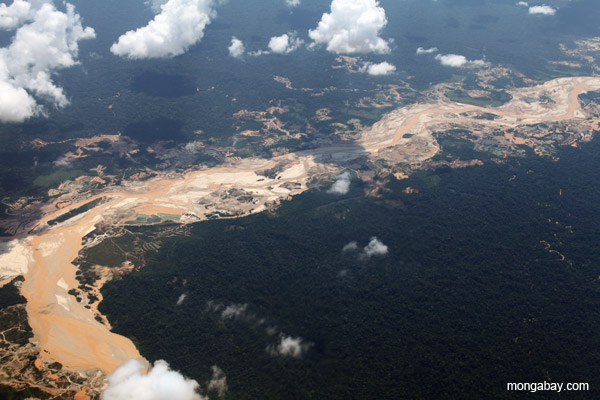 Guacamayo or Lamal gold mine.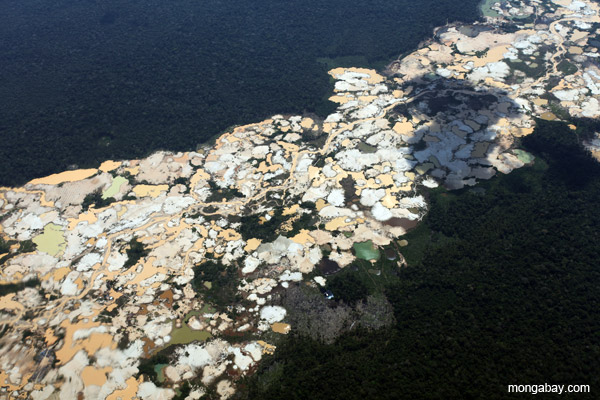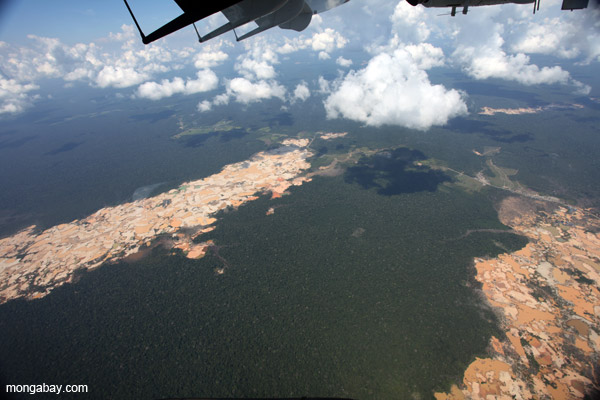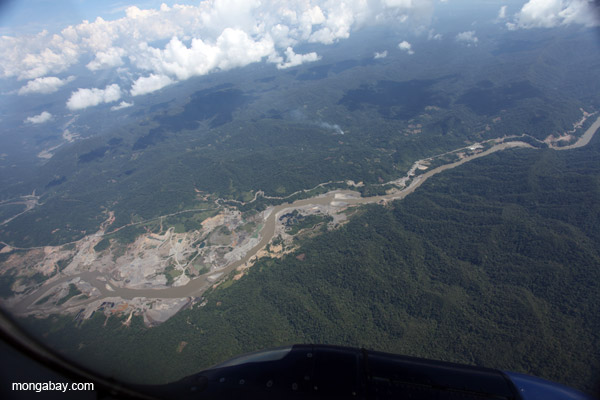 Gold mine outside of Puerto Maldanado, Peru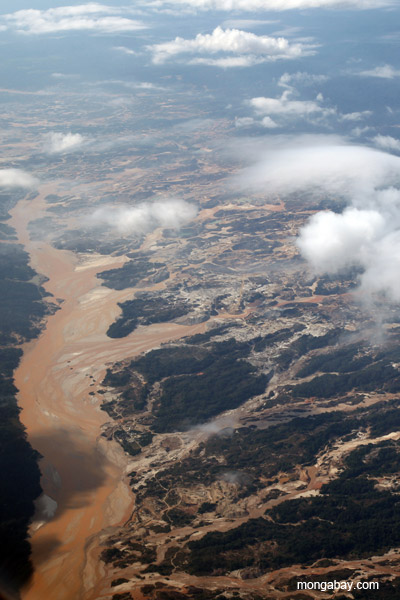 Río Huaypetue gold mine in Madre de Dios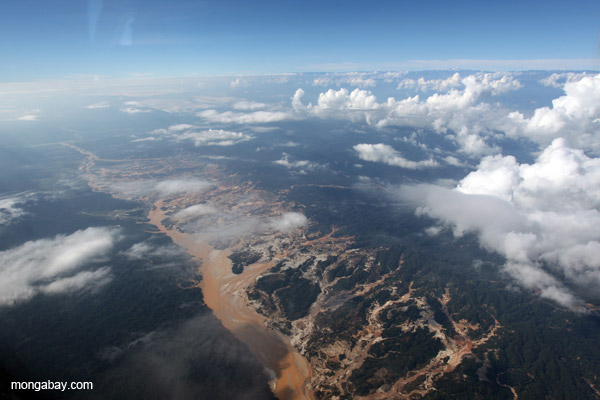 Río Huaypetue gold mine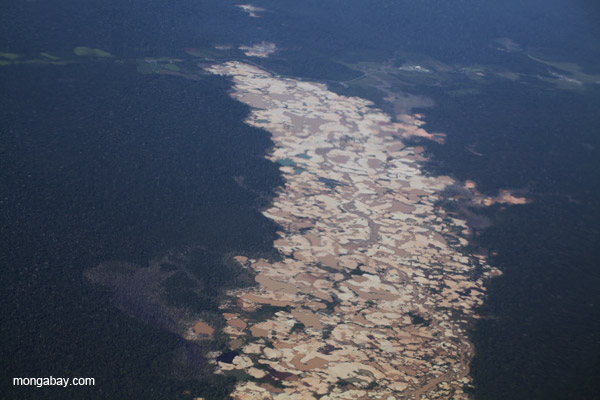 Guacamayo gold mine outside of Cusco, Peru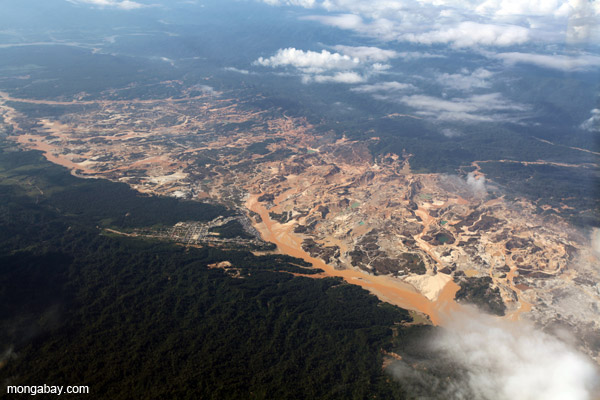 Rio Huaypetue mine outside of Cusco, Peru
But gold mining is taking a toll in forests outside the Amazon: Madagascar, Indonesia, Central America, and West and Central Africa are among the tropical countries and regions that have been particularly affected by gold fever.
Related articles
Demand for gold pushing deforestation in Peruvian Amazon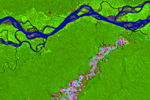 (04/19/2011) Deforestation is on the rise in Peru's Madre de Dios region from illegal, small-scale, and dangerous gold mining. In some areas forest loss has increased up to six times. But the loss of forest is only the beginning; the unregulated mining is likely leaching mercury into the air, soil, and water, contaminating the region and imperiling its people. Using satellite imagery from NASA, researchers were able to follow rising deforestation due to artisanal gold mining in Peru. According the study, published in PLoS ONE, Two large mining sites saw the loss of 7,000 hectares of forest (15,200 acres)—an area larger than Bermuda—between 2003 and 2009.
First strike against illegal gold mining in Peru: military destroys miners' boats
(02/21/2011) Around a thousand Peruvian soldiers and police officers destroyed seven and seized thirteen boats used by illegal gold miners in the Peruvian Amazon, reports the AFP. The move is seen as a first strike against the environmentally destructive mining. Used to pump silt up from the river-bed, the boats are essential tools of the illegal gold mining trade which is booming in parts of the Amazon.
Epidemic hits Amazonian indigenous group
(10/31/2010) An epidemic, suspected to be malaria, has struck down dozens of people of the Yanomami tribe in the Venezuelan Amazon, reports the Associated Press. Leaders of the three impacted village told health workers that approximately 50 people have died so far, many of them children.
Peru's rainforest highway triggers surge in deforestation, according to new 3D forest mapping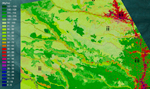 (09/06/2010) Scientists using a combination of satellite imagery, airborne-laser technology, and ground-based plot surveys to create three-dimensional high resolution carbon maps of the Amazon rainforest have documented a surge in emissions from deforestation and selective logging following the paving of the Trans-Oceanic Highway in Peru. The study, published this week in the early edition of the Proceedings of the National Academy of Sciences, reveals that selective logging and other forms of forest degradation in Peru account for nearly a third of emissions compared to deforestation alone.
Guyana bans gold mining in the 'Land of the Giants'

(03/01/2010) Guyana has banned gold dredging in the Rewa Head region of the South American country after pressure from Amerindian communities in the area. A recent expedition to Rewa Head turned up unspoiled wilderness and mind-boggling biodiversity. The researchers, in just six weeks, stumbled on the world's largest snake (anaconda), spider (the aptly named goliath bird-eating spider), armadillo (the giant armadillo), anteater (the giant anteater), and otter (the giant otter), leading them to dub the area 'the Land of the Giants'. "During our brief survey we had encounters with wildlife that tropical biologists can spend years in the field waiting for. On a single day we had two tapirs paddle alongside our boat, we were swooped on by a crested eagle and then later charged by a group of giant otters."
High gold prices, army collaboration, play role in mining invasion in southern Venezuela
(11/25/2009) Illegal gold mining involving wildcat miners, the Venezuelan army, and indigenous groups is threatening one of the country's most biodiverse river basins, according to local sources.
High mineral prices drive rainforest destruction
(08/13/2008) The surging price of minerals is contributing to degradation and destruction of rainforests worldwide, warns a researcher writing in the current issue of New Scientist.