A new administration in Peru is moving toward granting indigenous people long-sought legal rights, reports Survival International. Yesterday, the Peruvian congress approved new legislation that gives indigenous people free, prior and informed consent (FPIC) for any project on their land. If signed into law and enforced, the legislation would provide indigenous groups considerable clout in keeping industry off their lands if they choose.
The legislation still has to be signed by new President Ollanta Humala, but Humala, unlike his predecessor Alan Garcia, has stated he supports greater legal rights for indigenous groups.
While the indigenous organization, AIDESEP, applauded the legislation it also cautioned the fight wasn't over.
"We mustn't fall into false triumphalism. It is now up to the government to form a national indigenous organization […] that will uphold strict compliance with this new law," the group said in a statement.
Peru has had a troubled history between the federal government and indigenous tribes. Recently conflict between big oil companies and indigenous people turned violent two years ago when a standoff between indigenous protestors and government police ended with 23 police officers and at least 10 protesters dead, though indigenous people say that bodies of protesters were dumped in rivers to hide the numbers killed.
Former President Alan Garcia opened up 70 percent of the Peruvian Amazon to oil and gas exploitation, often dismissing indigenous people's concerns, by referring to indigenous people as 'confused savages'.
On top of oil and gas, indigenous groups in Peru are also imperiled by logging, drug trafficking, hydroelectric dams, and expanded mining, especially of gold which pollutes rivers and levels riverine forest.
Related articles
Picture of the day: the high price of gold for the Amazon rainforest
(08/11/2011) The surging price of gold is impacting some of the world's most important ecosystems: tropical forests.
Oil company hires indigenous people to clean up its Amazon spill with rags and buckets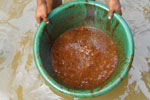 (07/13/2011) On Sunday morning children swimming in the Mashiria River in the Peruvian Amazon noticed oil floating on the water. A pipeline owned by Maple Energy had ruptured in Block 31-E, polluting the Mashiria River which is used by the Shipibo indigenous community in Nuevo Sucre for fishing and drinking water. In response to the spill, Maple Energy's local operator—Dublin incorporate transnational—hired 32 Shipibo community members to clean up the spills using only rags and buckets.
Peru to abolish uncontacted tribe's reserve, says group
(06/01/2011) Territory inhabited by an uncontacted Amazon tribe in Peru is again up for grabs, claims Survival International.