A new study of Uganda's Kibale National Park refutes the conventional wisdom that parks cause poverty along their borders.
"Apparently the park provides a source of insurance; [locals] can hunt, or sell firewood or thatch from the park," explains Jennifer Alix-Garcia, co-author of the study, with the University of Wisconsin, Madison. "It's misleading. If you look, you see more poor people living near the park. But when you look at the change in assets, you see that the poor people who live next to the park have lost less than poor people who live further away."
The study took place between 1996 and 2006, beginning three years after the creation of Kibale National Park in western Uganda. Two hundred and fifty-two households were surveyed.
| | |
| --- | --- |
| | Tourists track chimpanzees in Kibale National Park. Photo by: Rhett A. Butler. |
According to the paper, the Kibale National Park in western Uganda sustains the last significant expanse of premontane forest in East Africa and plays a critical role in sustaining species. Crucially, the southern border of the KNP connects to the Queen Elizabeth National Park, providing a 180 km (111 mile) wildlife migration corridor.
Kibale also provides refuge for a number of sensitive species. According to the study, the threatened black-and-white colobus (Colobus guereza) population dropped from 81 to 21 individuals in forest outside the park, while the endangered red colobus (procolobus rufomitratus) population fell to 16 individuals from 126 over the decade. Inside the park, however, the black-and-white colobus population grew slightly and the red colobus population remained stable. In all, Kibale is home to 13 species of primates, including a long-studied chimpanzee population a thousand strong. The park also supports populations of leopard, African buffalo, bush pig, rhinoceros viper, and elephant, which migrate between Kibale and Queen Elizabeth National Parks.
National parks in Africa are credited with preserving forests, promoting tourism, and conserving wildlife but critics allege parks worsen poverty by cutting off needed access to land and natural resources. Kibale National Park prohibits hunting, timber extraction, charcoal production, and agriculture within its boundaries. However, the convention-defying study found no evidence the park creates a poverty trap. In fact, Ugandans residing nearby experienced a rise in living standards: by 2006, households had better roofing, more livestock, purchased eucalyptus woodlots (private property), hired laborers, and increased access to safe water, although wealthier households increased their assets more rapidly than the poor. This is not the only study to find poverty reduced from living adjacent to a protected area in the developing world. Recent studies of villages near protected areas in Costa Rica and Thailand found similar benefits as compared to other rural villages not near parks.
Still ten percent of families in the Kibale study fell into deep poverty and were forced off their land—a last resort for rural Ugandans. The study suggests such poverty may be caused by unequal access to resources, particularly credit. Increased inequality was reflected in a 9.5 percent rise in the land Gini coefficient (a standard measure of inequality) from 0.42 in 1996 to 0.46 in 2006. Contrary to expectations, the study found distance from Kibale National Park increased the likelihood of farm abandonment by 13 percent, particularly those with small landholdings at the start of research period living near heavily degraded or deforested communal forests.
"Distance from the park is inversely correlated with the propensity of households to fall into extreme poverty. Therefore, there is not evidence that the park is a poverty trap. Instead, the data suggest low-intensity subsistence use of forest in the park prevents the extreme impoverishment of poor households," states the study.
The poor often rely on non-timber forest products (NTFPs) and are, therefore, most vulnerable to the effects of deforestation, the study found. Only fish, honey, and thatch can be legally harvested from the park, but 74 percent of very poor respondents turn to additional illegal NTFPs to avoid selling their land in difficult times. The poor commonly gather fuel wood, materials for construction, and more than 89 medicinal plant species. The study concluded permitting limited access to park NTFPs would buffer the poor against dire poverty, although it was not a solution to the overall extent and level of rural poverty.
Forests outside Kibale National Park have faltered since the 1990s. Generally only NTFPs were extracted within the park, but charcoal production, timber harvesting, and land conversion degraded every forest studied outside of the park's boundaries. Between 1995 and 2006, communal forests outside of the park lost half their area, causing tree species diversity and primate populations to plummet. In 2010, a survey showed the studied patches had been entirely cleared. During the 1990s Uganda lost 18 percent of its tropical high forests, while the remaining 3 percent of closed-canopy forest lies largely within protected areas. Kibale National Park is an increasingly isolated ecosystem as population growth, the demand of urban markets, and agricultural expansion lead to deforestation outside its borders.
"If you are concerned about the welfare of the people who live around parks, don't assume that it is the park that is trapping them in poverty. Instead of only looking at the park, turn around and look in the other direction. Land is becoming scarce and most public forests have been cleared or privatized. There are many other factors, it's not just the park," explains Lisa Naughton, lead author of the paper, also with University of Wisconsin, Madison .
CITATION: Lisa Naughton-Treves, Jennifer Alix-Garcia, and Colin A. Chapman. Lessons about parks and poverty from a decade of forest loss and economic growth around Kibale National Park, Uganda. PNAS August 23, 2011 vol. 108 no. 34 13919 13924. www.pnas.org/cgi/doi/10.1073/pnas.1013332108.
Related articles
Environment versus economy: local communities find economic benefits from living next to conservation areas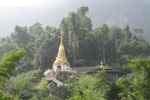 (06/12/2011) While few would question that conserving a certain percentage of land or water is good for society overall, it has long been believed that protected areas economically impoverish, rather than enrich, communities living adjacent to them. Many communities worldwide have protested against the establishment of conservation areas near them, fearing that less access and increased regulations would imperil their livelihoods. However, a surprising study overturns the common wisdom: showing that, at least in Thailand and Costa Rica, protected areas actually boost local economies and decrease poverty.
Uganda resurrects plan to hand over protected forest to sugar company
(08/22/2011) An environmental issue in Uganda that left three people dead four years ago has reared its head again. The Ugandan government has resurrected plans to give a quarter of the Mabira Forest Reserve to a sugar cane corporation after dropping the idea in 2007 following large-scale protests, including one that left many activists injured and three dead. A pet project of Ugandan President Yoweri Museveni the plan would degazette 7,100 hectares of the 30,000 hectare Mabira Forest Reserve for a sugarcane plantation to be run by the Indian-owned company, Mehta Group. However the plan is being heavily attacked by critics.
Protected areas that allow local use better at reining in tropical deforestation
(08/21/2011) Protected areas in tropical forests are better at curtailing deforestation if they allow 'sustainable use' by locals, according to a new World Bank study published in the open-access journal PLoS ONE. Looking at every official protected area in the tropics from 2000 to 2008, researchers found that multi-use reserves in Latin America and Asia lowered deforestation rates by around 2 percent more than strict protected areas, though the effect was less visible in Africa.