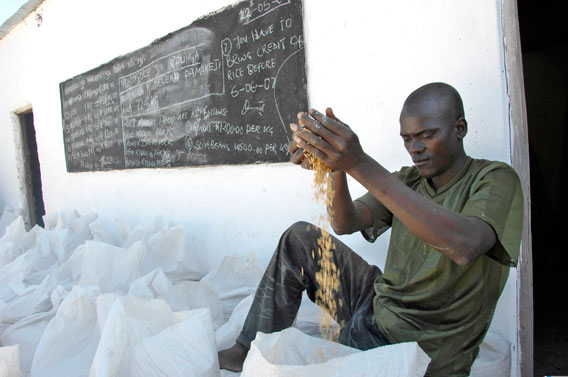 Rice for market in the Luangwa Valley. Photo by: Julie Larsen Maher/WCS.
Luangwa Valley in Zambia is home to stunning scenes of Africa wildlife: elephants, antelopes, zebra, buffalo, leopards, hyena, and lions all thrive in Luangwa's protected areas, while the Luangwa River is known for multitude of snapping crocodiles and its superabundant herds of hippos. In fact, the area's hippos were filmed for the BBC's program Life, including a dramatic battle between two males (see below). This valley also shelters Thornicroft's giraffe, a subspecies of giraffe of which less than 1,500 survive. Yet as in many such places in Africa, abundant plains and forest wildlife bump up against the needs of impoverished local people. The resulting conflict usually ends in large-scale wildlife declines; the same trend was documented in the Luangwa Valley until a unique initiative began to make a difference not only in the life of animals, but of people as well. A new study in the Proceedings of the National Academy of Sciences (PNAS) examines how the Community Markets for Conservation (COMACO) program has succeeded in stabilizing wildlife while improving agriculture in the Luangwa Valley. The ten-year-old initiative, run by the Wildlife Conservation Society (WCS), is even close to becoming financially self-sufficient.
"COMACO shows how conservation can and should work," said John Robinson, WCS Executive Vice President for Conservation and Science. "Conservation cannot function without the buy-in of local people, and this is a shining example of how that goal can be achieved with impressive results for both people and wildlife."
Local people in the Luangwa Valley have long faced the constant risk of food shortages, exacerbated by rising populations, entrenched poverty, little education, and disease. Focus on cotton and tobacco-growing, introduced by developers, also led to widespread forest destruction and a reliance on fluctuating markets.
| | |
| --- | --- |
| | Thornicroft's giraffe only survives in the Luangwa Valley. Photo by: Julie Larsen Maher/WCS. |
COMACO, begun informally in 2001, was an attempt to protect wildlife by working to improve the life of locals. The program started by targeting areas in the Luangwa Valley most prone to hunger, as well as those involved in poaching and deforestation for charcoal. Villagers were taught sustainable farming techniques and given access to urban and international markets.
COMACO "uses markets and an adaptive business approach to promote sustainable agricultural practices, rather than base development
on natural resources," the paper's authors write. Nineteen thousand farmers have completed their training with COMACO.
Today, sixteen crops are promoted within the group with participants free to grow whatever they prefer. Farmers also learn how to provide greater value to the products they sell, i.e. sell peanut butter instead of peanuts.
To show their commitment, program participants are asked to turn in their guns and wire snares used for poaching. The program has so far collected 61,000 snares and 1,467 guns. Otherwise, the program does not work directly on wildlife conservation, but rather "uses markets to encourage sustainable practices that should in turn lead to biodiversity conservation," according to the paper.
The young program has had a measurable impact. Aerial surveys of animals found that most species had stable or rising populations following declines measured in 1996. Especially notable from a poaching standpoint was the stability of eland, kudu, roan, waterbuck, wildebeest, zebra, and the rise in hartebeest. The one outlier was African buffalo, which the study found was in decline. Still, most of the news from the aerial surveys was good.
"Stability of the elephant population is of special importance, given the recent local history and focus for regional tourism," the authors add.
| | |
| --- | --- |
| | Collected rifles and snares by COMACO. Photo by: Julie Larsen Maher/WCS. |
Crop yields have improved in families that have participated in COMACO with women farmers especially successful; in addition soil carbon has gone up. The sustainable farming techniques used by COMACO participants have even spread to other families who are unconnected with the program. However, food insecurity is still a major issues, impacting over 90 percent of families in the area in 2009.
Given some earlier successes, amid challenges, the program is hoping to gain financial sustainability at some point in the future.
"They are trying to do something that very few wildlife and social interventions have ever dreamed of, which is to become self-sufficient," co-author Alexander Travis with Cornell University's Baker Institute for Animal Health said in a press release.
The program is looking at new ways of gaining greater income for its participants, including growing organic cotton and joining the global carbon market. This year COMACO will test its robustness, by entering new areas in the valley.
However the authors warn that its simply too early to see COMACO as a success-story that could be replicated elsewhere.
"It would be prudent first to determine whether COMACO can survive its expansion phase. As the business grows, could the linkages between development
and conservation be lost if economic success trumps social and environmental goals?" the authors ask.
CITATION: Dale Lewis, Samuel D. Bell, John Fay, Kim L. Bothi, Lydiah Gatere, Makando Kabila, Mwangala Mukamba,
Edwin Matokwani, Matthews Mushimbalume, Carmen I. Moraru, Johannes Lehmann, James Lassoie,
David Wolfe, David R. Lee, Louise Buck, and Alexander J. Travis.Community Markets for Conservation (COMACO)
links biodiversity conservation with sustainable
improvements in livelihoods and food production. Proceedings of the National Academy of Sciences. www.pnas.org/cgi/doi/10.1073/pnas.1011538108.
Related articles
NASA study shows global warming will diminish rainfall in East Africa, worsening hunger
(08/06/2008) A new NASA-backed study has found a link between a warming Indian Ocean and reduced rainfall in eastern and southern Africa. The results suggest that rising sea temperatures could exacerbate food problems in some of the continent's most famine-prone regions.
Photos: Hippos threatened in Africa
(01/07/2008) As the sun sets on the Luangwa River in Zambia, a male hippo throws its mouth open in a yawn as wide as a canyon. Night is falling as the hippo herds break to the banks to follow their regular paths to their feeding grounds. Their huge, round hooves made muddy imprints during the rainy season, and have dried to concrete craters along a trail the hippos follow to graze in grassy glades.
Agents of death for wildlife become jewelry in Zambia
(07/12/2007) Craftswomen in Zambia are turning snares formerly used to illegal kill wildlife into jewelry. Called "snareware", the handmade jewelry is part of a program that has grossed $350,000 for rural communities and helped protect endangered wildlife.