Fuji Xerox Australia have severed ties with Asia Pacific Resources International (APRIL), an paper products giant accused of illegally clearing rainforests in Sumatra for pulp and paper production, reports Nine News.
Fuji Xerox's move comes after an exposé aired Tuesday by ABC News, which highlighted a two-year-old investigation into APRIL's logging practices. That investigation was mysteriously dropped last year but has since been relaunched at the urging of environmentalists and anti-corruption officials.
Fuji Xerox said the decision was reached after the ABC showed aired, following months of internal debate over its relationship with APRIL.
"Over the past eighteen months we have been concerned with the lack of progress with regard to APRIL's logging practices in Indonesia," Fuji Xerox managing director Nick Kugenthiran said in a statement. "Our concerns were grave enough for us to take steps in June 2011 to review our relationship with APRIL."
"Due to these concerns and further issues brought to our attention, we have made the decision to cease all procurement with APRIL."
Greenpeace, which has been campaigning against APRIL, welcomed the move and called on other retailers to follow suit.
Related articles
Palm oil, paper drive large-scale destruction of Indonesia's forests, but account for diminishing role in economy, says report
(07/27/2011) Indonesia's forests were cleared at a rate of 1.5 million hectares per year between 2000 and 2009, reports a new satellite-based assessment by Forest Watch Indonesia (FWI), an NGO. Expansion of oil palm and wood-pulp plantations were the biggest drivers of deforestation, yet account for a declining share of the national economy. The study, which compared year 2000 data with 2009 Landsat images from NASA, found that Indonesia's forest cover declined from 103.32 million hectares to 88.17 million hectares in ten years. Since 1950 Indonesia lost more than 46 percent of its forests.
Indonesia's anti-mafia unit seeks to reopen $115 billion illegal logging case
(06/08/2011) Indonesia's Anti-Mafia Law Task Force asked authorities Tuesday to reopen an investigation into illegal logging that may have cost the Indonesian state $115 billion.
Google Earth animation reveals Indonesian forest targeted for destruction by pulp and paper companies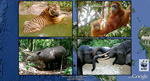 (05/14/2011) A new animation created using Google Earth offers a tour of an area of forest slated for destruction by logging companies. The animation, created by WWF-Indonesia and David Tryse, with technical assistance from Google Earth Outreach, highlights the rainforest of the Bukit Tigapuluh landscape in Sumatra, the only island in the world that is home to Sumatran tigers, elephants, rhinos, and orangutans. All of these species are considered endangered or critically endangered due to habitat destruction or poaching.
7 conglomerates control 9M ha of land in Indonesia
(05/05/2011) Efforts to slow deforestation in Indonesia should include curtailing further expansion of forestry holdings by giant conglomerates, says an Indonesian activist group. Analyzing data from the Ministry of Forest's Production Forest Utilization Quarterly Report, Jakarta-based Greenomics-Indonesia found that seven conglomerates in Indonesia control more than 9 million hectares of land, including large forest concessions that will likely be exempt from any moratorium on forest clearing established under the country's Reducing Emissions from Deforestation and Degradation (REDD) program. The extent of holdings could complicate Indonesia's efforts to reduce emissions from logging and plantation development.
Major paper company clear-cutting key tiger habitat
(04/19/2011) A pulp supplier for a major paper company is clearing natural forest in a wildlife corridor in central Sumatra, alleges a new investigation conducted by Eyes on the Forest, a coalition of environmental groups.
Does chopping down rainforests for pulp and paper help alleviate poverty in Indonesia?
(01/13/2011) Over the past several years, Asia Pulp & Paper has engaged in a marketing campaign to represent its operations in Sumatra as socially and environmentally sustainable. APP and its agents maintain that industrial pulp and paper production — as practiced in Sumatra — does not result in deforestation, is carbon neutral, helps protect wildlife, and alleviates poverty. While a series of analyses and reports have shown most of these assertions to be false, the final claim has largely not been contested. But is conversion of lowland rainforests for pulp and paper really in Indonesia's best economic interest?
Pulp plantations destroying Sumatra's rainforests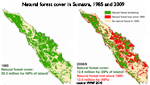 (11/30/2010) Indonesia's push to become the world's largest supplier of palm oil and a major pulp and paper exporter has taken a heavy toll on the rainforests and peatlands of Sumatra, reveals a new assessment of the island's forest cover by WWF. The assessment, based on analysis of satellite imagery, shows Sumatra has lost nearly half of its natural forest cover since 1985. The island's forests were cleared and converted at a rate of 542,000 hectares, or 2.1 percent, per year. More than 80 percent of forest loss occurred in lowland areas, where the most biodiverse and carbon-dense ecosystems are found.