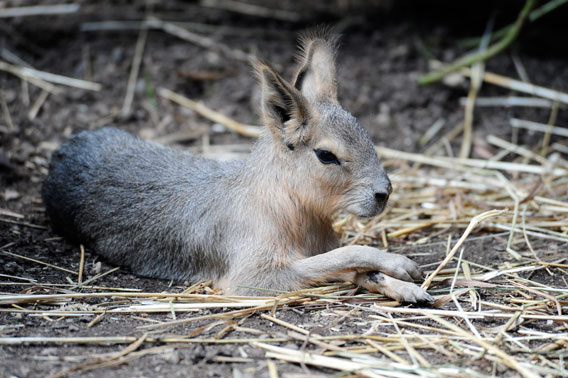 A two week old Patagonian mara makes his photographic appearance at the Wildlife Conservation Society's (WCS) Central Park Zoo. Photo by: Julie Larsen Maher © WCS.
The Patagonian mara (Dolichotis patagonum) may look remarkably like a rabbit—or like a rabbit on stilts—but this animal is more closely related to a guinea pig than a rabbit. Maras are giant rodents of South America (the fourth largest in the world), while rabbits are not rodents at all but lagomorphs.


Found in the steppes of Argentina, the Patagonian mara is listed as Near Threatened on the IUCN Red List due to habitat loss, competition with invasive herbivores, and hunting for its skin. The population is thought to have dropped around 30 percent in the last decade.