Wild cat furs on sale in market in China, 2006. Photo by: Rhett A. Butler.



The Environmental Investigation Agency (EIA) has warned the US, the UK, and all tiger-range nations that China has re-opened the trade in wild cat skins—including tigers—ahead of a Convention on International Trade in Endangered Species (CITES) meeting this week in Geneva, Switzerland. According to the EIA, China has reinitiated a Skin Registration Scheme that allows the trade of big cat skins from legal sources, such as captive-bred cats and controversial tiger farms, however the NGOS argues the scheme lacks transparency, providing an easy cover for the sale of skins taken from big cats poached in the wild.



"The Skin Registration Scheme is going in totally the wrong direction. It's doing nothing to actually help tiger and leopard conservation, instead providing a cover for illegal trade and creating a confused consumer market," says Debbie Banks, EIA Tiger Campaign Head, in a press release.



China is a signatory of the Global Tiger Recovery Program, which ambitiously pledged to double tiger numbers in the wild by 2022 with initial funds of $300 million. However, EIA contends that the re-opening of the Skin Registration Scheme makes a 'complete mockery' of China's promise to conserve tigers.



The EIA states that it has already found examples of cat skins on sale on-line. According to the Hindustan Times one tiger rug cost $124,000, while a stuffed tiger cost $700,000. Leopard skins ranged from $100,000 to $300,000.



"Parties to CITES may feel they've been misled as a result of China's tactics," Banks says. "What they've failed to grasp is that despite committing to the domestic trade ban on tiger bone, China has refused to make the same commitment over skins or answer questions about how many skins are being traded, but the system is there."



Currently, there are an estimated 3,500 wild tigers in the world, down from approximately 100,000 in 1900; during the last decade alone tigers have lost 40% of their viable habitat; and already in the past century, three tiger subspecies went extinct and one may only survive in captivity. These bleak statistics underlie the difficulty of saving tigers. The great cat is threatened by habitat loss (much of which has vanished already), poaching for skins and traditional medicine, declines in prey species, and human-tiger conflict, which includes casualties both of humans and tigers.
Related articles



How to Save the Tiger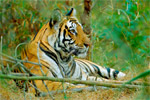 (07/19/2011) We are losing the tiger. Two hundred years ago, Asia's great cat numbered in the hundreds of thousands and inhabited virtually the entire continent, from Siberia to Turkey, and Afghanistan to Bali. Today there are, at best, around 3,200 wild tigers left. The tiger is extinct in at least 14 countries and hangs on in only 7% of the habitat it once occupied – tiny, mostly isolated fragments in what was once an ocean of forest. Three sub-species, from Bali, Java and Central Asia are lost forever, and a fourth, the South China tiger has not been recorded in the wild for over a decade.
China failing commitment to save tigers

(05/20/2011) Chinese Premier Wen Jiabao pledged that China would work with other nations to end the trade in tiger parts and revive tiger populations at the Global Tiger Forum last fall, but the country has since fallen short of its commitments, says an environmental group.
Tiger summit reaches bold agreement and raises $300 million

(11/24/2010) The summit to save the world's biggest cat, and one of the world's most popular animals, has agreed to a bold plan dubbed the Global Tiger Recovery Program. Meeting in St. Petersburg, 13 nations have set a goal to double the wild tiger's (Panthera tigris) population worldwide by 2022. Given that tiger numbers continue to decline in the wild, this goal is especially ambitious, some may even say impossible. However, organizations and nations are putting big funds on the table: around $300 million has already been pledged, including $1 million from actor, and passionate environmental activist, Leonardo Dicaprio.
Rebuttal: Slaughtering farmed-raised tigers won't save tigers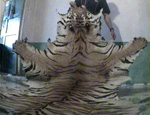 (11/18/2010) A recent interview with Kirsten Conrad on how legalizing the tiger trade could possibly save wild tigers sparked off some heated reactions, ranging from well-thought out to deeply emotional. While, we at mongabay.com were not at all surprised by this, we felt it was a good idea to allow a critic of tiger-farming and legalizing the trade to officially respond. The issue of tiger conservation is especially relevant as government officials from tiger range states and conservationists from around the world are arriving in St. Petersburg to attend next week's World Bank 'Tiger Summit'. The summit hopes to reach an agreement on a last-ditch effort to save the world's largest cat from extinction.
Would legalizing the trade in tiger parts save the tiger?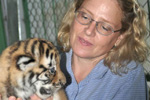 (11/15/2010) Just the mention of the idea is enough to send shivers down many tiger conservationists' spines: re-legalize the trade in tiger parts. The trade has been largely illegal since 1975 under the Convention on International Trade in Endangered Species (CITES). The concept was, of course, a reasonable one: if we ban killing tigers for traditional medicine and decorative items worldwide then poaching will stop, the trade will dry up, and tigers
will be saved. But 35 years later that has not happened—far from it. "Words such as 'collapse' are now being used to describe the [tiger's] situation both in terms of population and habitat. Wild tiger numbers continue to drop so that we have about 3,500 today across 13 range states occupying just 7% of their original habitat. It's universally acknowledged that we're losing the battle," Kirsten Conrad, tiger conservation expert, told mongabay.com in a recent interview.